Oh, the revisions.
The US economy, as measured by "real" GDP (adjusted for a version of inflation) grew 0.74% in the third quarter, compared to the prior quarter. That was a tad slower than the 0.76% growth in Q2, but up from the 0.31% growth in Q1.
GDP was up 2.3% from a year ago.
To confuse things further, in the US, we cling to the somewhat perplexing habit of expressing GDP as an "annualized" rate, which takes the quarterly growth rate (0.74%) and projects it over four quarters. This produced the annualized rate of 2.99%, or as we read this morning all over the media, "3.0%."
This was the "advance estimate" by the Bureau of Economic Analysis. The BEA emphasizes that the advance estimate is based on source data that are "incomplete or subject to further revision by the source agency." These revisions can be big, up or down, as we'll see in a moment.
The BEA will release the "second estimate" for Q3 on November 28 and the "third estimate" on December 21. More revisions are scheduled over the next few years.
So 2.99% GDP growth annualized, or 0.74% GDP growth not annualized, or 2.3% growth from a year ago… is pretty good for our slow-growth, post-Financial-Crisis, experimental-monetary-policy era, but well within the range of that era, that goes from 5.2% annualized growth in Q3 2014 to a decline of 1.5% in Q1 2011. So nothing special here: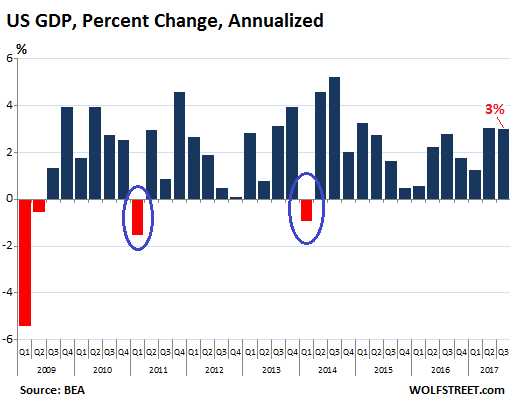 I circled Q1 2014 and Q1 2011 in blue to show how much GDP estimates can get revised as time passes: both of these decliners showed growth in the "advance estimate."
The "advance estimate" of GDP in Q1 2014, released on April 30, 2014, showed a growth rate of +0.1% annualized. That was a measly growth rate. It was terrible. It caused a lot of hand-wringing. But it was growth.
By the "third estimate," released on June 25, 2014, GDP growth had been revised to a sharp decline of -2.9%. And it continues to be revised. The most recent estimate put it at a decline of -0.9%. From +0.1% to -2.9% to -0.9% are dramatic revisions. Throughout that time, no one knew exactly how the economy had been doing in that quarter, except that it had hit a rough spot.
Q1 2011 is an even starker example of the revisions. The advance estimate, released on April 28, 2011, figured that GDP increased at a rate of 1.8% annualized. By now this "growth" has been revised to a decline of -1.5%! So on first sight, the quarter looked decent. With years of hindsight, it looked terrible.
After serial revisions, there are now two quarters since the end of the Great Recession when GDP had declined, but the "advance estimates" for both had shown growth.
But up-revisions are also common: The advance estimate of GDP growth in Q2 2017 came in at 2.6%; the second estimate at 3.0%; and the third estimate at 3.1%. As far as revisions are concerned, rather unspectacular.
The BEA points out in its GDP press releases that the "average revision without regard to sign" (so growth or decline) between 1993 through 2016 is a massive 1.3 percentage points from the "advance estimate" to the "latest estimate" which can be years after the fact.
In other words, we won't really know how the economy did in the last quarter until we have a lot more hindsight.
Point one: It's devilishly hard to estimate what's going on in the vast and complex US economy. The BEA comes up with an "advance estimate" to give economy watchers a feel, but it concedes that there will be many and substantial revisions as more data become available, and that initial "feel" may be wrong.
Point two: Equally complex economies, such as China's, are equally hard to estimate. Yet China's National Bureau of Statistics comes up with one big-fat figure that is always very near the number the central government had mandated earlier. It publishes its GDP number less than three weeks after the end of the quarter, and a week or more before the BEA's advance estimate. For example, on October 18, the National Bureau of Statistics reported that GDP in Q3 grew 6.8% year-over-year. And this figure – however hastily concocted, inflated, or just plain fabricated – becomes etched in stone. No one believes it.
At least in the US, after many revisions and years down the road, GDP becomes a credible number. In China, you'll never get there.
And point three: GDP is a terrible measure of the economy. It measures what money gets spent on and invested in. It's a measurement of flow. Among other shortcomings, it doesn't include the source of money – whether it's earned money or borrowed money. This leads to the distortion that piling on debt is somehow good for the economy, when in reality it's only good for GDP but will act as a drag on the economy down the road.
Nevertheless, to estimate the overall economy, GDP is the measure we've got. And until something better is widely used, we're stuck with it.
No, our American consumers didn't suddenly perform a miracle. Read… What the Headlines Got Wrong about Retail Sales
Enjoy reading WOLF STREET and want to support it? You can donate. I appreciate it immensely. Click on the beer and iced-tea mug to find out how:

Would you like to be notified via email when WOLF STREET publishes a new article? Sign up here.