Even before Hurricane Harvey, Houston's economy was struggling.
Auto sales collapse but will surge.
Auto sales in the Houston metro, first battered by the oil bust and now by Hurricane Harvey, plunged to levels not seen since the depth of the Financial Crisis. New vehicle sales were already at Financial Crisis level in the 12 months before the hurricane hit, with dealers selling 284,000 units in the 12-month period, down 25% from the levels in late 2015 and early 2016.
This was already an ugly reality. Then, just when people thought that sales might finally pick up a little in August, Hurricane Harvey approached. During the week before landfall, new vehicle sales plunged as potential car buyers had other things to worry about. And for the last week of August, when Harvey was pummeling the area, sales dropped to essentially zero.
So for all of August, new vehicle sales plunged 45.5% from the already beaten down levels last year to just 15,473 vehicles, according to TexAuto Facts, published by InfoNation, and cited by the Greater Houston Partnership.
It brought sales for the 12-month period to 272,575 new vehicles, down 27% from the 12-month levels in late 2015 and early 2016. For the 12 months through August, sales are now back to where they were in February 2009 (chart by the Greater Houston Partnership, red marks added):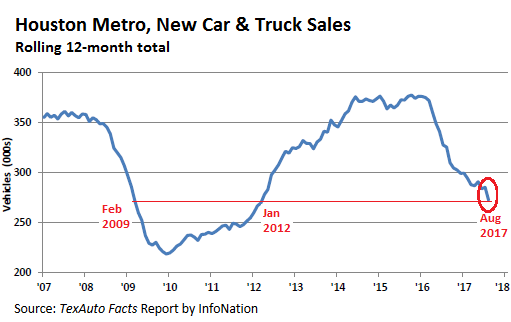 About 300,000 new and used vehicles were likely damaged in the Houston region as a result of Harvey, amounting to $2.4 billion, or about $8,000 per vehicle on average, InfoNation estimated. The report:
Since not all vehicles will be covered by insurance or recorded as flood damaged, the number of totally damaged vehicles will never be accurately known.
Auto sales in early September were also dismal. But demand for new and used replacement vehicles going forward will be strong. Without a vehicle, people can do very little in Houston. So this is a priority. Dealers have entered into a mad scramble to get vehicles into Houston from other parts of the US. And an entire industry has sprung up to repair flood-damaged vehicles. They'll be for sale around the country — with and without flood titles….
The housing market gets squeezed.
Single-family home sales in August plunged 24% year-over-year to 7,077, according to the Houston Association of Realtors (HAR), cited by the Greater Houston Partnership. Sales of homes below $150,000 plummeted 40%, the most of any segment. Sales of homes over $750,000 fell 17%, the least of any segment.
But the median price of single-family homes rose 3% to $231,700. HAR Chair Cindy Hamann:
"Hurricane Harvey dealt a severe blow to the Houston area and Texas Gulf Coast and it will probably be several weeks until we can gauge the storm's full impact on our housing market. Home sales were humming throughout the first three weeks of August, but the moment Harvey struck the region, everything came to a screeching halt."
That said, David in Texas wrote in an email:
One of the listings is my mother's house. She's downsizing, and we were working with the realtor to get the house on the market before Harvey. As it turned out, the listing went live a couple of days after Harvey. We got two offers almost immediately: one cash and one conventional financing. We went with the cash offer since she wants to get this done, and it is supposed to close tomorrow. 17 days from listing to closing!
There is demand for undamaged homes. For potential sellers, times are good. And homeowners who're staying put and whose houses came out of the storm unscathed, they will see their house rise in value, and they'll eventually feel flush and call that house cleaning service in Katy, TX, to shift the work of getting that place cleaned up to someone else.
And demand for rentals surged in August. Leases for single-family homes jumped 9.4% year-over-year, and leases for condos and townhouses soared 17%. Average rent remained unchanged for single-family homes at $1,857, while rents for condos and townhouses fell 2% to $1,551.
A leading indicator for production plunges.
The Houston Purchasing Manager Index (PMI) for September, a near-term leading indicator for production in the Houston region based on surveys of local purchasing managers in manufacturing, healthcare, electronics, finance, energy, and other industries, plunged 5.3 points from the prior month, to 46.5. Below 50 indicates contraction over the next three to four months. I marked the September plunge (chart via Greater Houston Partnership):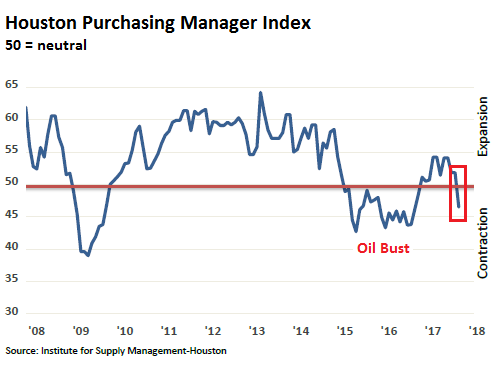 The report added:
The August survey was administered after Hurricane Harvey hit the Houston region and reflects the initial impacts of the storm on the economy. Respondents across the board noted short-term disruptions to their industries due to Harvey but expect activity to increase as the region recovers.
Employment was already weakening before Harvey.
The most recent employment report for Houston that the Texas Workforce Commission released on September 15 was based on data gathered prior to Harvey. Nevertheless, in August, the Houston-Woodlands-Sugar Land metro area lost 3,900 jobs from July.
"The loss came as a bit of surprise," the report explains, adding:
Only four times in the past 25 years has the region logged job losses in August, and those losses coincided with overall weakness in the economy.

Most likely, the August data suggests that despite robust 12-month job growth [53,500 jobs created], Houston is still recovering from the downturn in the energy industry.
Harvey's impact on Houston employment will emerge in the data to be released in October. "Historically, Houston employment falls the month after a storm then rebounds over the next two to three months. The Partnership expects post-Harvey employment to follow the same pattern," the report said.
The impact of Harvey on chain restaurants in Texas was so steep that it has dragged down national sales to add to the worst downturn since 2009.
In total, 4.3 million properties with nearly $700 billion in outstanding mortgage balances are located in FEMA-designated disaster areas in Texas and Florida. The losses on the mortgages will be significant. And someone is going to pay for it. Read… Who Gets Hit by Mortgage Losses in Harvey and Irma Areas?
Enjoy reading WOLF STREET and want to support it? You can donate. I appreciate it immensely. Click on the beer and iced-tea mug to find out how:

Would you like to be notified via email when WOLF STREET publishes a new article? Sign up here.