"Knowing that something could be bad for you is not always a barrier when temptation rears its head."
(Wolf here, at the risk of sounding like a broken record: No matter how logical and well-researched the reasons, tread carefully when shorting crazy, irrationally priced stocks; by definition, they can get a lot crazier and a lot more irrational. Enjoy the read…)
For me, shorting Tesla (TSLA) is like crack or heroin for some people…I know it is dangerous and I really shouldn't do it, but at times the urge overtakes me and I lose all power of resistance. I rationalize it by telling myself that this will be the last time, and that it won't be for long. This is one of those times.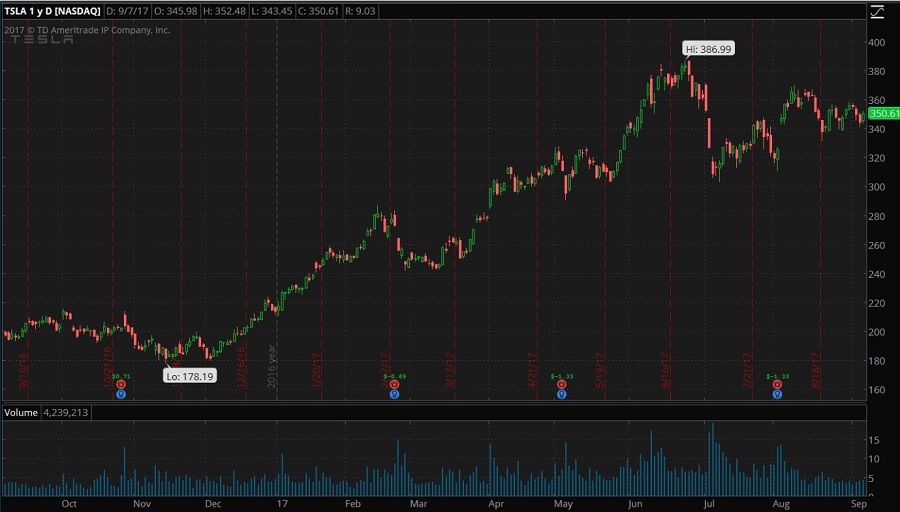 Firstly, just look at that chart! If that pattern of roaring up, dropping and then stalling when trying to resume the upward move doesn't scream "sell me!" to you, then you aren't listening. Appealing as that visual is though, it was just confirmation for me that now was a good time to indulge myself. The real reasons lie in something probably not all that familiar to addicts of other kinds, logic.
First and foremost, there is the belief that stocks in general look vulnerable. The good economic news and strong earnings season are now fully priced in, and what is left is a lot of fear about an unstable geopolitical situation and confusion about the possible political implications of a Republican President who now looks more at home with Democratic leaders than he ever has with those in his own party.
I don't have a crystal ball, so cannot accurately say what will cause a nervous drop, but from a fully valued position that looks more likely than another surge, especially to those who are following the drop in both Treasury yields and the dollar.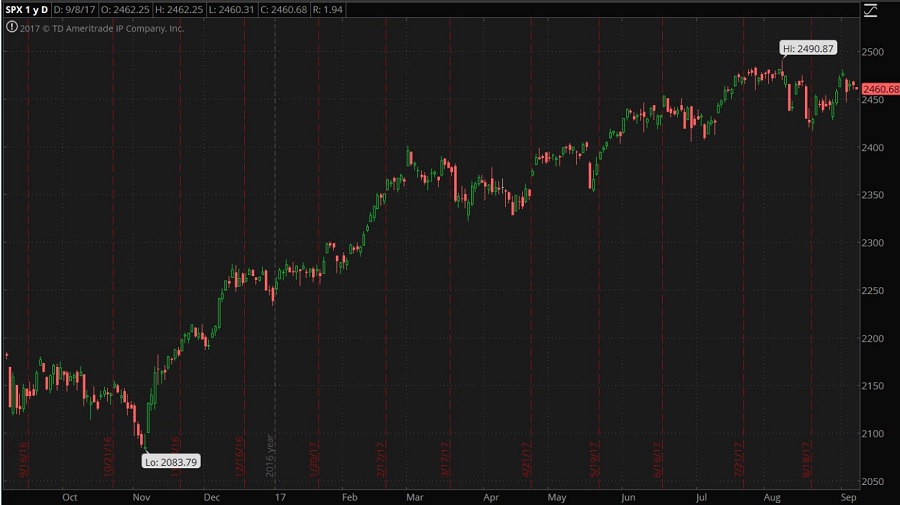 In the past, that wouldn't have mattered to Tesla followers, but that is no longer true. Combine the first chart with the one above for the S&P 500 and it is clear that TSLA, once a stock notorious for having absolutely no correlation to anything other than the words uttered by Elon Musk, has become an exaggerated follower of market trends. If the more pessimistic view evident in other markets takes hold in stocks, a short, sharp drop looks likely.
There are also some company specific factors that have some observers worried. I have said in the past that some of the things that would be a concern for most stocks are perceived as positives by TSLA buyers, but when they start to pile up they still can have an effect. Borrowing more money as Tesla recently did may be a better option for stockholders than raising capital by issuing more stock, but it does indicate that cash flow is still an issue, and that view is confirmed by another worrying trend.
As Bill Maurer at Seeking Alpha points out in this article, Tesla has seen a rapid rise in inventory over the last few months. There are several possible reasons for that laid out in the piece, but none of them are encouraging for the stock's short- term prospects. Maurer's conclusion that the surge in inventory looks like a major contributing factor to the large discounts on Teslas that he noticed will cause some concern. Margin squeezes are bad enough for traditional, high volume car manufacturers, but for a relatively low volume producer with cash flow issues they are an even bigger problem.
There are then some sound reasons for believing that TSLA is about to correct downwards. I cannot stress enough though that selling the stock short, either directly or through an options trade, is always a risky play given TSLA's logic defying history and the undeniable long-term potential of the company. Still, knowing that something could be bad for you is not always a barrier when temptation rears its head, and right now looks like a good time for one more hit…  By Martin Tiller, Oil & Energy Insider
Alas, the bloodletting among Tesla shorts has become legendary. Read…  4 Short Sellers Explain Why They Target Tesla – But Don't Try to Do this at Home
Enjoy reading WOLF STREET and want to support it? You can donate. I appreciate it immensely. Click on the beer and iced-tea mug to find out how:

Would you like to be notified via email when WOLF STREET publishes a new article? Sign up here.