With peculiar consequences.
Today the bond market had its second bout of nervousness about a US default. It showed up at a "dismal" auction by the US Treasury Department of four-week bills. And the one-month yield shot up to 1.30% from 0.96% on Friday. That's a huge one-day move. These bills mature on October 5 — after the official out-of-money date on September 29, that the Treasury department has announced to Congress.
September 29 is the official deadline for Congress to raise the debt ceiling so that the Treasury can borrow more so that it can spend the money that Congress ordered it to spend.
If Congress fails to raise the debt ceiling, and if the US Treasury runs out of "extraordinary means" with which it has been scrounging up money from other internal sources, and if it then decides to default on its debt service, rather than on payment obligations such as Congressional salaries and the like, the Treasury would then not redeem those one-month bills or any other maturing debt on October 5, and investors would have to wait for their money until Congress gets its act together.
That's a lot of ifs. That kind of default, if it drags out, could tear up the global financial system, and so it's not going to happen: Lawmakers are political animals and they use the debt ceiling as a form of extortion, but they're not stupid – knock on wood, fingers crossed.
And they have a little more time. In all prior debt-ceiling standoffs, the end-of-September deadline came and went, and the Treasury had enough means into mid- or late October. This time will not be different. So the nervousness in the markets is just slight. Nevertheless, these tiny doubts are creeping into the minds of those risk-averse investors that invest in one-month bills.
Today's spike in one-month yield to 1.30% is peculiar because it's now exactly the same as the two-year yield (1.30%) and just a notch below the three-year yield of 1.40%.
Longer term yields dropped today, as investors seek to dodge the problems caused by a default in October. In the process, they bid up securities with longer maturities (when yields drop, prices rise): The 10-year yield dropped to 2.07% and the 30-year yield to 2.69%.
This is producing a yield curve that is inverted at the short end, with the one-month yield higher than yields of maturities up to two years. And it further flattened the long end of the yield curve.
In this chart, today's yields (red line) across the maturities contrast with the yields on December 14, 2016 (blue line), when the Fed got serious about tightening, and with yields on July 21 (green line). More on that green line in a moment. Note the hiccup in today's yields at the left – the one-month yield and the inversion of the curve: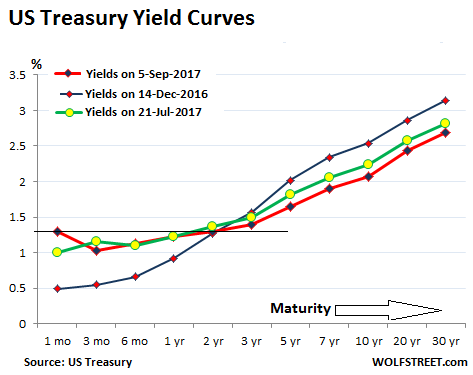 The green line shows the first scare on July 21, when the three-month yield jumped to 1.16%, while the six-month yield remained at 1.1%. Thus the curve inverted just a little in that maturity range. These securities would mature in October, just as the government might have to default, and security holders might not get paid for a while. The nervousness in the market was barely a ripple and disappeared within days.
Now it's a little more serious – but still just at the jabbering phase.
Ratings agencies have been warning about a US default in various ways. During the debt-ceiling charade in 2011, S&P cut the US credit rating one notch from AAA to AA+ and has refused to raise it since. During the debt ceiling charade in September 2013, it threatened to cut the US credit rating to junk in case of a default. Fitch has already warned of a downgrade recently but in milder language, as has Moody's.
Today Moody's added to the jabbering in a question-and-answer document. It figures that the Treasury would prioritize payments after the out-of-money date, making debt service payments "to preserve the full faith and credit of the government, and to avoid disruptions in the financial markets," but defaulting on other payments. And it added:
"In the unlikely event of an interest payment not being made as a consequence of the debt ceiling, we would expect the default to be short-lived and to be cured with a recovery rate of 100%."
So investors would get their money but would have to be patient. And it would cause a downgrade, but "a subsequent upgrade would be unlikely while the institution of the debt ceiling, and the political environment which had given rise to the missed payment, remained in place." That's the point S&P reached in 2011.
But the threat of politically damaging chaos is "likely to force a timely increase in the debt ceiling," Moody's said.
The bond market also thinks so for now. But doubts are creeping up. Once the bond market gets serious in the assumption that the US government will default on its debt in October, even if only temporarily, panic will be setting in, and short-term yields might spike to 3% or even 4% as no one would buy these securities without a good risk premium, given the uncertainty of getting your money back. And that 18-point decline today in the S&P 500 will just disappear as a squiggle in a major downdraft. At that point, decisions in the real economy would be put on hold, hiring would freeze, expansion plans would be shelved, and everyone would just try to stay out of the way as all heck would be breaking lose in the financial markets.
That scenario is, according to the bond market, not yet credible. But it has appeared on the distant horizon today for the first time in the 2017 debt-ceiling charade.
If Congress does its job and raises the debt ceiling, we'll be in for a big surprise though. Read… US Gross National Debt to Spike by $800 Billion in October?
Enjoy reading WOLF STREET and want to support it? Using ad blockers – I totally get why – but want to support the site? You can donate. I appreciate it immensely. Click on the beer and iced-tea mug to find out how:

Would you like to be notified via email when WOLF STREET publishes a new article? Sign up here.

Many experts agree that metal roofs are a great defense against wildfires. Click here or call 1-800-543-8938 for details from our sponsor, the Classic Metal Roofing folks.
Classic Metal Roofing Systems, the leader in fire safe roofing for residential applications, manufactures products that are 1/20 the weight of most tile products and eligible for Class A, B, or C fire ratings as determined by roof preparation.