Total Immersion Chaos. 
Uber has been trying to fill the slots in its C-suite, but it's not easy. Meg Whitman keeps sticking to her story that she won't be the next Uber CEO. "What Part of No (Don't You Understand)," she told the Wall Street Journal today. CFO Brent Callinicos left in 2015. The next guy in line, head of finance Gautam Gupta, wasn't promoted to the slot and left last month. The board is also looking for a COO. A bunch of other executive and managers have left or were booted out, and the 14-member executive committee that is running the show has got some hiring to do.
And it might get worse. For most of the second quarter, Uber still had its CEO Travis Kalanick, and the head of finance was there for all of the second quarter. And in the third quarter, without an executive team to lead the company through the turmoil, scandals, and legal issues, all heck has broken loose on the board, which, as Axios put it, has erupted into "open warfare."
Now the company wants to let everyone know that its operations, at least in the second quarter, have not also collapsed.
Because it is privately held, Uber isn't required to release financial results. It has nevertheless made a habit over the past few quarters to disclose limited financial and operational information – rather than see it leaked to the media anyway. And today, it handed select second-quarter results to Axios:
Gross bookings doubled year-over-year to $8.7 billion.
The number of trips jumped 90% in developed markets and over 250% in developing markets. Combined, total trips globally jumped 150%.
"Adjusted net revenue" rose by 118% year-over-year to $1.75 billion.
"Adjusted" net loss fell 8.9% quarter-over-quarter to $645 million and was down 14% year-over-year. This loss is before interest, tax, employee stock compensation expenses, and other items. The net loss under Generally Accepted Accounting Principles (GAAP) was not disclosed.
So Uber still lost a running ton of money, but less than in each of the past four quarters. Maybe cost cutting and its exit from China have something to do with it. This chart shows the "adjusted" losses before interest, tax, employee stock compensation expenses, and other items, in millions: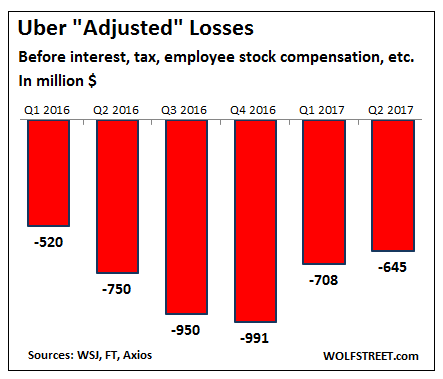 Uber, which has raised about $15 billion in equity and debt funding over the years, still had $6.6 billion in cash left at the end of Q2, down from about $7.2 billion at the end of Q1. So it's not going to run out of wriggle room for at least a couple of years.
There have been rumors that the next round of fundraising would be a "down round" where Uber's $68 billion valuation would get a big hair cut. Four mutual funds that own Uber shares have slashed the estimated value of their investment: Vanguard Group, Principal, and Hartford Funds each by 15% and T. Rowe Price by about 12%. Not exactly a glaring sign of confidence.
Part of the reason for the release of the albeit very select operational and financial data might have been the need to show to the world that the company is still holding up operationally despite the chaos it's immersed in – that it's in fact growing in leaps and bounds, that people are using the service more and more around the world, that it's crushing taxis and rental cars, and that it's offering some urbanites an alternative to owning a car, thus making even automakers nervous.
But the "adjusted" operating losses reported today don't include the massive losses that Uber is facing from its subprime auto-leasing crisis. Two years ago when these now departed executives launched the subprime auto leasing program to put their badly paid drivers into shiny new vehicles they couldn't otherwise afford, they apparently didn't do the math, which is not unusual for a company that blows billions of dollars of investor money and doesn't need to do math. Read…  Uber Gets Run Over by its Own Subprime Auto Leases
Enjoy reading WOLF STREET and want to support it? You can donate. I appreciate it immensely. Click on the beer and iced-tea mug to find out how:

Would you like to be notified via email when WOLF STREET publishes a new article? Sign up here.