$9 trillion in deposits go a long way.
Savers have been shanghaied into doing an enormous job, in small increments, day after day, for nine years: Recapitalizing the collapsed US banking system and making it immensely profitable again, leading to high core-capital ratios, record bonuses, big-fat dividends, and massive share-buybacks. And the FDIC, in its Quarterly Banking Profile released today, shows how.
The total number of FDIC-insured commercial banks and savings institutions fell by 271 to 5,787 by the end of the second quarter. Of them, 5,338 were community banks. Most of this shrinkage was due to consolidation. But there were a handful of bank failures: in 2016, five banks failed. So far this year, six banks failed. The remaining banks get a bigger slice of the pie.
Here's the good news: Almost everything in the report is good news! That is, unless you're a saver whose income stream has been confiscated in order to make this good news possible.
FDIC-insured banks and savings institutions booked a combined net income of $48.3 billion in the second quarter 2017, a post-crisis high. That's up by $4.7 billion, or 10.7%, from a year ago (chart via FDIC):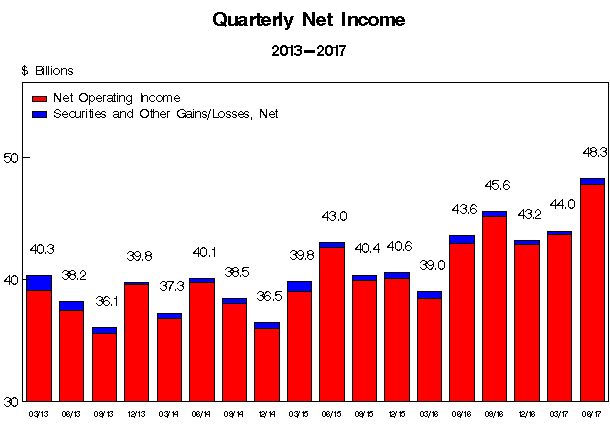 This $4.7-billion increase in earnings was caused by a jump in net interest income of $10.3 billion (9.1%).
Net interest income is the difference between a bank's revenues generated by interest-bearing assets, such as loans, and the costs of its liabilities, mainly deposits but also bonds and the like. Currently banks borrow money from depositors at near zero cost.
And it's a lot of money. At the end of Q2, all commercial banks held $11.2 trillion in domestic deposits. Of that, $9.1 trillion were savings deposits. This is money that banks owe savers. A lot of nearly free money.
Since the Fed has been raising its target range for the federal funds rate, banks have been able to nudge up the interest they charge on commercial loans, credit cards, auto loans, etc. And their revenues on these loans are starting to increase. At the same time, as most savers can frustratingly confirm, interest paid on deposits has not budged, or only barely so, and remains close to zero (though some banks have started to pay a little more in order to attract deposits.).
During Q2, total assets rose by $161.2 billion to $16.5 trillion. Of them, loans and leases increased 1.7% to $9.1 trillion, with all categories increasing during the quarter. Year-over-year, total loans and leases rose by $337.6 billion, or 3.7%.
Noninterest expenses rose by 3.3% to $108.6 billion, mostly due to a 2.3% year-over-year increase in employment.
One of the most important performance metrics for banks is Return On Assets. In Q2, for all FDIC-insured banks combined, the Average ROA reached 1.14%, the highest since Q2 2007. Yes, thank you hallelujah dear savers (chart via FDIC):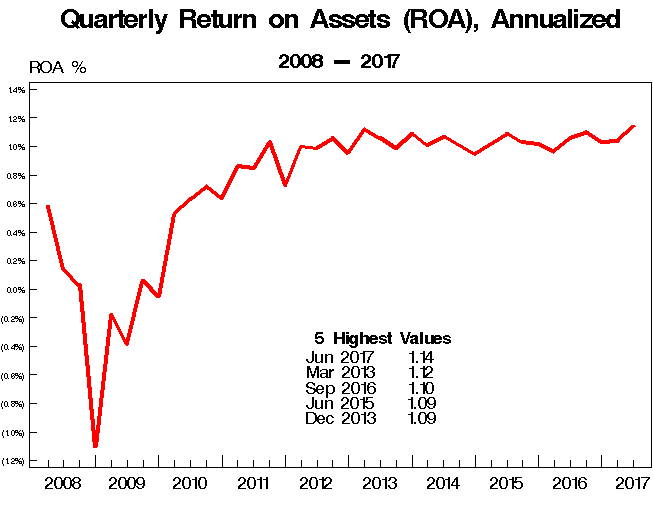 If these profits pouring in over the years are retained and not paid out in dividends or share buybacks, they turn into core capital and accumulate. So the Core Capital Ratio for all banks combined (black line in the chart below) has been ticking up, and edging closer to 10% (via FDIC):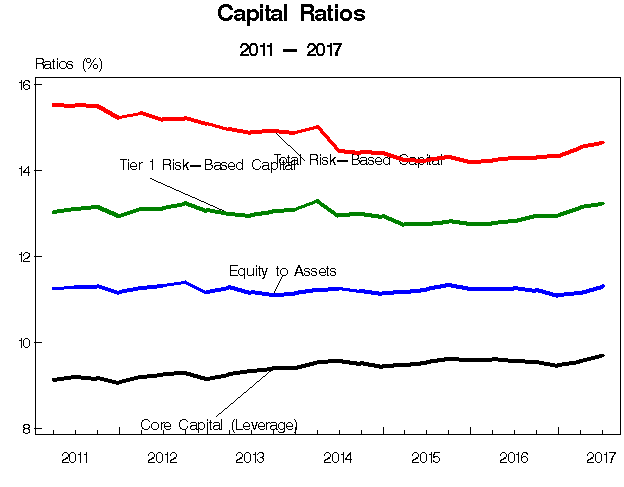 Back in the day, one thing Ben Bernanke said to justify slashing interest rates to zero, and thus lowering the cost of capital for banks to near zero, and thus wiping out the income streams of $9 trillion in savings, was that it would recapitalize the banks.
If on average, savers got their interest rate cut by 2 percentage points across the board, over nine years, they lost $1.6 trillion in income, and banks made that $1.6 trillion in income. If that cut averaged out to 3 percentage points, savers handed $2.5 trillion in income to the banks. This is a lot of money that savers couldn't spend in the real economy.
This income became part of the banks' core capital. It's a zero-sum game. And savers carried the lion's share in recapitalizing the banks. Bernanke was explicit about that. It wasn't a secret. It was a basic wealth transfer to recapitalize the banks that then paid out record bonuses to their folks.
During the Financial Crisis and the years that followed, banks weren't allowed to pay dividends or buy back their own shares. Their job was to increase their capital in part by increasing their profits at the expense of savers. The wealth transfer continues to this day, except now, banks are allowed to pay dividends and buy back their own shares, which they're doing in record quantity, savers be damned.
Thanks to the ongoing bank-recapitalization efforts by those hapless savers, and thanks to banks that have collapsed, the number of FDIC-insured "Problem Banks" has plunged over the years. In Q2, it fell by another 7 to 105, the smallest number since Q1, 2008, and down nearly 90% from the post-crisis peak of 888 in Q1 2011. Total assets of problem banks fell by 27% in Q2 to $17.2 billion. This chart shows the number of "problem banks" at the end of each year, except for Q1 and Q2 2017 (chart via FDIC):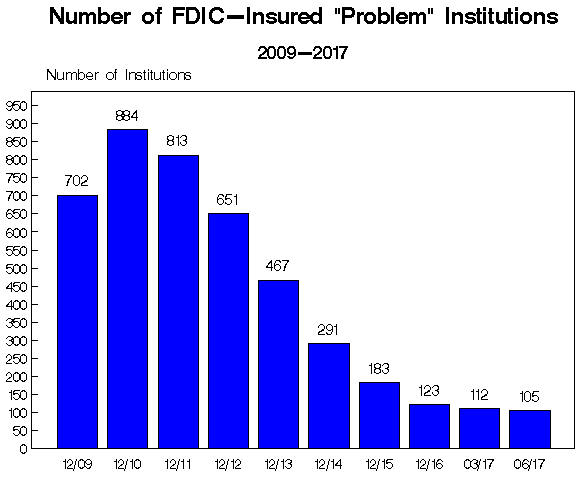 "This was another positive quarter for the banking industry," said FDIC Chairman Martin Gruenberg. But there wasn't even a hue of appreciation or thank-you for the savers that the Fed's low-interest-rate policy (though not quite as low as it once was) continues to sacrifice relentlessly at the altar of bank profits and bonuses.
At the same time – oh the irony – penalties imposed during the first half of 2017 on Wall Street firms by their regulators plunged 65% compared to the same period in 2016. The Financial Crisis is forgotten. Even sounds of gentle wrist-slapping fade. Read…  Wall Street Firms Win Again, Regulators Capitulate
Enjoy reading WOLF STREET and want to support it? You can donate. I appreciate it immensely. Click on the beer and iced-tea mug to find out how:

Would you like to be notified via email when WOLF STREET publishes a new article? Sign up here.