Time to Short the Norwegian Krone?
Traditionally, July is a slow month in Norway. Receiving sizable vacation pay in June, most Norwegian take three to four weeks off in July, enjoying most of their five-week annual vacation. If you worked overtime, you could add a few extra weeks, taking back those extra hours worked, turning that holiday into a sabbatical. However, while Norwegians live it up in Spain, Thailand, Croatia, and even America, trouble awaits them when they return home this fall.
While housing prices may have finally reached the long-anticipated tipping point and the monthly trade balance posted a deficit for the first time since December 1998, the Norwegian Krone gained substantial strength, closing at 8.07 against the US Dollar. Going against the wishes and needs of exporters, that is well below the USDNOK=8.45 YTD average (July 23, 2017).
However, Norges Bank indicated that rate cuts are over, following the ECB's and US Federal Reserve Bank's lead. Considering the importance of housing in the Norwegian economy and the need to boost exports, compensating for a fading oil sector, we can expect new and more exotic policies to push the NOK back down are already on the way.
Building the Case against the NOK
Housing and Trade, which benefit from low-interest rates fueling leverage while driving down the NOK are showing fatigue despite favors from the Central Bank:
Housing
Even with historically low-key rates (.5% since early 2016) and a surge in money supply back in early 2015, housing is starting to peak. That is not only a result of Norges Bank's change in bias but also many Norwegian banks started to increase lending requirements for investment property.
Interest Rates vs. Oslo Housing – The housing party in Oslo was clearly fueled by excessively low-interest rates that are well below the rate of inflation (click to enlarge):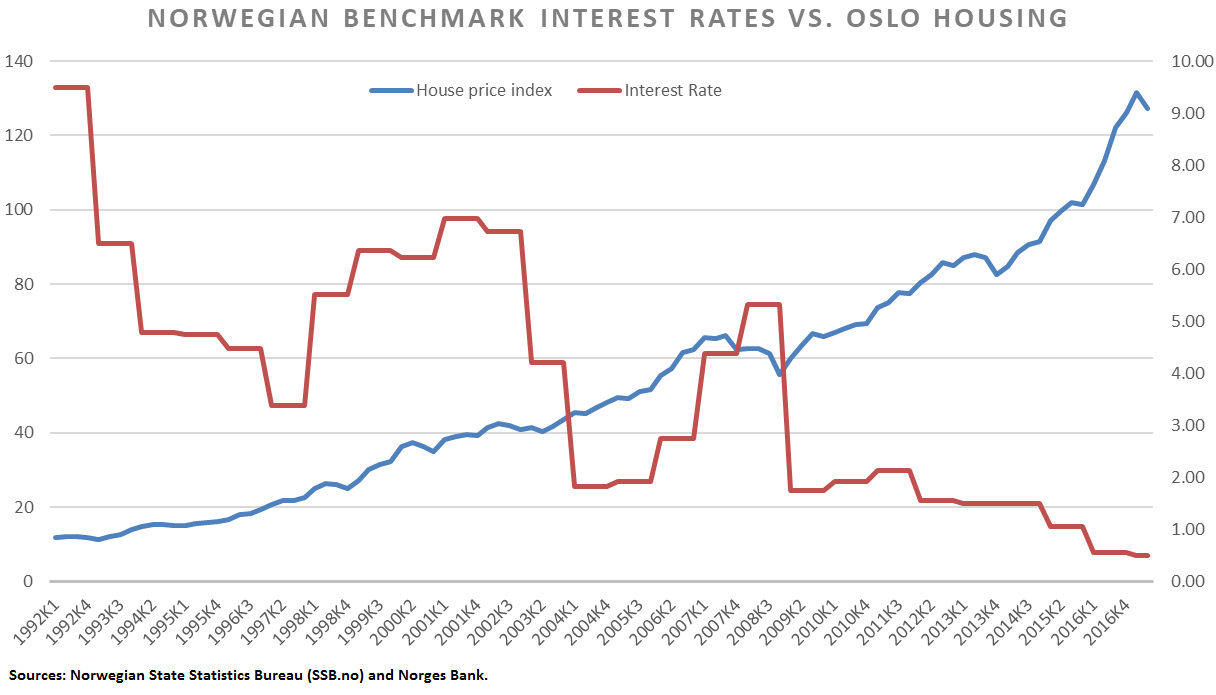 Unbeknownst to most Norwegians, Norges Bank boosted money supply by 83% in April 2015 to buy the Kroner needed to fund government expenditures from the sale of NBIM's assets that are denominated in foreign currency. The public spending resulting from the boost in money supply, buying apartments for refugee housing, further inflated the Oslo housing bubble.
Even the Norwegian mainstream media is starting to acknowledge that the party is coming to and. The always-up Oslo housing is running out of cocaine. Not only are viewings down, but real estate agents are advising clients to cut prices and lower their expectations. The first reports of homes in Oslo selling below asking price are coming out as well. That is a huge departure from just last year where the attitude towards housing was optimistic despite the warnings about being overleveraged.
Trade
Norway's trade surplus, mostly depending on oil, has taken a hit despite all the measures to boost exports. Norway posted its' first monthly trade deficit (-756 M NOK or $90 million) since December 1998. Although Norway compromised philosophical values and its IT sector, hoping to boost fish sales, the trend line has been defined. Moreover, fish prices appear to have peaked as more entrants are getting into the game, namely Chile.
The Norwegians need to think beyond a natural resource economy, finding a way to bring back shipbuilding and steel.
With rate cuts off the table and now too obvious. It appears we can expect a somewhat expected surprise next month when the money supply is updated. The chart below illustrates the losing battle between money supply and exchange rates; the Central Bank always yielding by adding money supply to appease those who want a weak Krone. As of the latest report, Money supply is up 7.2% year over year.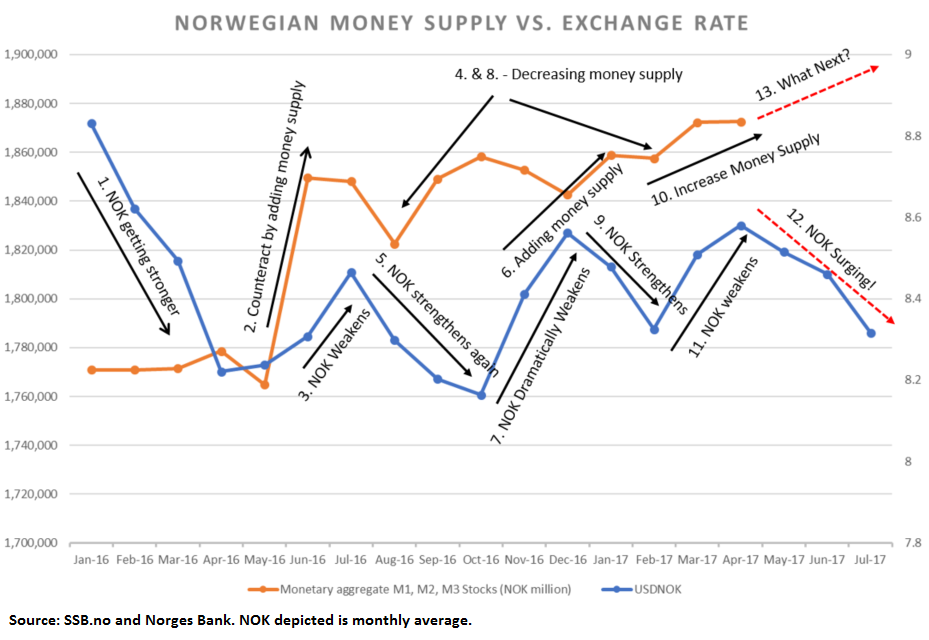 The next money supply report comes out on August 8, 2017
As of 8:00 AM today (July 24), the NOK is on the stronger side of the trend, ready to take a hit, shoring up trade and housing. Although Norges Bank will like to sit still, there is an election coming this fall and they will have to either change direction on rate policy or further boost money supply to keep the status-quo. By Nick Kamran, Letters from Norway.
Enjoy reading WOLF STREET and want to support it? You can donate. I appreciate it immensely. Click on the beer and iced-tea mug to find out how:

Would you like to be notified via email when WOLF STREET publishes a new article? Sign up here.