Trying to manage a structural decline in a terrible industry.
Shares of Harley-Davidson (HOG) dropped 10% in the morning after the company reported second-quarter earnings and were down nearly 6% at the end of the day. Almost everything was bad.
Retail sales by its dealers in the US fell 9.3% in Q2, compared to a year ago, to 49,668 motorcycles. They were "down more than we anticipated," the company said. And with "soft sales across most markets," sales by its dealers globally fell 6.7%.
"Industry new motorcycle sales deterioration continued," the company said in its presentation, lamenting "weak industry sales on soft used bike prices."
In addition to the industry woes, its market share in Q2 in the US dropped 1 percentage point to 48.5%. Shipments in the quarter fell 7.2% to 81,807 and are down 10.8% year to date.
The 30-day delinquency rate on its $7.5 billion in motorcycle loans outstanding rose to 3.25%, from 3.16% a year ago, and from 2.7% in Q2 2015. The annualized loss experience on those loans reached 1.71%, the highest for any second quarter since 2010.
Total revenues fell 5.6% to $1.58 billion. Net income fell 7.7% to $258.9 million. And despite blowing $163.2 million on share buybacks in the quarter to lower the share count and thus prop up earnings per share, earnings per share fell 4.5% to $1.48.
Its dealer inventory is bloated, so it offered incentives on its 2016 bikes to clear them out, and that didn't help its 2017 models, but it said bravely that it is "targeting significantly lower year-end US dealer inventory."
H-D has at least three fundamental problems. One is relatively new, and two have been with it for a few years and it cannot seem to escape them:
1. More of its customers are getting financially distressed, hence rising delinquencies and losses on its loan book. This issue has also raised its ugly head once again for automakers and other consumer lenders.
2. A Hog is the iconic motorcycle for baby boomers, but they don't make baby boomers anymore. The younger generations have other things to spend their money on. H-D has come out with lighter and less expensive models to appeal to the younger crowd, with some success, but not with enough success to make up for the baby boomers who're approaching the end of their riding years in ever larger numbers.
3. H-D is selling motorcycles. Motorcycle sales in the US have been a nightmare since the peak in 2005 when the industry sold nearly 1.1 million bikes of all sizes. By 2006, sales were falling. In 2008, sales plunged, bottoming out in 2010, down 60% from the peak. But unlike auto sales, motorcycles never recovered from the Great Recession.
By 2015, industry sales in the US had crept barely past the half-million mark, still down 54% from their 2005 peak, only to fall nearly 3% in 2016. And in 2017, they're heading further south. Here's what that nightmare looks like.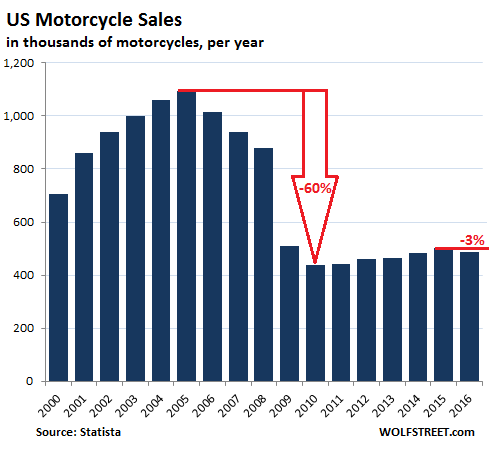 A fourth problem, some potential customers say – the problem that keeps them from buying – is the price tag of a Harley. It ranges from a little over $6,000 for a smaller entry-level bike to around $27,000. The average revenue per motorcycle was $15,530 in Q2. Might those bloated price tags be one of the reasons why the number of bikes sold is spiraling lower?
H-D cut its full-year shipments forecast to 241,000 to 246,000 motorcycles globally, down from 262,221 shipments in 2016. It said it expects to ship 39,000 to 44,000 bikes in Q3, which implies a 9% to 20% plunge year-over-year.
Shipments peaked in 2006 at 361,656 bikes. The projected global shipments for 2017 indicate a decline of 33% over 11 years!
"Given U.S. industry challenges in the second quarter and the importance of the supply and demand balance for our premium brand, we are lowering our full-year shipment and margin guidance," CEO Matt Levatich said in a statement.
"Not only are things bad, but it appears to be bad in such a way that management is really struggling to keep up with how bad things are," mused James Hardiman, an analyst at Wedbush Securities.
And then there's the inevitable: layoffs. H-D has to cut production, and implement as Levatich put it, "hourly workforce reduction" at some of its plants in the US. Affected workers would be notified starting Tuesday, he said.
On May 25, the company announced that it would build a plant in Thailand. This "will allow us to be more responsive and competitive in the Asean region and China," Harley-Davidson PR manager Katie Whitmore told CNBC. "Increased access and affordability for our customers in the region is key to growth for the company in total," she said. "There is no intent to reduce H-D US manufacturing due to this expansion."
She knew what was coming. And that little phrase – "due to this expansion" – is supposed to give the company plausible deniability. But some of these bikes built in Thailand for the Asean region will replace bikes exported from the US to this region. Sales in Asia are also declining. So this is not a measure to deal with surging growth. This is a cost-cutting measure to manage a decline.
So let's see how we can put a positive spin on this. Read…  US Auto Sales Sag, Hyundai Meets Carmageddon
Enjoy reading WOLF STREET and want to support it? You can donate. I appreciate it immensely. Click on the beer and iced-tea mug to find out how:

Would you like to be notified via email when WOLF STREET publishes a new article? Sign up here.