See Manhattan.
In the second quarter in Manhattan, Chinese entities accounted for half of the commercial real estate purchases with prices over $10 million. By comparison, in 2011 through 2014, total cross-border purchases from all over the world (not just from China) were in the mid-20% range.
"At a time when domestic investors have pulled back, foreign parties have ramped up their holdings in Manhattan," according to Avison Young's Second Quarter Manhattan Market Report.
This includes the $2.2 billion purchase in May of 245 Park Avenue by the Chinese conglomerate HNA Group, the sixth largest transaction ever in Manhattan. And at $1,282 per square foot, it was "among the highest price per pound for this type of asset."
The purchase of the 45-story trophy tower is being funded in part by money borrowed in the US via a $508 million loan from JPMorgan Chase, Natixis, Deutsche Bank, Barclays, and Societe Generale, according to CommercialCafé. The rest is funded by HNA's other sources, presumably in China.
The influx of Chinese money and the propensity by Chinese companies to hunt down trophy assets have propped up prices in Manhattan. And yet, despite the Chinese hunger, total sales volume has plunged, according to Avison Young:
At the end of the first half of 2017, the annualized forecast of total transaction volume was on pace to be 40% lower than 2016, and a 60% drop-off from 2015. At the current pace, 2017 is shaping up to have the lowest sales count since the period from 2008 to 2010, the last market trough.

Dollar volumes tell a similar story at the year's halfway mark. The first quarter's $3.2 billion in dollar transactions was improved to $5.6 billion in the second quarter, but this increase was largely attributable to a single $2.2 billion purchase while the first quarter lacked any billion dollar transactions.

From the third quarter of 2013 through the second quarter of 2016, the Manhattan market averaged 141 transactions per quarter and never recorded less than 112 in that 12-quarter span. In the trailing four quarters ending 2Q 2017, the average transaction count dropped to 71, with the most recent tally [in Q2] at 66 for this second quarter.
This chart by Avison Young shows the peak in 2015 and the plunge since (click to enlarge):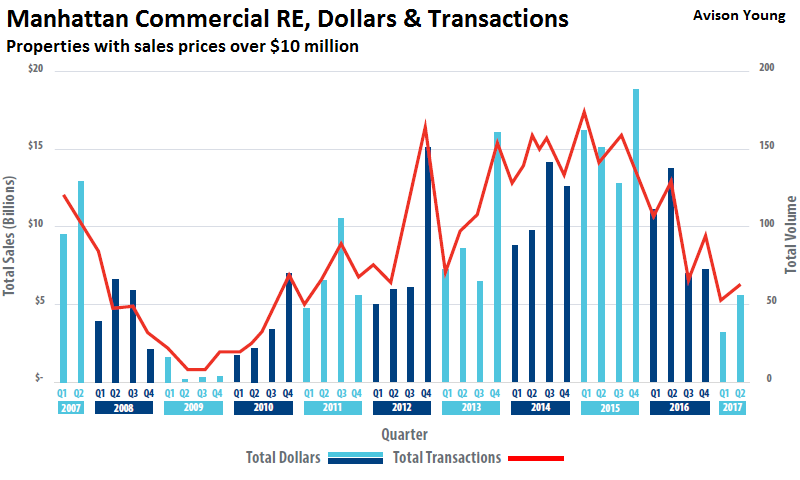 That's the gloomy data on investment activity. Office leasing activity, the underpinning of the office market, isn't exactly booming either. According to Avison Young's report, office leasing volume in the second quarter plunged 32% year-over-year to 5.0 million square feet.
Both in Midtown and Downtown, leasing volume in Q2 plunged 35%. In Midtown, the vacancy rate rose to 11.0%, up from 10.1% a year ago; Downtown, it rose to 12.1%, up from 10.4% a year ago.
So the Chinese money is sorely needed to prop up the market. "Since the beginning of 2013, Chinese companies alone have poured nearly $18 billion into Manhattan real estate," the report says, but cautions: "This flow of funds, however, may soon be threatened."
Last year, the Chinese government got serious about imposing capital control. This year, it's trying to crack down on lenders to get a grip on the ballooning risks threatening its financial system.Just over the weekend, top Chinese authorities struggled at the National Financial Work Conference with the rampant risk-taking and leverage. The Wall Street Journal:
Fear permeated markets, which tumbled Monday after President Xi Jinping gave a speech that supported efforts to tamp down complicated lending along with other financial-system risks. Frightened investors – seeing room for yet more policy tightening after cheery GDP growth data – are now searching for signs of the regulators' next hit.

At hand is an ever-growing asset-management industry – now around 60 trillion yuan ($8.8 trillion) – and the deepening nexus of banks, brokers, trusts and insurance companies. The central bank elaborated on the linkages it uncovered in the asset-management industry in its recently published financial-stability report. That is likely telling of where regulators will go digging.

If regulators do take on the asset-management business, it could spell trouble for corporate borrowers. Corporate bonds account for more than 40% of underlying assets in wealth-management products sold by banks. Asset managers have been the only active buyers of these bonds so far this year.
On Monday, following the conference, the Shanghai Composite Index dropped 1.4%, and the small-cap index, ChiNext, which includes a lot of tech companies, plunged 5.1%, to the lowest level since January 2015.
China's crackdown on leverage and fund-flows already had some consequences in the US and elsewhere: quashing a slew of Chinese cross-border deals, including Anbang Insurance Group's $14 billion bid to acquire Starwood Hotels & Resorts.
These efforts by Chinese authorities to get financial risks and capital flows under control could have the effect, according Avison Young's report, that "the major Chinese players may be regulated out of the market." And with Manhattan being "a primary target for funds, it is likely to experience the greatest impact."
This will happen just when domestic buyers have lost their appetite for overpriced commercial real estate after a breath-taking seven-year boom. The report identified "near-term impediments" to the commercial property market, among them:
"Chinese governmental regulations on capital allocations outside the country."
"General investor sentiment."
"Rising interest rates."
Pre-recession 10-year commercial mortgages that have been packaged into Commercial Mortgage Backed Securities that are now struggling to refinance. Ratings agencies have also been warning about CMBS.
"Slumping residential market, slow condo sales, and heavy concessions in rental market" as asking rents have been declining.
"Dearth of construction financing and stalled construction sites needing funding."
"E-retail depressing brick-and-mortar retail values." This meltdown has reached the Crown Jewel in American retailing as seen in haunting photos of Shuttered Stores on Madison Avenue
But unlike last time, there's no Financial Crisis tripping up the property market. Stocks and bonds are booming. Wall Street is exuberant. There's "no catastrophic event causing the current correction," as the report explains. In other words, these are still the best of times.
And it's not just in Manhattan. Chilling photos of for-lease signs are lining the Great America Parkway in Santa Clara, Silicon Valley. Read… Silicon Valley Begins to Crack Visibly
Enjoy reading WOLF STREET and want to support it? You can donate. I appreciate it immensely. Click on the beer and iced-tea mug to find out how:

Would you like to be notified via email when WOLF STREET publishes a new article? Sign up here.