Chilling photos of for-lease signs lining the Great America Parkway 
There are parts of Silicon Valley where commercial real estate is still hanging on, and there are parts where it has let go.
In Santa Clara, it has let go. Overall availability of office space in Santa Clara was nearly 19% in the first quarter, according to Savills Studley, up from 14% a year ago. Only two other areas in Silicon Valley – Milpitas and North San Jose – show greater availability at respectively 23% and a harrowing 30%.
The availability problem becomes very real along the Great America Parkway, between Highway 237 and Highway 101. It's near Levi's Stadium. Nearby, Yahoo owned 49 acres of land that it acquired in 2006 and on which it had planned to build its new headquarters. It tore down the buildings on it and got the project approved for 3 million square feet of office space. It scuttled these plans in 2014 and turned the land into a parking lot for Levi's Stadium. In April 2016, Yahoo sold the property for $250 million to LeEco, a Chinese company that had surged out of nowhere.
LeEco was going to get into nearly everything, including electric cars in the US. It was going to build its global headquarters on it and hire 12,000 people. Then came reality. Earlier this year, LeEco in turn scuttled those plans and pulled back from the US, claiming that it had run into a cash crunch. It has since been trying to sell the property. There will be a buyer eventually, as always, but maybe not at $250 million.
Turns out, that corridor along the Great America Parkway is drowning in office space that is for lease.
"A growing Commercial Real Estate disaster" – that's what Michael, who has been to this area on a regular basis since 2010, calls it.
"This should be a thriving area given it is directly in the path to Levi stadium," he said. "I have been seeing an incredible amount of construction here and everywhere over the last few years. However in the past year, I am seeing a considerable amount of for-lease signs with new construction projects unabated."
Here is the stretch of the Great America Parkway between Highway 237 and Highway 101:
And here are the for-lease signs Michael photographed in front of office buildings along the Parkway.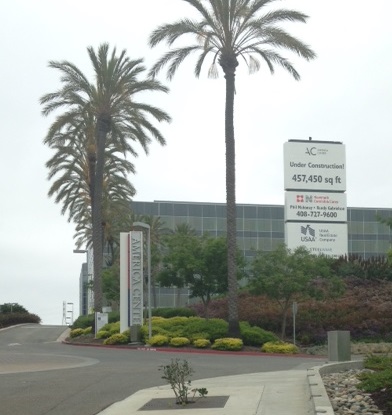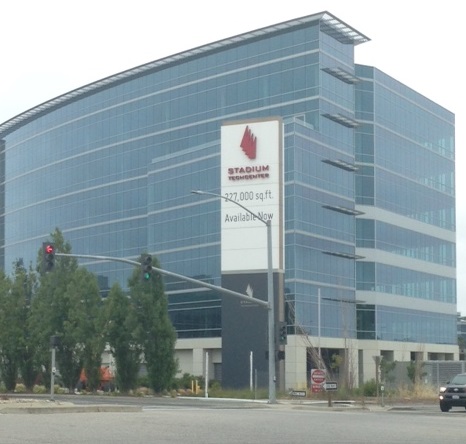 The building below used to sport a Dell logo. The logo disappeared, and now the whole building appears to be under renovation.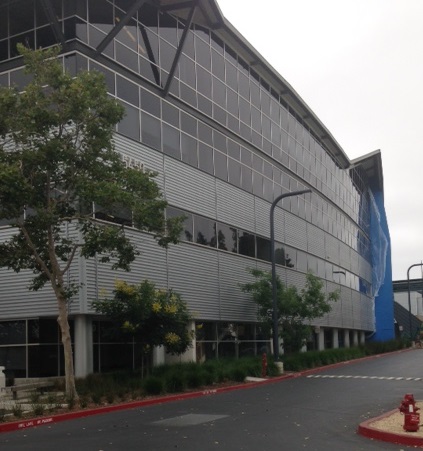 The building across the street now has the Dell logo:
And more space for lease.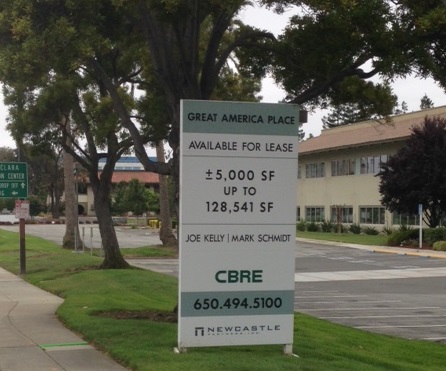 "Santa Clara and Sunnyvale had some of the most pleasant industrial commercial buildings that blended well with curved roads and lots of trees," Michael says.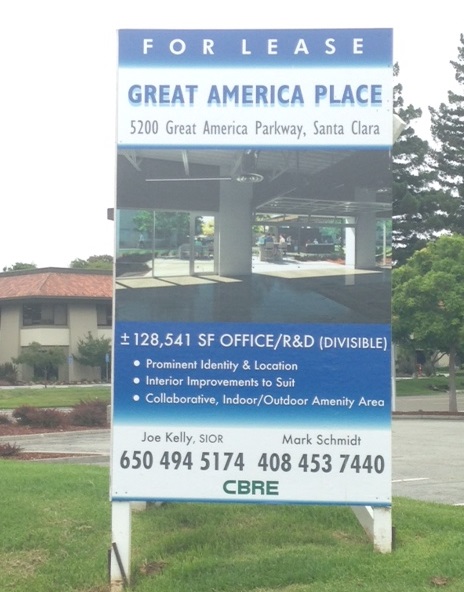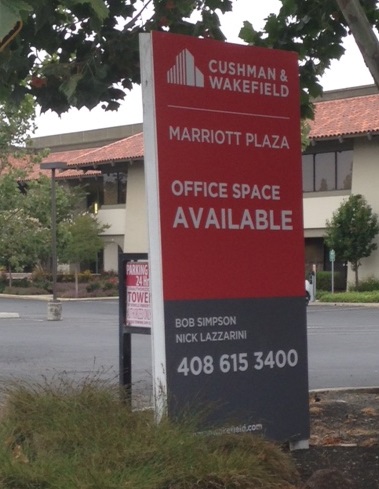 "Now most of these are being leveled for these glass multi story monsters."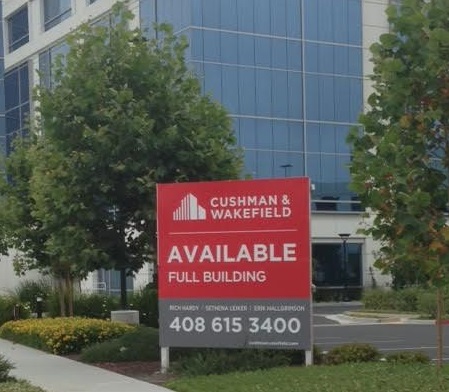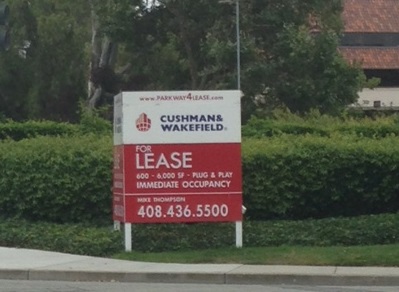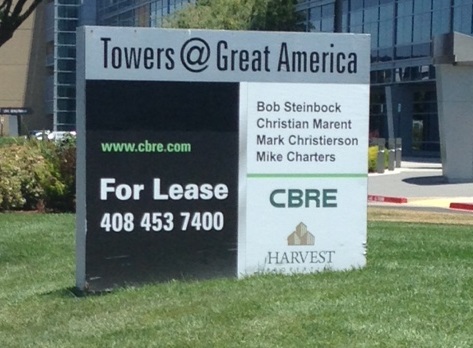 "There are at least a million square feet of unoccupied commercial real estate on a single street."
"Irrational construction?"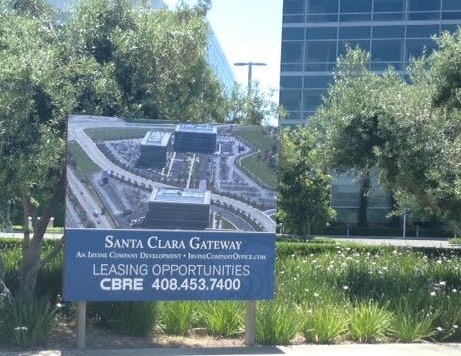 But it's not just Santa Clara. According to Savills Studley's report on the Silicon Valley office sector in Q1, overall availability in Silicon Valley rose to 16% and availability of Class A office buildings jumped nearly four points year-over-year to 20% in Q1.
In some areas, availability is low. But in others, such as in Santa Clara and San Jose, the opposite is the case. These two cities account for nearly two-thirds of the available space for lease in Silicon Valley. And there is a lot of construction, but only about half of it has been pre-leased.
Availability in some key places:
Palo Alto:  6%
Menlo Park:  12%
Mountain View/Los Altos:  12%
Downtown San Jose:  17%
Santa Clara:  19%
Milpitas:  23%
North San Jose:  30%
Yet, overall asking rents rose 6% year-over-year. Class B and C asking rents were about flat, but class A asking rents spiked nearly 15%. Even in Santa Clara – despite the vacant offices cluttering up the landscape – overall asking rents rose 5% year-over-year.
But these are asking rents, not actual deals, where tenants negotiated big concessions and lower rents. And these deals have slowed to a crawl…
Leasing activity peaked in mid-2015 at 12 million square feet on a trailing four-quarters basis. Leasing activity has since plunged 50% to just 5.8 msf for the trailing four-quarters, even as new supply keeps piling on the market.
"It is open to debate, though, whether the region is gearing up for more growth or if the rally is winding down," the report mused.
And nationally, the Commercial Real Estate boom-and-bust cycle has turned. Read…  Next Asset Bubble Cracks: It's so Big even the Fed is Fretting
Enjoy reading WOLF STREET and want to support it? You can donate. I appreciate it immensely. Click on the beer and iced-tea mug to find out how:

Would you like to be notified via email when WOLF STREET publishes a new article? Sign up here.