And transactions in the apartment sector plunge.
After seven dizzying boom years, commercial real estate prices peaked in December 2016 and have since turned south. These values are collateral for nearly $4 trillion in loans, a good chunk from smaller banks. When the last bubble imploded after September 2007, prices plunged nearly 40%. The Fed has been pointing at the risks the new CRE price bubble poses for the banks. Among the sub-sectors, prices of apartment buildings, according to Green Street's Property Price Index, were down 3% in May year-over-year.
And transaction volume of apartment buildings has plunged. Real Capital Analytics put the "story for the apartment sector" this way:
Activity in this sector, which was the largest and most liquid investment market for most of 2015 and 2016, declined in May and was lower than activity in the office sector. For the year to date, transaction volume for apartments is down 25% year-over-year.
There is another side to this equation – the most important: rents. Because they pay for the whole construct, including the loans.
According to Zumper's National Rent Report for June, rents in multifamily apartment buildings (single-family houses for rent are not included) spiraled into a surprising counter-seasonal drop in June.
"Summer is peak rental season, meaning it's usually a difficult and expensive time to look for a new apartment," said Zumper co-founder Taylor Glass-Moore. "However, renters this year are in luck, as median rents are dropping for both one and two bedrooms nationally."
The chart below shows the monthly percentage change in median asking rents since June 2016. Note the seasonal surge in early spring – and then the sudden drop in June. That's when the median asking rent, instead of rising, dropped 1.7% for one-bedroom apartments (blue line, $1,149) and 1.8% for two-bedroom apartments (red line, $1,367) — both where they'd been in June 2016.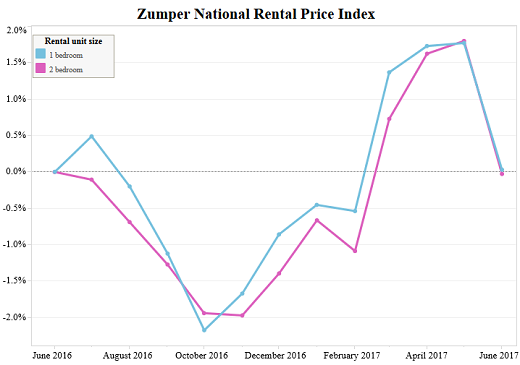 Rents fall in the most expensive markets
In San Francisco, the median asking rent for a one-bedroom apartment dropped 1.7% in June from a year ago to $3,450 and is down 6.0% from the peak in October 2015. For a two-bedroom, the median asking rent dropped 5.7% year-over-year to $4,500 and is down 10% from the peak in October 2015.
The last period of year-over-year declines in San Francisco ended in April 2010. This time, there is no Financial Crisis. There is however a "Housing Crisis," where the middle class can no longer afford to move into a modest apartment. This has consequences. And the exodus has started.
In New York City, the median asking rent for a one-bedroom dropped 7.5% year-over-year to $2,950 and is down 12.5% from the peak in March 2016. For two-bedrooms, it dropped 6.9% and is down 15.8% from the peak.
In San Jose, median asking rent for a one-bedroom rose 4.8% year-over-year to $2,390 but is down 1.6% from the peak in April 2016. For a two-bedroom, it fell 2.4% year-over-year to $2,830 and is down 8.1% from the peak.
This table of the 12 most expensive large rental markets in the US shows median asking rents, their year-over-year changes, and (in the shaded areas) the prior record and the change since then: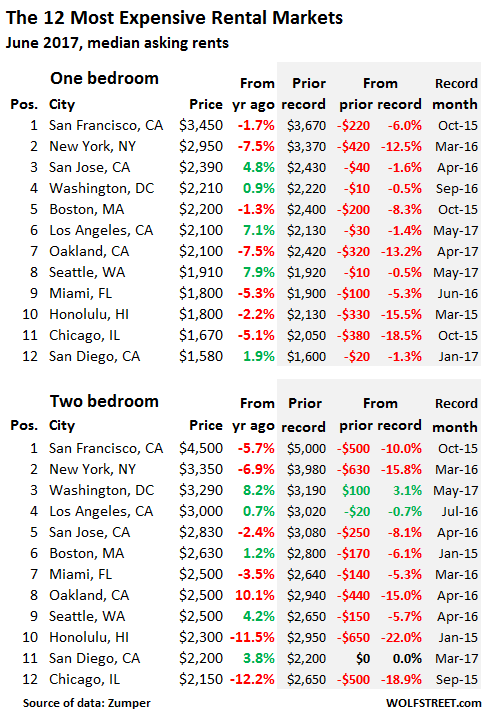 Note the double-digit plunges from the peak in New York City, Oakland, Honolulu, and Chicago.
Asking rents do not include incentives, such as "1-month-free." In San Francisco, a historic construction boom is flooding the rental market with high-end apartments and condos. But employment in May dropped to where it had been in July 2016, and the labor force dropped to where it had been in March 2016. Landlords are trying to fill their units, and incentives – a trick to keep asking rents high and make the market look better – have become common.
What gives? In some "mid-tier" rental markets, asking rents are soaring in the double digits, and in most other areas they're rising by smaller amounts, though there are now some other markets where rents are heading down sharply, including Chattanooga, TN, where the median asking rent for a 1-BR dropped 12.0% and for a 2-BR 15.6%.
Here are some of the mid-tier markets with the large year-over-year rent increases:
Nashville, TN (+15.0% and +12.9%);
Sacramento, CA (+15.2% and +15.7%)
Charlotte, NC (+15.3% and +11.2%)
Houston, TX (+15.3% and +14.4%)
Durham, NC (+15.5% and +12.0%)
Few workers receive those kind of pay increases. So these surging asking rents pressure consumers and cause them to cut back in other areas. And for the national numbers, the plunging rents in Honolulu and the soaring rents in Sacramento, and all the ups and downs everywhere else get neatly averaged out to 0% rent growth year-over-year. And that hasn't happened since rents started soaring in the Fed-inspired asset-bubble euphoria that followed the Financial Crisis.
Below is Zumper's complete list of the top 100 most expensive rental markets and price movements. Check out your city (click on image to enlarge).
Commercial and residential real estate price bubbles can choke the economy, the consequences of which are now visible in San Francisco. Read… San Francisco Bay Area Sheds Jobs and Workers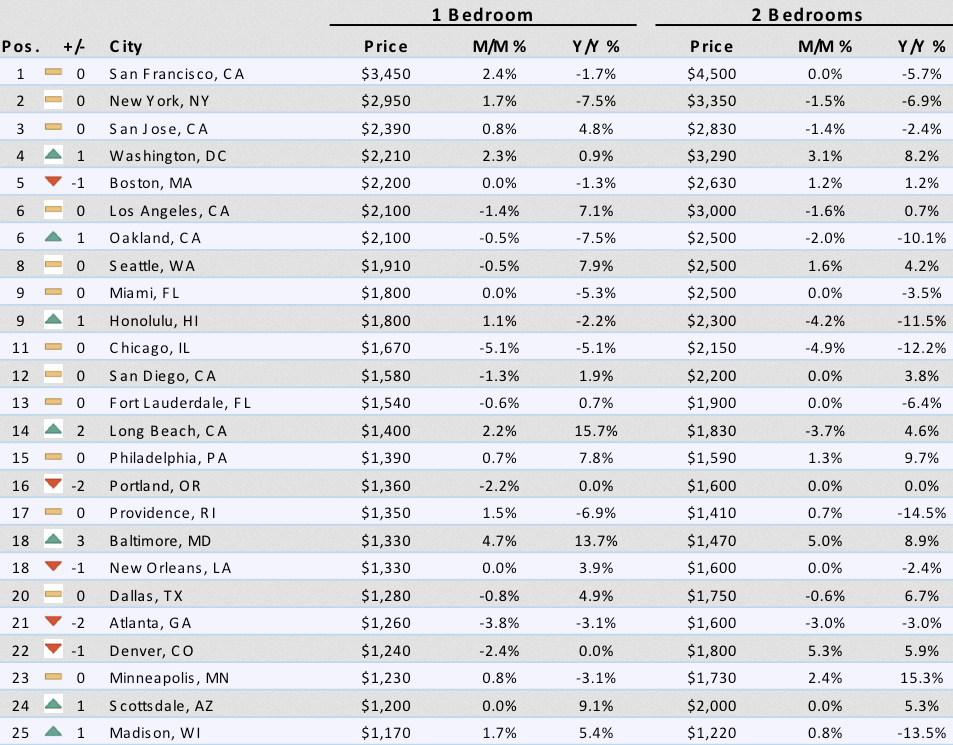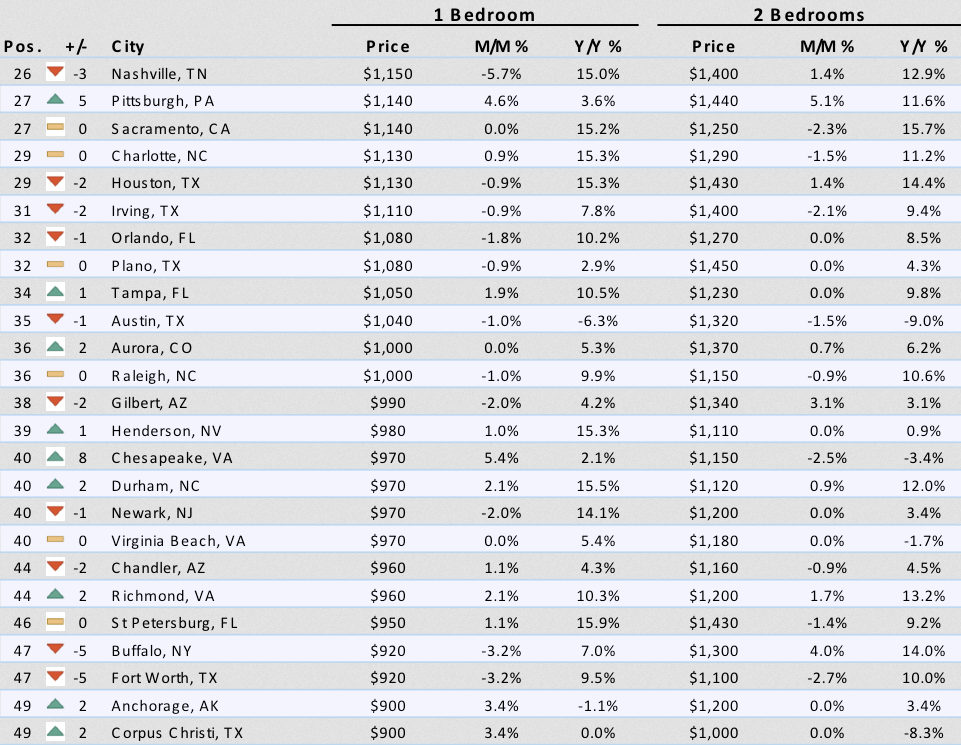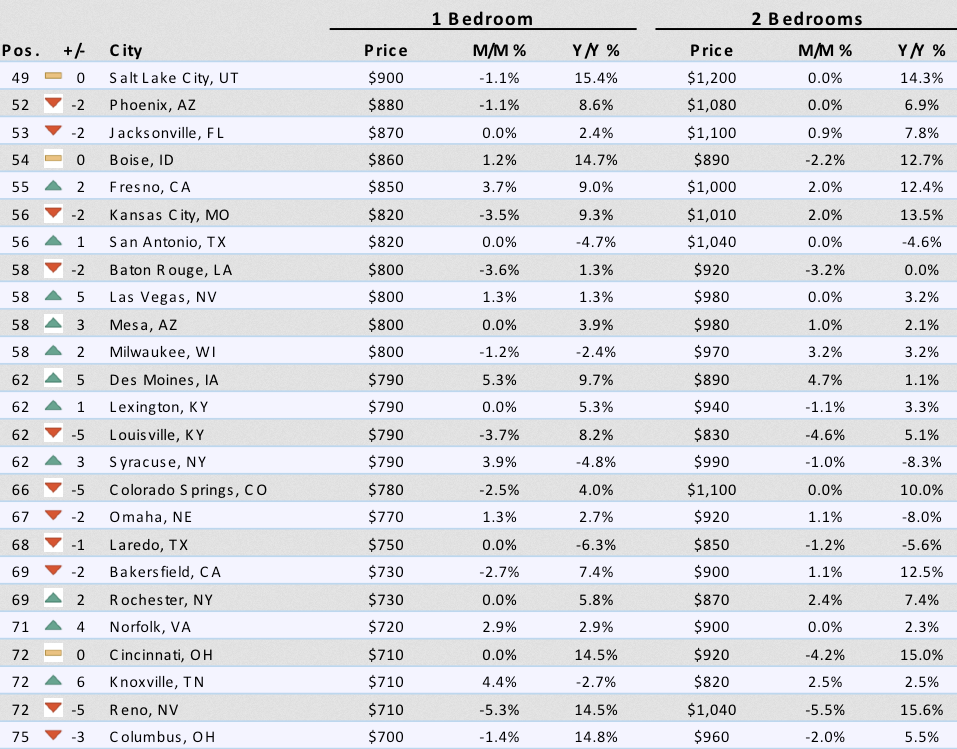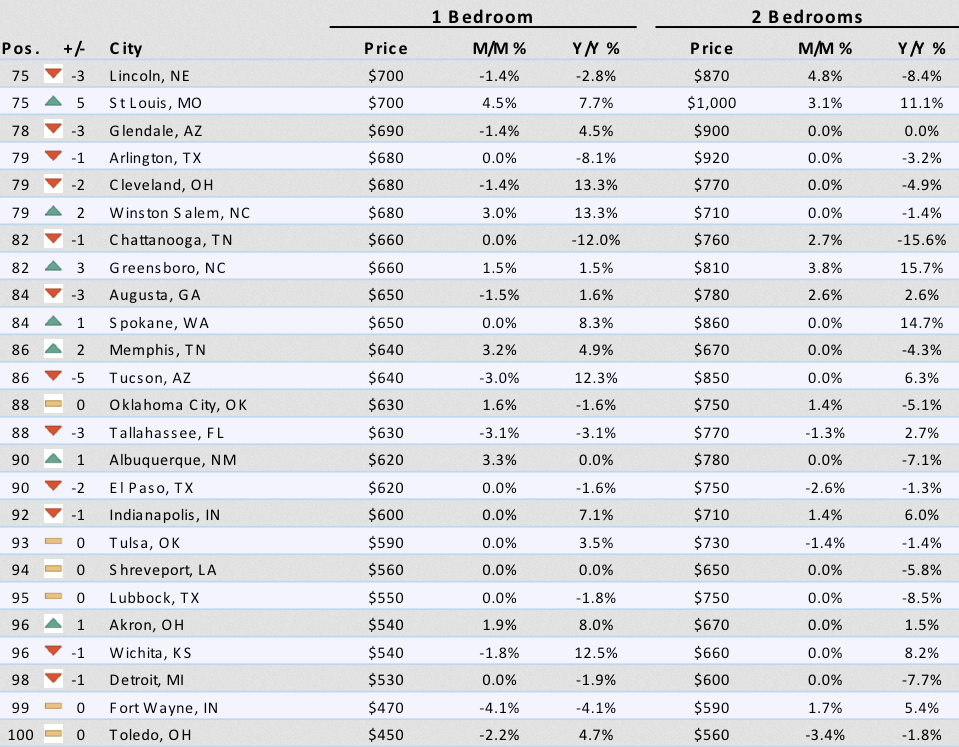 Enjoy reading WOLF STREET and want to support it? You can donate. I appreciate it immensely. Click on the beer and iced-tea mug to find out how:

Would you like to be notified via email when WOLF STREET publishes a new article? Sign up here.