Home prices are "weighing on affordability and constraining sales."
Here's another piece of an incomplete behind-the-scenes puzzle of the housing market that has surged to new record highs. Fannie Mae — one of the Government Sponsored Enterprises (GSE) that guarantee eligible mortgages and package them into mortgage-backed securities that are then sold to institutional investors — had some disconcerting words in today's Mortgage Lender Sentiment Survey for Q2:
More mortgage lenders say they have eased credit standards recently and expect further easing in the coming months.
Why? Cooling demand for mortgages. Mortgage lenders in the survey include banks of all sizes, specialized non-bank mortgage lenders (they don't take deposits), and credit unions.
The net percentage of mortgage lenders that reported having eased credit standards over the past three months has been rising since Q4 2016. And the net percentage of lenders that expect to ease credit standards over the next three months for all three types of mortgages —  GSE eligible, non-GSE eligible, and government loans such as FHA and VA insured mortgages – "reached or surpassed survey highs this quarter."
The chart below shows the net percentage of mortgage lenders who expect to loosen credit standard of GSE-eligible mortgages – the "conforming" mortgages that adhere to GSE underwriting guidelines, including loan limits: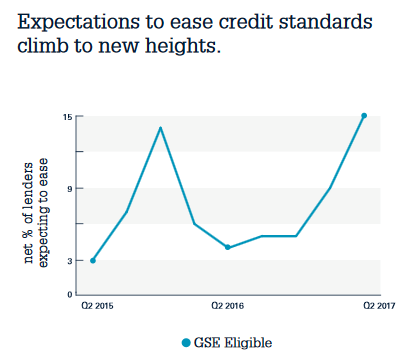 The driver behind the loosening of mortgage standards? Lenders want to write more mortgages. That's their business. But the business hasn't been going all that well recently, just when home prices across the country, and in particular in certain cities, have surpassed prior bubble highs, and prudence would now be more important than ever. So what drives them to lower their standards?
Cooling demand for mortgages.
Lenders' increasing concerns over "economic conditions" drove the easing of lending standards, as mortgage demand has taken a hit, and as the share of lenders who reported growth in purchase-mortgage demand "dropped to the lowest net reading in years."
The report: "Across the three loan types, the share of lenders who reported growth in purchase mortgage demand dropped to the lowest net reading in years for a second-quarter period":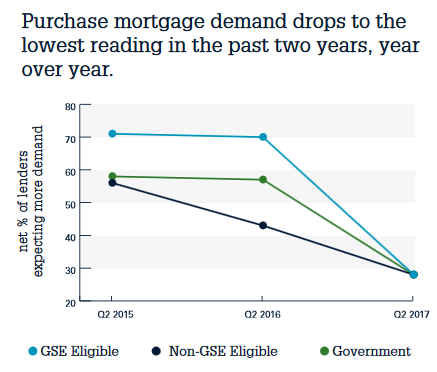 Comments on why demand for mortgages was cooling differed by institution size:
Larger Institutions: "Higher rates. Uncertain economic times" and "Competition."
Mid-sized Institutions: "Lack of inventory. We are an affiliated mortgage company and the lack of inventory in our markets effects our business directly."
Smaller Institutions: "Higher rates." "Cost of housing."
The report pointed out that this drop in demand for purchase mortgages confirms Fannie Mae's report earlier in June that found that Americans were souring on the housing market, with the percentage of those thinking that now was a good time to buy a home dropping to a record low.
"Easing credit standards might also be due in part to increased pressure to compete for declining mortgage volume," said Doug Duncan, senior VP and chief economist at Fannie Mae.
In face of declining demand, competition among mortgage lenders to write mortgages "heats up." So they get more aggressive with their rates, which lowers their profit margins. And 71% of the lenders blame competition for their lower profit margin outlook, the highest percentage in the history of the survey and up from 44% a year ago: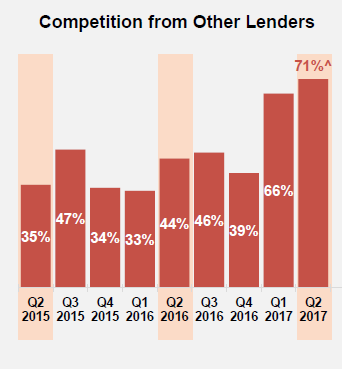 Fannie Mae's Duncan:
"Expectations to ease credit standards climbed to survey highpoints in the second quarter as more lenders reported slowing mortgage demand and increasing concerns about competition from other lenders."
But the mortgage lenders remain an optimistic bunch in terms of home prices: 78% said that home prices over the next 12 months would rise, also a survey-high, with only 3% daring to think that home prices might go down over the next 12 months: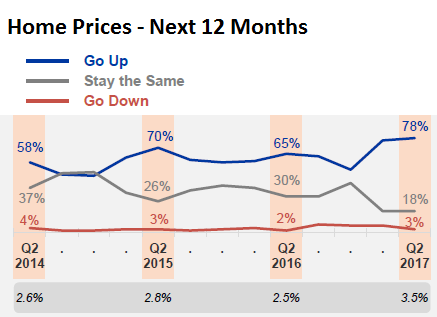 The report summarizes "Tight inventory has pushed up home prices, which is weighing on affordability and constraining sales."
This survey is another piece of the puzzle of a housing market that has boomed in many cities beyond what is sustainable and affordable. Now the Fed has embarked on raising short-term yields and has brought them up one percentage point. Long-term yields continue to drop, and mortgage rates remain historically low. But the Fed is now also targeting long-term yields with its strategy of unwinding QE.
QE was designed, among other things, to bring down long-term yields and mortgage rates, and it did so successfully – hence the surge in home prices. Unwinding QE, including shedding the mortgage-backed securities now on the Fed's balance sheet, will eventually have the opposite effect, just when home prices have surpassed the prior crazy bubble peak – in some cities by a big margin.
And that QE-Unwind may start in September. Read…  Rising Wages Scare the Fed: "We Need to Get on with This"
Enjoy reading WOLF STREET and want to support it? You can donate. I appreciate it immensely. Click on the beer and iced-tea mug to find out how:

Would you like to be notified via email when WOLF STREET publishes a new article? Sign up here.