Shares of US Defense Contractors not amused.
Something funny happened on the way to the bank for investors who were trying to cash in on President Trump's trip to Saudi Arabia and the $110 billion for US defense contractors that White House Press Secretary Spicer had touted on May 20 as the "largest single arms deal in US history."
The stocks of defense contractors had already soared over the past two years, with Lockheed Martin (LMT), Northrop Grumman (NOC), General Dynamics (GD), and Raytheon (RTN) up between 52% and 72%. But from Friday, May 19, through the end of the month, they got a big extra push of 5% to 6%.
But since then, they lost ground. The magic is gone. What happened?
Friday, May 19, President Trump departed for Saudi Arabia. And it appears a list of the "deals" to be announced that weekend was already being circulated, and folks got busy buying up those stocks even before Trump stepped on the plane that afternoon.
Then on May 20, in Riyadh, a laundry list of deals was announced, including that "largest single arms deal in US history." The following Monday and over the next days, the shares of defense contractors rose further, powered by visions of $110 billion in deals raining down on them.
But those deals were "fake news," according to Bruce Riedel, at Brookings:
I've spoken to contacts in the defense business and on the Hill, and all of them say the same thing: There is no $110 billion deal. Instead, there are a bunch of letters of interest or intent, but not contracts. Many are offers that the defense industry thinks the Saudis will be interested in someday. So far nothing has been notified to the Senate for review. The Defense Security Cooperation Agency, the arms sales wing of the Pentagon, calls them "intended sales." None of the deals identified so far are new, all began in the Obama administration.
It seems investors too have figured this out: these stocks have given up about half of their fake-news arms-deal gains since the end of May. Riedel goes on to list some examples:
The four "multi-mission surface combatant vessels" to the Royal Saudi navy. The proposal for sale of the frigates was first reported by the State Department in 2015, but "no contract has followed," he says. "The type of frigate is a derivative of a vessel that the U.S. Navy uses but the derivative doesn't actually exist yet."
The Terminal High Altitude Air Defense system (THAAD), which made headlines recently by being deployed in South Korea. The system has been on the Saudi wish-list for several years. In 2015, President Obama approved the sale in principle. But to this day, "no contracts have been finalized," Riedel says.
150 Black Hawk helicopters, which the Saudi also had on their wish list for years. "Again, this is old news repackaged," he says.
So nothing even close to $110 billion in real deals, with contracts and all, despite the interminable contract-signing ceremony in Riyadh. Riedel:
What the Saudis and the administration did is put together a notional package of the Saudi wish list of possible deals and portray that as a deal. Even then the numbers don't add up.
And then there's what everyone wants to know: How would the Saudis even pay for this $110 billion, after having slashed their budget due to the collapse of their oil revenues while also having to fund their war in Yemen. Saudi Arabia's foreign exchange reserves have plunged 33% from their peak in late 2014 to $506 billion in April. This chart shows the move in millions of Saudi Riyal (via Trading Economics):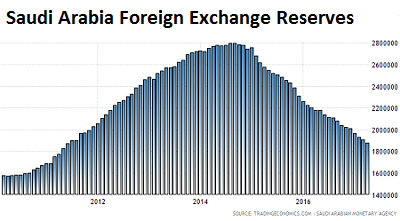 And times are tough. Riedel:
President Obama sold the kingdom $112 billion in weapons over eight years, most of which was a single, huge deal in 2012 negotiated by then-Secretary of Defense Bob Gates. To get that deal through Congressional approval, Gates also negotiated a deal with Israel to compensate the Israelis and preserve their qualitative edge over their Arab neighbors. With the fall in oil prices, the Saudis have struggled to meet their payments since.
So what are the Saudis really buying? "The Royal Saudi Air Force needs more munitions to continue the air bombardment of the Arab world's poorest country," Riedel says. And so what is in the pipeline is a deal of about $1 billion for "more munitions for the war in Yemen."
But as far as the stock market is concerned, reality shouldn't be allowed to cloud the scenery. Whether those deals – or any deals – are real of fake doesn't matter. The companies involved didn't even try to shed light on what was hidden underneath the hoopla though they're intimately familiar with it. All that matters is that shares rise. And should they dip as tidbits of reality emerge, well surely, it's going to be another buying opportunity.
What might be the worst-case scenario ahead? Read…  Why I think Stocks Won't Crash Spectacularly but May Zigzag Lower in Agonizing Ups-and-Downs, Possibly for Decades
Enjoy reading WOLF STREET and want to support it? You can donate. I appreciate it immensely. Click on the beer and iced-tea mug to find out how:

Would you like to be notified via email when WOLF STREET publishes a new article? Sign up here.