Factory-fresh Hyundai cars stored on vast new gravel lots near the Mexican border.
Industry experts had lowered their forecasts for May auto sales, having been overoptimistic every month this year, always figuring that there would be a year-over-year sales increase, when in fact sales fell every month. So for May, they became practically gloomy, but not gloomy enough.
J.D. Power and LMC Automotive forecast that new vehicle sales in May would inch up 0.5% year-over-year to 1.54 million cars and light trucks. Edmunds predicted that sales would edge up 0.3% to 1.53 million units. And Kelley Blue Book forecast that sales would be essentially flat year-over-year at 1.525 million:
And this is what the industry got:
Total new vehicle sales fell 0.5% in May to 1.519 million light cars and trucks, according to Autodata  (number of vehicles sold and delivered by dealers to their customers, or delivered by automakers to their large fleet customers).
The fifth month in a row of year-over-year declines.
Year-to-date sales are down 2%.
New car sales plunged 9.3% to 548,000 and are down 11% year-to-date.
New truck sales rose 6% to 935,170 and are up 4.7% year-to-date. After the April disaster for pickups, Chevy dealers offered discounts of $12,000 on Silverado pickups and Ford dealers offered discounts of $10,000 or more on 2017 model-year F-series pickups and over $14,000 on 2016 F-series pickups – which shows just how fat profit margins are on pickups.
The Seasonally Adjusted Annual Rate of sales (SAAR) in May fell 3% year-over-year, to 16.66 million light cars and trucks, the third month in a row below the 17-million mark.
The 71 days' supply of unsold vehicles on dealer lots was the highest since July of collapse-year 2009.
Even the highest incentives for any May, estimated at nearly $3,600 per unit sold, could not stem the sales declines.
GM sales fell 1.4% to 237,156 vehicles, with car sales plunging 11.5% and light truck sales rising 3.1%. Fleet sales made up 19% of its total sales. Its inventories on dealer lots rose to 963,448 vehicles (from 935,758 in April), the highest since November 2007, at the eve of the collapse of the US auto industry. Days' supply reached a dreadful 101 days.
Ford sales rose 2.3% to 240,250, with car sales down 10% and truck sales up 7.3%, after a massive surge in fleet sales (rental car companies and other fleets) that reached 34% of total sales, which is huge. Powered by these fleet sales, Ford edged past GM. Its inventory on dealer lots fell to 59 days' supply, which is about normal.
Winners among the other large automakers:
Honda sales rose 0.9% to 148,414; cars down 3.6%, trucks up 5.9%.
Nissan sales rose 3.0% to 137,471; cars down 10.1%, trucks up 18.5%.
Subaru sales jumped 12.1% to 56.135, with car sales surging 20% (!) to 31,605.
Volkswagen Group sales (Volkswagen, Audi, Bentley, Lamborghini) rose 3.8% to 49,525.
And the losers:
Toyota sales fell 0.5% to 218,248; cars plunged 13.8%, trucks jumped 12.4%.
Fiat Chrysler sales down 0.9% to 193,040; cars plunged 24.3%; trucks up 3.9%. As an aside, Fiat sales dropped 16% to just 2,670 units.
Kia sales (which is part-owned by Hyundai) down 7%, to 58,507.
Daimler sales (Mercedes-Benz, Maybach, Smart) down 7% to 30,290.
BMW sales (BMW, Mini, Rolls Royce) down 11% to 29,987, but Rolls sales surged 49% to a phenomenal 109 units.
Mazda sales fell 8.1% to 26,047, as car sales plunged 33.7% and truck sales rose 26%.
And then there's Hyundai.
The Korean automaker has been very successful in the US, after coming out of nowhere in 1986 with cheap cars that quickly acquired a reputation as being cheap. But overtime, cars became more reliable, nicer, and more expensive. And its product line moved upscale. Now in terms of volume, it is behind the Big Three American automakers and the Big Three Japanese automakers, but way ahead of the others.
Heavily focused on cars, it has run into the buzz saw of crashing car sales in the US. Its car sales plunged 19.1% in May to 39,567. Even its truck sales fell 7.5% to 20,444. Total sales sagged 15.5%, by far the worst among the major automakers.
And its inventory of unsold cars is piling up, but not only on dealer lots!
The photos below show Hyundai cars starting to fill up especially created gravel lots just north of the Otay border crossing to Mexico (Tijuana).
The photos were taken by a person who has been driving on this road (Alta Road) for many years, but who doesn't want to be identified because the photos were taken in a delicate area near the border, leading to Donovan Prison and San Diego County jails. The road is marked with "no stopping," "no parking," and "no standing" zones, the source says.
"For 10 years there have been signs selling land with no takers, but in the last six months, acres of gravel lots are appearing where there was once chaparral," the source said. "Now they're filling them with factory-fresh Hyundais. The lots are getting bigger and bigger and the cars dustier and dustier."
This photo shows one of the vast new gravel lots. Note the security lights. The first Hyundais have started to show up (click to enlarge):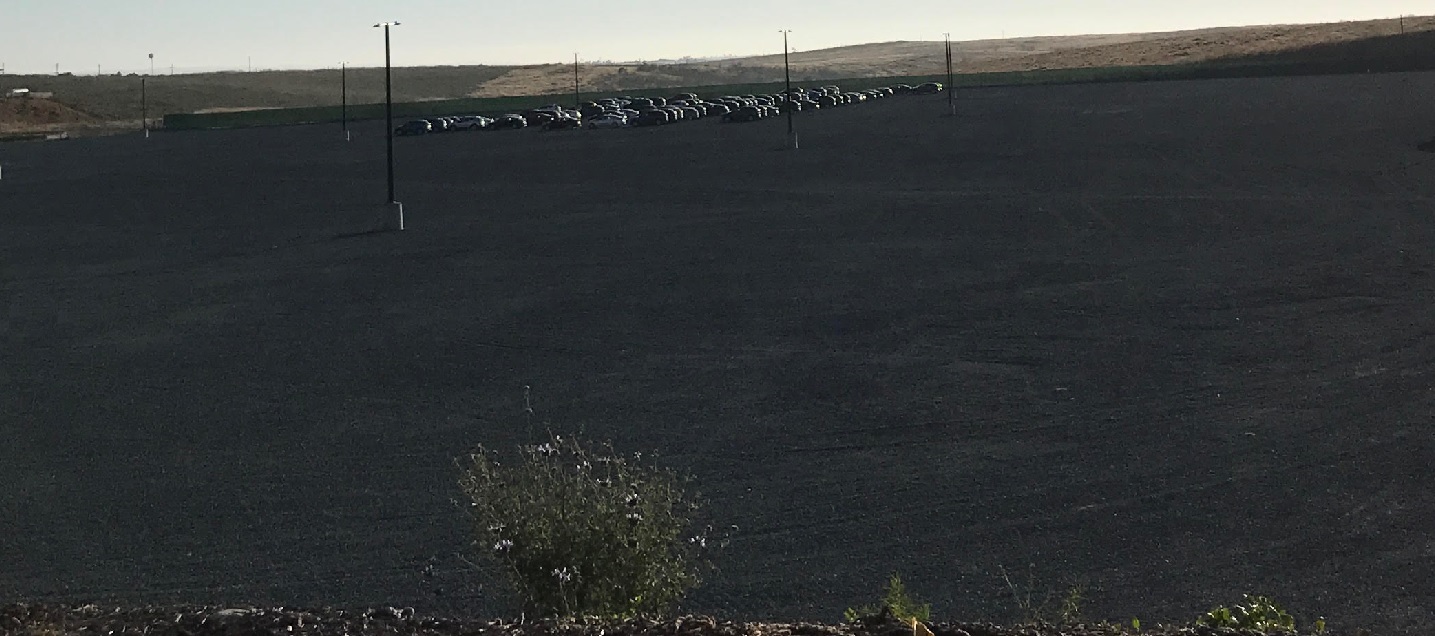 Below is another lot that is filling up with Hyundais. The hills in the background are in Mexico. The cars go all the way to the left close to the structures of a prison complex.
"This is a closely watched area half a mile north of the triple fence at Otay," the source said. "So photography is 'discouraged' by the ever present border patrol, police, sheriff, prison officers, and helicopter overflights," the source said (click to enlarge):

Note the white foil still on the hoods and roofs of these cars. The foils are put on the cars at the factory to protect horizontal surfaces during transport. After an automaker delivers a vehicle to the dealer, it goes through dealer prep, a procedure required by the automaker, during which all protective foils are removed. That the foils are still in place means that these cars have not even been delivered to dealers but are stuck in the automaker's distribution channel.
In other words, they're not counted as "inventory on dealer lots." They're shadow inventory. They're a sign of massive overproduction hitting an unexpected slowdown in sales.
No one stores brand-new cars on specially created gravel lots unless they absolutely have to because the dust and dirt will get into everything. This is reminiscent of what Asian automakers did during the financial Crisis with cars being offloaded at US ports and no place to go; they were piling up everywhere. This is not a good sign for Hyundai.
The #Carmageddon data is just relentless. Read…  Used Vehicle Trade-in Values Sink, Hit New Vehicle Sales
Enjoy reading WOLF STREET and want to support it? You can donate. I appreciate it immensely. Click on the beer and iced-tea mug to find out how:

Would you like to be notified via email when WOLF STREET publishes a new article? Sign up here.