Because there have been zero resales, "the actual market value of the units in the project is uncertain."
Miami, particularly near the waterfront, has experienced one of the hottest post-housing-bust construction booms in the country, creating a veritable mecca for "preconstruction" condo flippers – often institutional investors – that are trying to make a buck. The construction boom is quite a sight to behold, still, as seen from a cruise ship, where crane counting might while away the time. This photo, taken by Matthew Brandley, shows the rising condo towers in the New Edgewater area: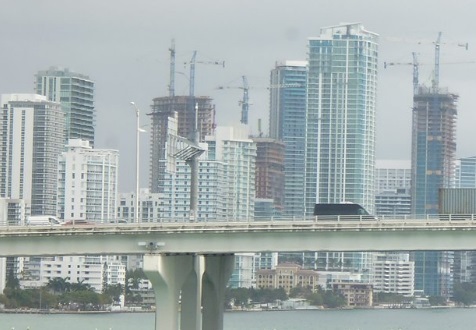 That this might eventually create a supply problem is clear. Alas, "eventually" got here in a hurry.
Brickell, an area that is part of Miami's "condo corridor" by the waterfront, is just an example, similar to New Edgewater above. Andrew Stearns, founder of StatFunding, who analyzed the Brickell condo area – more on that in a moment – mused about the New Edgewater area: "There is an unprecedented glut of new preconstruction condos coming to market there too, but different neighborhood."
Interesting things are starting to transpire in Brickell. Among the newest condo projects is Bond Brickell, a tower with 328 units, completed in August 2016. The analysis by StatFunding found that the 318 units (97%) that have been sold look good on paper, but…
The developer is still sitting on 10 units. Of them, four are listed for sale on the Multiple Listing Service (MLS).
Many of the sold units were acquired by "preconstruction" condo flippers. 69 of these units are now listed for resale on the MLS.
Thus a total of 79 units are either listed for sale or still owned by the developer. That's 24% of the total units. To attract potential buyers, 14 of these units have been listed for sale at a loss after the standard 6% commission.
And yet, there have been zero sales reported on the MLS.
Preconstruction condo flippers make a leveraged bet. They buy condos from the developer during the construction phase with a small deposit and make additional payments as construction progresses. In a booming market, lenders are eager to extend these short-term loans. When the building is completed, the preconstruction flipper closes the sale and then tries to unload the condo at a profit.
During good times, developers sell all their units either to end-users or to flippers within a few months of completion. But now, developers are getting stuck with unsold units, and flippers cannot flip.
But Bond Brickell isn't the only new tower in the neighborhood. It competes with other towers that have just been completed or are going to be completed soon. This map shows those projects clustered around Bond Brickell (#1):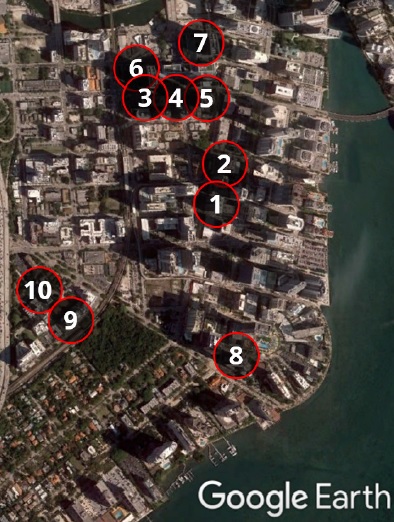 In this list of the towers in the photo, the percentage in parentheses indicates "closed sales" as percent of total units in the project. Sales cannot close in projects that are not completed though buyers may have put down deposits on some of the units. Hence uncompleted projects (bold) show no closed sales:
Bond Brickell, 328 units, completed 8/2016 (97% sold)
1010 Brickell, 387 units, to be completed 8/2017
Brickell Heights 2, 332 units to be completed 9/2017
Brickell Heights, 358 units to be completed 9/2017
SLS Lux Brickell, 450 units, to be completed 12/2017
CityCenter Rise, 390 units, completed 9/2016 (46% sold)
CityCenter Reach, 390 units, completed 4/2016 (88% sold)
Echo Brickell, 175 units, to be completed 5/2018
Le Parc Brickell, 128 units, completed 6/2016 (93% sold)
Cassa Brickell, 81 units completed 11/2016 (75% sold)
In the Brickell area alone, 2,547 condos are listed for resale. In 2016, only 1,017 sales closed. In Q1 2017, 227 sales closed. At the Q1 rate of sales, there is 34 months of supply.
This is what the Brickell "neighborhood" and its cranes look like from the street (photo by StatFunding.com):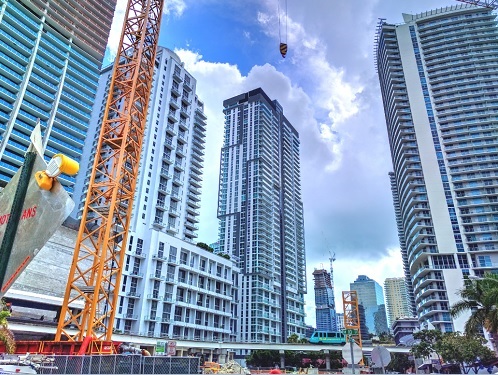 And the plot thickens: Another 1,700 new units (in the list above) will be completed over the next 12 months within blocks of Bond Brickell. But here's the thing, according the Andrew Stearns:
Because there have been zero resale transactions at Bond Brickell, the actual market value of the units in the project is uncertain. With 14 out of 69 Bond Brickell resale listings listed for a loss, asking prices indicate that Bond Brickell units cannot be resold unless sellers are willing to take a loss on resale.
And even then…. The fact that there have been zero resales so far at the Bond Brickell – and the competition hasn't even fully matured yet – also indicates that the loss flippers have to take might have to be significantly larger than indicated by those asking prices. When prices drop enough, there will eventually be a buyer. But the price level where buyers come out of the woodwork hasn't been reached yet.
Peak Rent? In the most expensive US markets, there are traces of relief for renters. Landlords scramble. But in some cheaper cities, rents soar. Read… The Great Unwind Grips the 12 Hottest US Rental Markets
Enjoy reading WOLF STREET and want to support it? You can donate. I appreciate it immensely. Click on the beer and iced-tea mug to find out how:

Would you like to be notified via email when WOLF STREET publishes a new article? Sign up here.