Peak Rent. Traces of relief for renters. Landlords scramble. But in cheaper cities, rents soar.
In April, asking rents for two-bedroom apartments declined from their respective peaks in all of the 12 most expensive rental markets in the US, ranging from a tentative 1.3% down-tick in Los Angeles to an 18.9% plunge in Chicago.
For one-bedroom apartments, asking rents declined in nine of the 12 most expensive markets from the respective peaks, with Chicago's median rent down 18%.
It seems the 12 most expensive rental markets in the US have had a date with reality, and that can be tough. But in some "mid-tier" markets (in terms of how expensive rents are), rents are soaring by the double digits.
The gap between plunging and soaring rents gets neatly averaged away in the national numbers to create a rental la-la land where the median asking rent for a one-bedroom apartment rose 3% year-over-year to $1,169, and for a two-bedroom 2.9% to $1,390. No sign of the drama playing out in local markets.
Zumper's National Rent Report, on whose data this is based, tracks asking rents in multifamily apartment buildings. Single-family houses for rent are not included though they're ultimately impacted by multifamily dynamics.
In ludicrously expensive San Francisco, the median asking rent for a one-bedroom apartment dropped 5.3% from a year ago to $3,370 and is down 8.2% from the peak in October 2015. For a two-bedroom, it dropped 5.9% to $4,500 and is down 10% from the peak.
This doesn't happen often: The last episode of year-over-year rent declines in San Francisco ended in April 2010.
These asking rents do not include incentives, such as "1 month free" or "2 months free." Incentives were rare during the years of breath-taking rent surges in San Francisco. Now, with new apartments and condos flooding the market due to a historic construction boom that coincides with a slowdown in job creation, incentives have become common. And they have a big impact. For example, with "2 months free," the first-year median rent of a two-bedroom would be down 25% from its peak. That's $15,000 a year!
Incentives are a way of lowering the rent without showing the declines to the public, on the fear that lower rents beget lower rents and encourage renters to negotiate. By hiding the actual declines, the industry hopes that next year, rents might rise again.
And signs of desperation are cropping up – desperation both, among investors that sit on new but vacant luxury condos with very high carrying costs; and among folks looking for an "affordable" nice place to stay, even if space and privacy are a bit compromised.
So a startup has sprung up to bring these two desperate parties together. The SFGate:
These arrangements, which come complete with subdivided bedrooms featuring upholstered partitions between roommates' beds, come courtesy of HomeShare, a startup that carves up rooms inside of unoccupied luxury apartments and then vets and links up strangers to occupy them.

Each of HomeShare's hundreds of tenants gets about 55 square feet along with half a closet, half a bathroom, and a compact common area shared with a roommate and usually two other flatmates, slumbering in the unit's other divided bedroom. Each micro-bedroom fits a queen-size bed and little else. Some of the walls don't quite reach the ceiling. It's a fit for the kind of person who needs to scrounge cash and will tolerate roommates, but craves panoramic views and glistening new plumbing fixtures.
In New York City, the second most expensive rental market in the US, the median asking rent for a one-bedroom dropped 5.5% from a year ago, and has now plunged 12.9% from the peak in March 2016. Rents for two-bedroom apartments fell 1.1% year-over-year and 10.4% from the peak. And there too, many landlords are luring buyers with large incentives.
This table of median asking rents and their year-over-year changes in the most expensive large rental markets in the US is awash in red ink where for the past half-dozen years there used to be thicket of lush green: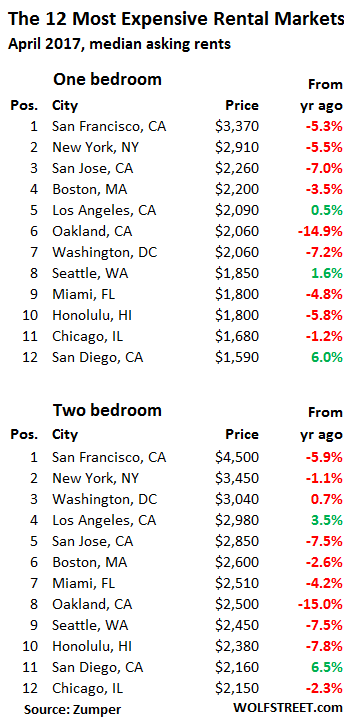 Rents in the Bay Area cities of San Francisco, San Jose, and Oakland are all in the red. Note the free-fall of rents in Oakland, down 15% year-over-year.
In terms of the longest plunge from the peak, Chicago is it: from peak rent in September and October 2015, median asking rents have plunged 18% and 19%!
Even in Seattle, where annual rent growth was in the high-single digits through the fall of 2016, red is making an appearance. While the median rent for a one-bedroom eked out another record, the median rent for a two-bedroom has dropped 7.5% from a year ago.
But huge rent increases, some well into the double digits, are migrating to mid-tier markets, with two-bedroom apartments experiencing often the largest increases, for example: Nashville, TN (+14.6%); Irving, TX, (+15.3%); Sacramento, CA (+15.0%), Raleigh, NC (+15.4%), or Richmond, VA (+14.0%).
For renters living in any of those markets, their cost of living surged far beyond what the national averages of the Consumer Price Index might suggest. And few of them received a corresponding double-digit pay increase. This might be part of the problem with the overall economy. It depends on consumers taking on debt to buy things they cannot afford, but these consumers, perhaps strung out by rising rents, are now cracking. Read… Are American Debt Slaves Getting in Trouble Again?
Below are the top 100 rental markets in April, in order of the amount of rent for one-bedroom apartments (tables by Zumper, click to enlarge):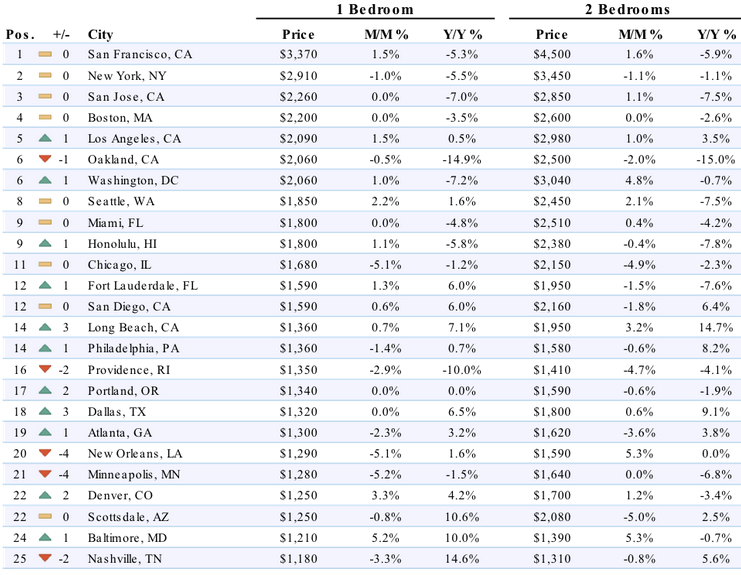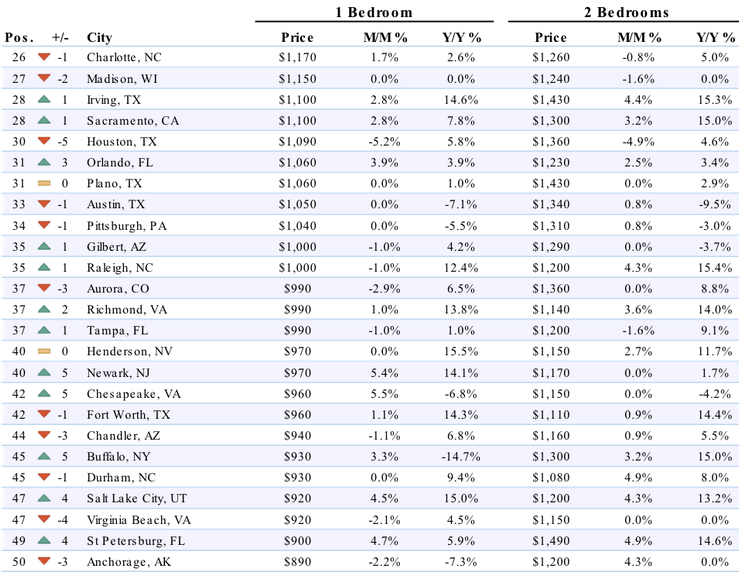 Enjoy reading WOLF STREET and want to support it? You can donate. I appreciate it immensely. Click on the beer and iced-tea mug to find out how:

Would you like to be notified via email when WOLF STREET publishes a new article? Sign up here.