The question now being asked, years too late: How will this end?
"Homeowners and potential first time homebuyers are now even more vulnerable to a payment shock from rising mortgage rates," the National Bank of Canada warns in its housing affordability report.
Eight years of super-low interest rates in the US have succeeded in inflating home prices in many cities way past the peaks of the housing bubble that imploded during the Financial Crisis. A boom-crash-boom movement. But home prices in Canada barely dipped during the Financial Crisis and then continued soaring. So a boom-boom movement.
Canada's largest markets – the metros of Toronto and Vancouver – have made it into the bubbliest housing markets in the world. After eight years of aggressive monetary easing around the globe, and super-low mortgage rates, topped off with home prices soaring over 30% year-over-year in Toronto in March, even the Bank of Canada and the provincial governments are beginning to fret. The question now being asked, years too late: How will this end?
And more specifically, what will happen when mortgage rates tick up even a little bit?
In its report, NBF Economics and Strategy warns that despite low mortgage rates, affordability has sharply deteriorated:
The worsening of affordability in Q1 was the seventh in a row, the longest run in almost 30 years. As a result, our national composite is the least affordable in 7 years.
The report points out the "significant divergence" between some cities, such as Montreal and Calgary, that remain affordable, thanks to historically low mortgage rates, and the top markets, particularly Toronto and Vancouver that are, despite these mortgage rates, "the most expensive since the early 1990s." The report adds:
For some time, the problem of affordability in Vancouver and Toronto was limited to the non-condo segment, but the housing boom has spread to the condo portion as well. As a result, the condo market in those cities is also the least affordable in several years.
Housing affordability is a function of down payment, monthly payment, and household income. With home prices skyrocketing while household incomes were lagging far behind, low mortgage rates were the grease that kept it going.
But what happens when mortgage rates begin to tick up? A "payment shock."
An increase in interest rates of 100 bps [1 percentage point] on a 5 year term would represent a rise of C$388 for the monthly mortgage payment in the Vancouver market (+9% to C$4,669) and C$239 in Toronto (+7% to C$3,692).

With housing affordability problem in these markets being already acute, we doubt current home prices could resist such an interest rate hike.
This chart via NBF Economics and Strategy shows by how much monthly mortgage payments would rise if mortgage rates ticked up just 1 percentage point. Note the impact on  monthly payments for homes in Toronto (Ontario) and Victoria and Vancouver (British Columbia):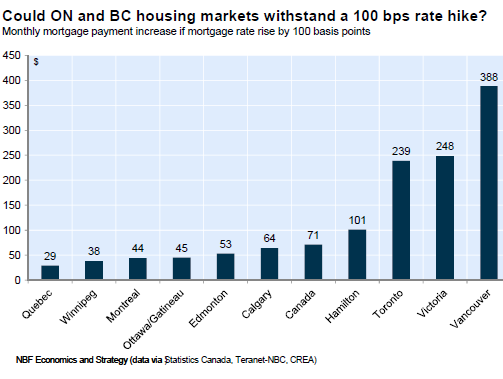 So just how big is the Canadian housing bubble?
The chart below by NBF Economics and Strategy compares US home prices (Case-Shiller 20-City index) to Canadian home prices (Teranet-National Bank 26-city index). Both indices are based on similar methodologies of comparing pairs of sales of the same home over time. The shaded areas denote recessions in Canada. The brief dip during the last recession in Canada pales against the multi-year housing bust in the US: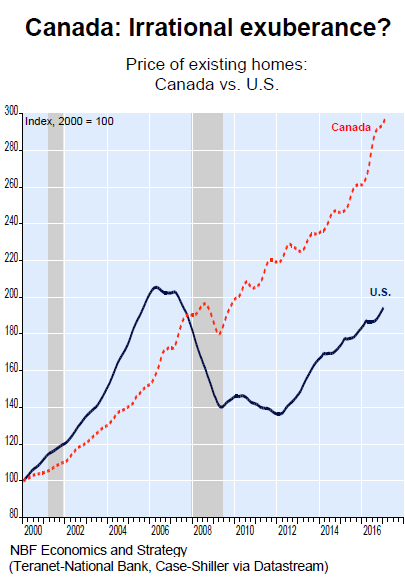 This house price inflation – when the dollar loses value for house purchases – was further stimulated by the transformation of the concept of "home" into a global asset class that investors and speculators around the globe use for their own purposes, just like they use stocks or bonds or currency speculation. Like so many other assets classes in central-bank nirvana, this one too has reached ludicrous levels.
But there's a difference. People don't live in stocks, bonds, classic cars, or art, and these asset bubbles have less impact on the real economy. But people do have to live in homes.
Now that the results are clearer than daylight, central banks and governments worry about the consequences: Bubbles don't just plateau. Now they wonder, belatedly, how to get out of it without bringing the whole construct down. The fact that a 1-percentage point increase in mortgage rates poses existential questions for some of the hottest markets shows how far policy makers have painted themselves into a corner.
So Ontario's government decided to tamp down on the Toronto house price bubble, after British Columbia made similar efforts last summer, and after Bank of Canada Governor Stephen Poloz warns, "People need to ask themselves very carefully, 'Why am I buying this house?"' Read…  Toronto House Price Bubble Hit with 15% Foreign Buyers Tax. "Property Scalpers" & "Double Ending" Brokers Targeted
Enjoy reading WOLF STREET and want to support it? You can donate. I appreciate it immensely. Click on the beer and iced-tea mug to find out how:

Would you like to be notified via email when WOLF STREET publishes a new article? Sign up here.