Who's Behind China's Wild House Price Bubble? State-Owned Property Developers, Funded by State-Owned Banks.
Beijing's municipal government summoned representatives of state-owned property developers on Monday and told them to stop hyping the already overheated housing market, according to the portal, Chinese Real Estate Business (CREB), cited by Reuters.
State-owned property developers, funded by state-owned banks, have been a major force in inflating home prices as they bid aggressively for land to gain market share. According to CREB, state-owned developers bid for nearly half of the most expensive land in China during the first five months of 2016. And that trend has continued. But after the meeting with the municipal government of Beijing, these firms may be forced "to change their land strategy."
Telling state-owned developers to stop hyping, as CREB put it, "operational and market activities" would be the latest effort to crack down on property speculation gone wild in China. It would come on top of the numerous other ways local and central authorities have tried to curb this speculation, without success so far.
Today, the National Bureau of Statistics reported that new home prices in 70 cities surged 11.3% in March year-over-year. It was the 18th month in a row of year-over-year gains. Prices jumped 19% in Beijing and 16.8% in Shanghai (chart by Trading Economics):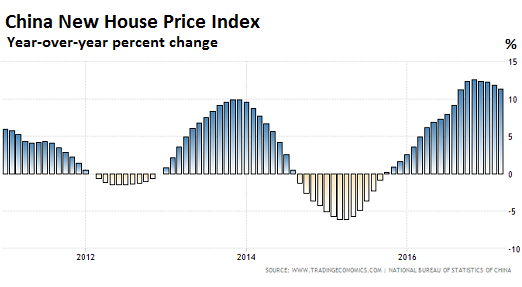 On a monthly basis, new home prices rose 0.6%, the fastest in four months, up from 0.3% in February. Of the 70 cities in the index, 62 experienced a month-to-month price gain, up from 56 cities in February, once again defying expectations of a slowdown. Prices jumped the most in Haikou (2.6%), Sanya (2.5%), and Guangzhou 2.3%), followed by other second- and third-tier cities, to which the speculative fire has been spreading.
Dozens of cities have imposed ever tougher buying restrictions, more stringent down-payment requirements especially for second homes, stricter resale limits, etc. etc., and they've redoubled their efforts since mid-March when it became apparent that the prior redoubled efforts had not produced results, as people figured out how to get around them.
But China depends heavily on property development and property speculation for its economic growth, and no one really wants to bring it down: The National Bureau of Statistics (NBS) reported on Monday that first-quarter growth in property investment – residential, commercial, and office spaces combined – soared 9.1%.
This red-hot property sector, and the 40 other sectors that are directly affected by it, drove China's official GDP growth in Q1 to 6.9%.
As always, analysts keep saying that it would take a few more months for the restrictions to take effect and start cooling the market. That line was once again repeated on Monday, officially:
"Because the latest round of cooling measures came out after March 17, their impact on the entire economy including home prices may show in April or later," Mao Shengyong, a spokesman for the NBS said at a briefing, according to Reuters. Houses are for habitation, not for speculative investment, he said.
That would be a novel concept in these crazy times. But who really wants to cool the market, when state-owned developers and state-owned banks are firing it up? Yet, everyone sees the risks. Reuters:
Most analysts agree an overheating property market poses the single biggest risk to China's economic growth, with increasingly tough government measures to cool soaring prices raising the risk of a nasty crash.
But the cooling off is not happening yet. New construction measured in floor space soared 11.6% in the first quarter, year-over-year, the NBS reported, and sales jumped 19.5%, though that growth rate was down a notch from the year 2016, when sales at soared 22.5%, the highest in seven years, as the boom in first-tier cities was spilling into second- and third-tier cities.
With state-owned developers, funded by state-owned banks, firing up much of the show, and with speculators, who assume the government has their back, running wild in a gushing celebration of ever-soaring prices and huge automatic profits, there's little chance that this scheme that has already transcended irrational exuberance will simply "cool" to a level of "stability," and plateau somewhere soon, as it is hoped. Phenomenal bubbles like this don't go quietly.
And now the second largest US residential brokerage is trying to capitalize on the desire among property investors in China to ride up the US housing bubble. Read…  Warren Buffett's Berkshire Hathaway Will Market US Homes in China
Enjoy reading WOLF STREET and want to support it? You can donate. I appreciate it immensely. Click on the beer and iced-tea mug to find out how:

Would you like to be notified via email when WOLF STREET publishes a new article? Sign up here.