"We think the industry is plateauing at some levels."
What I've been fretting about – declining auto sales despite the biggest incentives ever to overleveraged car buyers as the bottom is falling out of subprime auto loans and used car values – is now a reality.
Total new vehicle sales in March fell 1.6% year-over-year to 1.556 million cars and light trucks, according to Autodata, and are now down 1.5% year-to-date, with truck sales rising 5.2% and car sales plunging 10.6%.
This wouldn't be so bad – just an "unexpected" sales decline – if automakers had not shelled out $3,768 in incentives per new vehicle sold, the highest ever for any March, according to J.D. Power. This would be about 10.4% of suggested retail price. The prior record for March occurred in 2009 as the industry was collapsing.
These are unit sales by franchised dealers to their customers, and by manufacturers to large fleets and to their own employees under their employee programs.
Inventories are bloated, and the number of days a vehicle sits on a dealer lot before being sold rose to 70 days on average in March, according to J.D. Power – the longest since July 2009.
Here's the thing: As incentive spending in March surged 13.4% year-over-year, according to TrueCar estimates, total vehicle sales fell 1.5%!
"We think the industry is plateauing at some levels," Ford Chief Economist Emily Kolinski Morris mused on a conference call.
And it surprised the industry soothsayers. TrueCar figured that sales would increase 0.2% to 1.586 million new cars and light trucks. J.D. Power and LMC Automotive expected sales to increase by 1.9%, to 1.62 million units, based on the surge in incentive spending. At the time (March 26), I just couldn't help myself pooh-poohing these estimates:
If sales nevertheless fall, everyone will blame the winter storm that arrived in the winter – "unexpectedly" or something. And it is possible that sales might fall. There was no winter storm in February, which was one of the warmest Februaries on record. Yet, sales in February fell 1.1% year-over year. They edged down in January too. And sales in both months combined fell 1.4% from the same period a year ago.
To accomplish the feat of a 1.5% sales decline in March, auto makers spent a total of $5.54 billion in incentives, according to TrueCar estimates.
GM which spent the mostest the fastest (nearly $5,000 per vehicle sold) saw sales inch up 1.5%. But Ford, which has been priding itself in its "disciplined approach" to incentives and spent just under $4,000 per vehicle, got crushed, with sales down 7.2%.
Fiat Chrysler sales fell 4.6%, despite incentives of $4,300 a vehicle. This table shows how the major automakers fared in terms of increase or decrease in sales and incentive spending: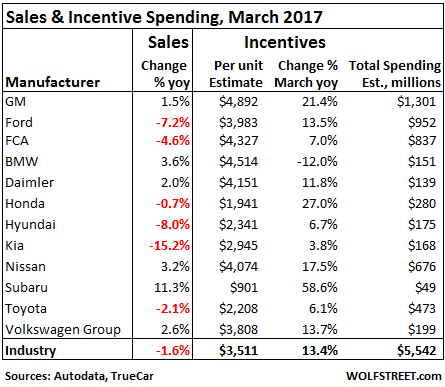 At this rate, GM would spend nearly $4 billion a quarter. Alas, in Q1 2015, GM reported global net income of only $2 billion. This math isn't going to work out over the longer term.
"You have to ask yourself 'how far do you want to go?'" Nissan's head of U.S. sales, Judy Wheeler, said about those incentives.
There is a darker side to this: Consumers have become recalcitrant and have blatantly refused to respond adequately to record profit-eating incentives. Last time that happened, the bottom fell out of the industry.
And what would happen if automakers somehow managed to curtail incentives? If they could somehow inch back from the precipice, in unison? Consumers would just say no. They'd go on strike. Why pay $8,000 more for a vehicle than it would have cost a month earlier. Better wait for a new deal. It would crush sales. That's what would happen.
That's why it is so hard for automakers to get off incentives once they're trying to use them just to maintain sales. They're an addictive and, once taken in enough quantity, destructive drug.
And because we're talking about a crazy month in the car business, a word about Tesla. It sold 4,050 new vehicles in the US in March, according to Autodata. All automakers together sold 1.56 million new vehicles in the US. Tesla isn't even a rounding error in this number. It's invisibly small. It has lost money every year of its 10 years of existence, including $1.86 billion over the past three years. It might never make any money. It might instead continue burning through investor money at an astounding clip. Yet its shares surged today, and its market capitalization hit $48.6 billion, and exceeded Ford's market cap. That's how crazy things have gotten.
After the credit bubble comes the credit bust. Read…  Subprime Auto Loans Crushed Worse than in 2009, Auto Industry Bleeds, Knock-on Effects Commence
Enjoy reading WOLF STREET and want to support it? You can donate. I appreciate it immensely. Click on the beer and iced-tea mug to find out how:

Would you like to be notified via email when WOLF STREET publishes a new article? Sign up here.