Ballooning Condo Glut ensnares preconstruction speculators.
Miami-Dade's spectacular condo flipping mania is in turmoil, with sales plunging, inventory-for-sale soaring, and new supply flooding the market. It's not like Miami hasn't been through this before.
In February, existing home sales of all types fell 10% year-over-year, to 1,835 homes. These sales "do not include Miami's multi-billion dollar new construction condo market," the Miami Association of Realtors clarified in its report on March 23.
And this new construction market that is not included has become distressed.
Sales of single-family homes fell 10% in February, to 881 houses. The report blamed the shortage of properties "in popular price points." Prices have been rising sharply, and at the price points where people could actually buy a house – below $250,000 – few sellers were playing ball. Hence a stalling market. Sales of high-priced units rose, but they weren't enough to pull out the totals.
Condo sales fell 10% as well, to 954 units. This time, the report didn't blame the lack of supply. Instead: "Existing condo sales are competing with a robust new construction market." At the same time, inventory of existing condos for sale, not including new units, rose 10% to 15,289. At the current sales rate, supply soared 29% to 14 months.
This chart by StatFunding shows the plunge in sales and the surge in condos listed for sale. I circled the last five Februaries on the sales line (red). From February 2014 to February 2017, condo sales have plunged 25%. Andrew Stearns, StatFunding's founder and CEO, calls the resale inventory – the dark green line that has soared 90% since early 2013 – "scary":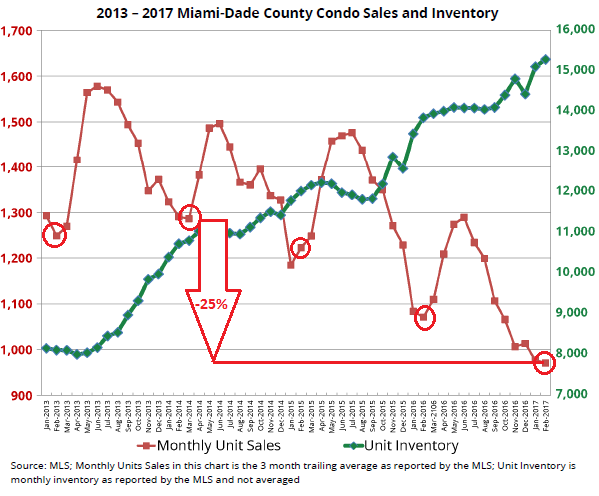 Even this "scary" inventory understates the total number of condos for sale. It only includes units listed for sale on the Multiple Listing Service (MLS). But developers normally don't list their new units on the MLS, and thus they're not included in the above chart.
This is the distressed market that preconstruction condo flippers are facing.
Preconstruction condo flippers make a highly leveraged bet. They buy the condo from the developer during the construction phase. The initial deposit is small. Additional payments are required as construction progresses. But in a booming market, lenders are eager to lend. Then, often around the time the building is completed, flippers try to unload the condo at a profit. This bet has been hot in the condo construction boom around the country. But in Miami, the bet is now collapsing.
During good times, developers sell all their units either to end-users or to flippers within a few months of completion. But now, developers are getting stuck with unsold units, which, as Stearns points out, marked the "inflection points of previous condo cycles."
The 12 large developments completed between late 2015 and late 2016 have added 2,743 condos to the market. Developers still own 433 of them (15.8%).
In addition, preconstruction flippers are also trying to unload their units. In those 12 developments alone, 451 condos, or 16.4% of the total, have been listed for sale on the MLS.
Here is the granular detail as of March 22 per StatFunding (sources: MLS, Miami-Dade Recorder; completion date in parenthesis):
Echo Aventura, 190 units (8/2015). Developer sits on 13 units (7%) and took out a bridge loan secured by those units. 36 units have appeared on the MLS.
Crimson, 90 units (12/2015). Developer is stuck with 30 units (34%!) and has sold only 1 unit since December 2016. 12 units listed for sale on MLS.
Peloro Miami Beach, 114 units (3/2016). Developer has sold all but 2 units. This includes 3 units sold via bulk sale this year. But 38 units – 33% of the total! – are listed on the MLS for resale.
CityCenter Reach, 390 units (4/2016). Developer is stuck with 46 units (12%). Meanwhile, 47 units have appeared on the MLS for resale.
Le Parc Brickell, 128 units (6/2016). The developer has listed the 9 units that haven't sold yet on the MLS, in addition to 23 units listed on the MLS by condo flippers, for a total of 32 units – 25% of the total!
Centro, 352 units (7/2016). Developer sits on 34 units and has not sold any in 2017. Meanwhile, 56 units (16% of total) are listed on MLS.
Bond, 328 units (8/2016). Developer still has 23 units, including 12 that an affiliate of the developer purchased in bulk in March. And 72 units (22%) have been listed for sale on MLS.
Grove Grand Bay, 98 units (8/2016). Developer owns 7 units; 31 units (32%!) have been listed on MLS.
CityCenter Rise, 390 units (9/2016). Developer still sits on 212 units (54%). According to Stearns, "developer closings have slowed to a trickle, and it appears the initial sell-through is nearly complete." Already, 24 units are listed on MLS.
SLS Brickell, 450 units (11/2016). Developer is down to 8 units, four months after completion. "This is what a successful sell-through looks like," Stearns says. Condo flippers have listed 55 units for sale.
Casa Brickell, 81 units (11/2016). Developer sits on 22 units (27%); 8 units (10%) have already appeared on MLS.
Porsche Design, 132 units (12/2016). Developer still has 27 units (20%). "Initial sell-through closings are slowing," and only 4 developer units sold in March, Stearns says. But 40 units (30% of total) have been listed for resale on MLS.
This sort of data poses the question: How many people actually live in units they own in these buildings?
For developers, the equation is getting dicey. Stearns:
Stuck with unsold units, some developers have not repaid their construction loans, others have taken out bridge loans to carry unsold units. The developer is responsible for taxes, maintenance fees, and insurance for unsold units, and unsold units are probably negative carry for the developer.

Developers may resort to mark-down liquidation or bulk sales of unsold condos as the cycle progresses….
Part of the problem? The market teems with foreign buyers. But the Treasury Department's Financial Crimes Enforcement Network has figured out that there is a large amount of money laundering in housing. It has started making noises. And cash deals are plunging in  Miami-Dade. In February they were down 17.5% year-over-year to 580 condo deals, or 61% of all condos sold. Other money-laundering hotspots too are being targeted, and answers are starting to emerge. Read… How Much Money Laundering is Going On in the Housing Market? A Lot
Enjoy reading WOLF STREET and want to support it? You can donate. I appreciate it immensely. Click on the beer and iced-tea mug to find out how:

Would you like to be notified via email when WOLF STREET publishes a new article? Sign up here.