Not quite, not yet, but it's not good either.
Let's hope that the problems piling up in the used vehicle market — and their impact on new vehicle sales, automakers, $1.1 trillion in auto loans, and auto lenders — is just a blip, something caused by what has been getting blamed by just about everyone now: the delayed tax refunds.
In its March report, the National Association of Auto Dealers (NADA) reported an anomaly: dropping used vehicle prices in February, which occurred only for the second time in the past 20 years. It was a big one: Its Used Car Guide's seasonally adjusted used vehicle price index plunged 3.8% from January, "by far the worst recorded for any month since November 2008 as the result of a recession-related 5.6% tumble."
The index has now dropped eight months in a row and hit the lowest level since September 2010. The index is down 8% year over year, and down 13% from its peak in 2014.
The price decline spanned all segments, but it hit the two ends of the spectrum — subcompact cars and the luxury end — particularly hard. The list shows the change in wholesale prices from January to February in vehicles up to eight years old: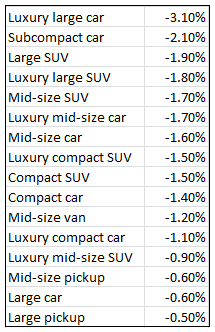 NADA blamed three factors:
The surge in new vehicle incentive spending. Automakers, drowning in unsold inventories on dealer lots and desperate to move the iron and keep their plants running, increased incentive spending by 18% to the highest level in over a decade. This made new vehicle more competitive with late-model used vehicles. So this would be on the demand side.
The growing flood of used vehicles going through auction. Over the first two months this year, volume of vehicles up to eight years old rose by about 5% year-over-year. Volume of late-model vehicles – the supply from rental car companies and lease turn-ins – jumped 10%. So that's on the supply side.
The IRS tax refund fiasco. Restaurants, retailers, and others are already blaming various February debacles on these delayed tax refunds. After the IRS was hit with millions of fake e-filed tax returns last year that claimed the Earned Income Tax Credit and the Additional Child Tax Credit, Congress required the agency to delay sending out refunds this year.
It's big money. According to the IRS, refunds issued through February 10 plunged 69% from the same period a year ago. That's $65 billion that didn't make it into consumers' bank accounts. But then the money was unleashed. In the week ending February 17, the IRS sent out a record $74 billion in refunds. By the week ending February 24, refunds were down only 10%, or $15 billion, year-over-year. So most of the problem was resolved by the end of February.
That might explain part of the problem on the demand side, at least at the lower end of the scale. But it's hard to explain the plunge in prices at the luxury end. Also, these are wholesale prices. They don't react instantly to a brief consumer cash crunch caused by tax-refund delays, now resolved. Something else appears to be going on.
The report, in attempting a forecast, cautioned:
February's unusually soft showing makes pinpointing where used prices will go over the next few months a bit more challenging. However, given the slower than usual rollout of federal tax refunds, it's assumed prices will be somewhat stronger in March and April than originally anticipated.
The Used Vehicle Index by Manheim, the world's largest wholesale auto auction, didn't pick up a massive drop in used vehicle prices over the past few months, though it too is showing some weakness. The index edged down 0.2% in February. The report pointed out that, "given a sharp decline in pricing in February of last year, the Manheim Index now shows a year-over-year gain of 1.1%."
The index has dropped in six of the past seven months (chart), but in small increments, and as it says, "stability remains the watchword." It too acknowledge headwinds for the market, including the "heavy new vehicle inventory and incentives," and "a crazy tax refund season."
Why are used vehicle wholesale prices important?
For one, they matter to lenders. Used vehicle wholesale prices determine the value of the collateral for $1.11 trillion in auto loans that have boomed on higher prices, higher unit sales, longer maturities (the average hit a new record of 66.5 months in Q4), and higher loan-to-value ratios (negative equity):
Dropping wholesale prices increase loan losses for lenders as recovery is lower. Declining wholesale values of lease turn-ins, if the trend persists, impacts how finance companies structure the lease terms, thus raising the costs for the customers and putting a damper on leasing activity.
All this puts pressure on new vehicle sales, further pushing automakers to pile on even larger incentives in order to move the units, grapple with inventories, and keep plants open. This works for a while – there's nothing like big-fat incentives to bring out reluctant buyers. But incentives, when everyone is doing them, are front-loading sales. This is ultimately self-defeating and gets very costly even as sales begin to decline. It was a contributor in the collapse of the industry during the Financial Crisis.
And there are well-established patterns of customers switching between new vehicles and late-model used vehicles. Large incentives by automakers put pressure on late-model used vehicles. In turn, falling prices on the used vehicle side cannibalize sales from the new vehicle side. In other words, they compete with each other, often on the same dealer lot. Especially if demand is lackluster despite the incentives, these patterns can trigger a downward spiral that is difficult to get out of.
First oil & gas, then construction, then new vehicle sales. Read…  How Auto Sales Are Getting Crushed in Houston
Enjoy reading WOLF STREET and want to support it? You can donate. I appreciate it immensely. Click on the beer and iced-tea mug to find out how:

Would you like to be notified via email when WOLF STREET publishes a new article? Sign up here.