Under onslaught of new competition, monopoly status collapses.
Mylan's EpiPen – the center of one of the many blistering scandals on Big Pharma price gouging – is getting hammered in the market, as competitors have burst on the scene, and as health insurers and prescribing physicians have gotten the memo. Its market share plunged from 95% to 71% in just two months!
Mylan had acquired the rights to the decades-old product in 2007. At the time, pharmacies were charged less than $100 for a two-pen set. By 2009, pharmacies were charged $103.50 for a set. Then the annual price hikes set in – "peaking every year in August, when parents of children with severe allergies typically stock up on the life-saving devices for use in schools."
In 2016, the price spike hit $608.61 – an increase of over 500% in a decade. And this finally kicked off the uproar that landed Mylan CEO Heather Bresch on the hot seat before the House oversight committee hearing on EpiPen price increases.
Though the medication (epinephrine) is decades old, it is delivered by patent-protected auto-injectors, which allowed Mylan to get away with price gouging for so long.
In December, as a result of the uproar, Mylan introduced a cheaper generic version of its own product to appease the unruly riffraff having to pay for it, and more importantly, to try to protect its market share against the onslaught of new competition. And EpiPen's world of easy mega-profits is changing.
A report by athenahealth that analyzed more than 60,000 prescriptions for epinephrine auto-injectors by over 1,400 providers across the country between January 2016 to February 2017 found that "with no generic versions of the lifesaving allergy medicine, and few comparable products on the market at the time, the vast majority of physicians were not prescribing alternatives — until now."
Auto-injectors that compete with EpiPen have started to tear into EpiPen's market share in January and February. In December 2016, the market share of the EpiPen alternatives was still 5.3%. By February, just two months later, it had more than quintupled to 28.9% (via athenahealth):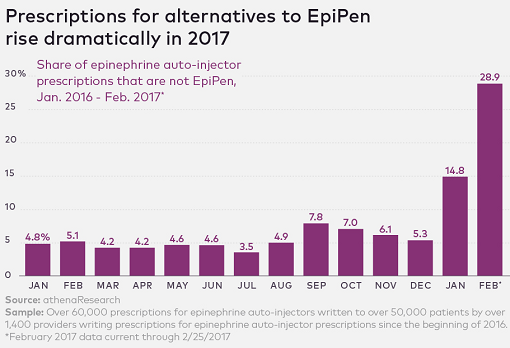 The report wonders, "Why the sudden shift?" Part of it has to do with insurers that are getting smarter. For example, in January, Cigna started covering only the generic options to EpiPen.
And then there's the rejuvenated market for these products:
Patients and providers might be reaching for the alternatives and generics that have recently hit the shelves, as the industry responds to widespread demand.

Generic options captured in the data include Mylan's own EpiPen alternative, at half the price of the original, which the company released in mid-December. Kaleo's AUVI-Q was re-released in mid-February, and CVS recently announced that it will stock Adrenaclick, a $10 EpiPen alternative.
A $10-alternative (it's actually $110, but is offered with a $100 manufacturer's coupon) to a decades-old product that costs $608.61! That's the signature of price gouging, carried out on the backs of consumers that have to pay for it either directly, via insurance premiums, taxes, or a combination.
The perpetrators such as Mylan – and there are many other pharmaceutical companies engaged in similar strategies, protected by lobbying, patent laws, consolidation, and inscrutable pricing strategies – have become Wall Street heroes. PE firms have muscled into the money-maker to wring out those that pay for it, even as allegations of collusion and price-fixing have become rampant.
It's an all-too rare thing that public pressure, short sellers with a big megaphone, and uproar in the media – however feeble and ephemeral they may be – are able to crack open the artfully erected constraints in the healthcare market, what little there is, and allow competition to fix the problem.
Another money machine appears to be running out of steam after providers of the S&P 500 and MSCI indices suggested that they might not include Snap's just issued shares into the indices due to their non-voting nature, which is deflating a big part of the extraordinary hype around what had been the hottest tech IPO in three years. Read…  Investor Group Attacks Snap's No-Vote Shares, Stock plunges
Enjoy reading WOLF STREET and want to support it? You can donate. I appreciate it immensely. Click on the beer and iced-tea mug to find out how:

Would you like to be notified via email when WOLF STREET publishes a new article? Sign up here.