Gutted Hopes for a Strong Finish.
The consensus forecast by economists predicted that the US economy would grow at an rate of 2.2% in the fourth quarter, as measured by inflation-adjusted GDP. The forecasts ranged from 1.5% to 2.8%. The New York Fed's "Nowcast" pegged it at 2.1%, and the Atlanta Fed's "GDPNow" at 2.9%. And today, the Bureau of Economic Analysis reported that growth in the fourth quarter was a measly 1.9%.
That was down from 3.5% in the third quarter, a spurt that had once again given rise to the now gutted hopes that the US economy would finally emerge from its stall speed. But instead it has slowed down.
For the year 2016, the growth rate dropped to 1.6%. It was worse even than 2013, when GDP growth tottered along at 1.7%. And it matched the growth rate in 2011. Both 2016 and 2011 were the worst since 2009 when the US was in the middle of the Great Recession: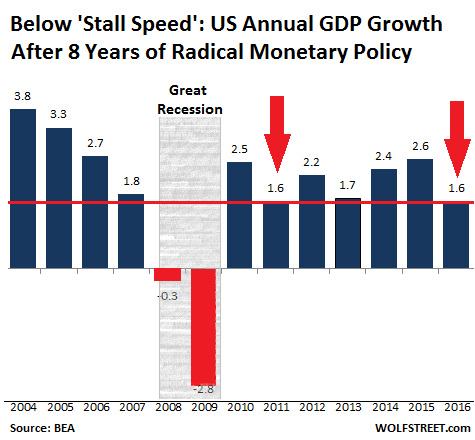 In fact, over the past 50 years, anytime the economy grew less than 2% in a year, it was either already in a recession for part of the year, or there'd be a recession the following year. Hence "stall speed" – a speed that is too slow to keep the economy from stalling altogether.
What hurt fourth quarter growth particularly, according to the BEA?
Exports, which add to GDP, dropped -4.3% (exports of goods -6.9%, exports of services + 0.9%)
Imports, which subtract from GDP, jumped +8.3% (imports of goods +10.9%, imports of services -2.7%)
Personal Consumption Expenditures by consumers "decelerated" to a meager growth rate of +2.5%, down from 3.0% and 4.3% in the prior two quarters.
Federal government spending fell -1.2%
On the stronger side:
Residential fixed investment jumped 10.2%, including the ongoing construction boom in big-city multifamily buildings
Nonresidential fixed investment rose 2.4%, nudged up in part by a 6.4% gain in intellectual property investment .
State and local government spending rose 2.6%.
Of note, there was a major and sudden uptick in the inflation measures of the GDP report:
The price index for "gross domestic purchases" rose 2.0% in Q4, up from 1.5% in Q3.
The PCE price index rose 2.2% in Q4, up from 1.5% in Q3.
So stall speed for the year. But this time it's different. This is the third year since the Great Recession when GDP growth dropped below 2%. The Fed's policies of eight years of cheap credit have entailed soaring debt levels among companies, governments, and consumers – money borrowed from tomorrow that was spent today. Borrowing for productive investment is one thing. Borrowing for consumption is another: it boosts GDP but creates a debt overhang with no productive assets that generate income to service that debt in the future; that debt service for prior consumption then acts as a burden on future consumption.
And the Fed's policies also created rampant asset price inflation, including house price inflation that supported a construction boom while gutting middle-class budgets. But spending on soaring rents and certain other housing costs also enters into GDP, and so it's all for the good.
This weird condition – the magic world of QE and ZIRP – has blocked the essential process of economic and financial cleansing back in 2009, but has also kept the economy from taking off afterwards. And so it's wobbling along, over-indebted and heavily encumbered, with nearly all assets overpriced, kept aloft below stall speed on a monetary wing and a prayer.
But cracks are everywhere. San Francisco's office leasing activity has worst year since 2009. Read…  "Rightsizing Has Once Again Come to the Tech Sector"
Enjoy reading WOLF STREET and want to support it? You can donate. I appreciate it immensely. Click on the beer and iced-tea mug to find out how:

Would you like to be notified via email when WOLF STREET publishes a new article? Sign up here.