Have Cisco's Financial Engineers Gone Nuts?
Cisco is, let's say, in transition. It has been in transition for years, from networking hardware, such as switches and routers where it's getting battered by Chinese competition, to software where it's getting battered by… well you get the idea. The company is in a very competitive environment. And it's trying to buy its way out of it.
In its latest move, it announced that it would acquire AppDynamics – a "performance management and IT operations analytics company," as it says – for $3.7 billion, plucking it out from the IPO pipeline on the eve of its IPO.
That's a huge premium over an already rich IPO price. If bankers had priced the shares at the top of the indicated IPO range, the company would have gone public at a valuation of $1.7 billion. Cisco paid over twice that.
"The fact that they were in their IPO process represented a window where we needed to make a decision," Cisco's VP of Corporate Development, Rob Salvagno, told Reuters in an interview.
AppDynamics isn't huge – despite what that lofty price might indicate. And it isn't profitable either. According to its filing with the SEC, it had $158.4 million in revenues for the nine months through October 31, 2016, up 54% year-over-year. And it lost $95 million, up 3% year-over-year.
So at that pace, AppDynamics would have a little over $200 million in revenues in the 12-month period. In other words, Cisco is paying 18 times those revenues.
If revenues increase 50% a year, for four years straight, so by the end of 2020, the company would have $1 billion in revenues, though revenue rarely grows in a linear manner like this; growth rates tend to slow down as a company gets larger. Nevertheless, if… by the end of 2020, it books $1 billion in revenues, Cisco would at that time still see a price tag of 3.7 times revenue.
How much is that? Cisco had $49 billion in revenues in 2016 and a market capitalization of $153.6 billion. So its shares trade at a rich 3.1 times revenues. This is going to be a long, long wait, if it isn't eternal, before the AppDynamics gamble pays off.
But no matter. Cisco is an acquisition machine. And price doesn't matter. Revenue doesn't matter either, as we will see in a moment.
Since 2012, Cisco has acquired 45 companies, from tiny startups to not so small companies, mostly in software, including computer security, data visualization, energy management, all manner of cloud software and services, mobile software and services, video, network software and services, and so on. For 26 of them, the terms were not disclosed. So we don't know how much Cisco spent in total for these outfits.
But for the 19 acquisitions for which the terms were disclosed, Cisco spent $18.2 billion!
Despite all these acquisitions and the fortune spent on them, Cisco's revenues haven't budged much over the past four years. Revenues in 2016, at $49.25 billion, were flat with 2015, and were up only 1.3% since 2013: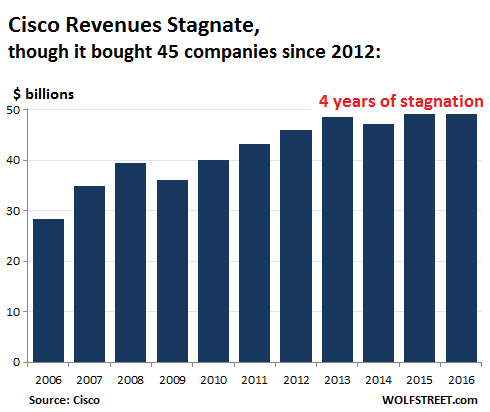 So Cisco has spent well over $18 billion in five years on buying 45 companies, and revenues are stagnating?
Oh, and because revenues are stagnating, Cisco decided it had to cut costs. It blows billions of dollars on share buybacks every year, no problem. And it sinks billions more every year into overpriced acquisitions, no problem. But it has to cut "costs," and so in August last year, it confirmed rumors that it would try to cut costs by about 15%, and to do that it would lay off 5,500 employees, or 7% of its global workforce.
But no matter. Startup investors are dumping their babies into Cisco's big lap – and thus into the laps of public and private pension funds, stock portfolios, mutual funds, and the like that all own Cisco shares. Those investors at the receiving end of Cisco's generous financial engineering are loving it. Without companies like Cisco, the whole system of unicorns would come tumbling down, as startup investors found their other exits largely blocked: in 2016, IPOs had their worst year since 2003.
APPDynamics is based in San Francisco. It's part of the crazy boom, and its investors found their big-fat exit. The company had a pre-IPO valuation of $1.9 billion. So even those investors that got in at the last funding round made a bundle. Other startup investors see that too. Because everyone is hoping for those big-fat exits. And if IPOs no longer open those doors, well, Cisco or IBM or some other large company, whose financial engineers have gone nuts, might still be able to.
IBM is in trouble, and desperate hype is apparently required. Read…  Big Shrink to "Hire" 25,000 in the US, as Layoffs Pile Up
Enjoy reading WOLF STREET and want to support it? You can donate. I appreciate it immensely. Click on the beer and iced-tea mug to find out how:

Would you like to be notified via email when WOLF STREET publishes a new article? Sign up here.