Struggling Tech Boom as seen through San Francisco's office space market.
"Despite a flurry of leases to end the year, 2016 was the weakest year for transaction activity since 2009," said Colin Scanlon, Research Manager, at Savills Studley, in the report on the San Francisco office sector. "Anemic demand and a deep pool of sublet space have finally brought rental rate growth to a halt."
For the year 2016, new leasing activity dropped to 5.3 million square feet (msf), the weakest annual total since 2009, down 34% from the long-term annual average of 8.0 msf and down 43% from glory year 2014. The downturn in leasing activity had started with a deep plunge in 2015.
"Rightsizing has once again come to the tech sector, overtaking the rapid expansion phase of this cycle which had prevailed for several years," Scanlon said. Here's one of the consequences of this "rightsizing":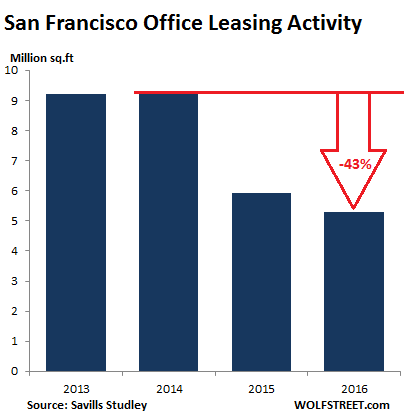 It could have been a lot worse, if Charles Schwab had renewed its 417,266 sq. ft. lease a couple of weeks later, in January 2017, rather than just before Christmas. The lease was set to expire in May 2018. So there was plenty of time to drag this out a little. But apparently the landlord was desperate to get this squared away before the end of the year. Without this timely renewal, leasing activity would have fallen below 4.9 msf. Imagine what the above chart would have looked like.
That lease had caused a lot of fretting in San Francisco. All year, Schwab had been thinking out loud about moving its headquarters out of San Francisco to a less ridiculously expensive location – as Uber is moving its headquarters to Oakland. So everyone breathed a huge sigh of relief when Schwab renewed its lease at 211 Main St. for ten years and maintained its HQ in San Francisco. It was one of the largest deals of the year.
At the same time, Schwab has been shrinking its footprint in the City and moving employees to Texas and Colorado. In 2015, it still had 2,040 employees in the City. By 2016, it was down to 1,590 employees. It has been vacating its second location, at 215 Fremont St., in sections, including subleasing 315,000 square feet to Fitbit earlier in 2016.
But tech companies have experienced turbulence. The report:
Tech companies have been forced to adjust their mindset this year, shifting from a grow first and profits later perspective, to a focus on squaring expenses with revenues. More businesses have kept their headcount flat, while a few have had to shut down operations entirely.

Layoffs are being announced, not just at smaller startups, but at some larger firms as well. Twitter's 9% headcount reduction and shutdown of Vine dominated headlines, but Cisco, Intel, and Yahoo also made big cuts. Some companies remain in expansion mode but they are no longer the dominant driver.
And landlords are getting worried about the ability of some young companies to stick it out, and they're focusing on credit-worthiness and are requiring larger security deposits.
So the overall vacant availability rose to 8.7% in Q4 from 7.9% a year ago. In Class A buildings, vacant availability jumped to 9.8%, from 8.5% a year ago.
Vacant availability varied widely by area, from 2.4% in South of Market (SOMA) to 11.2% in Financial District North. But the office market remains tight compared to the US average vacant availability of 17.1%, or Greater Houston's at a near-catastrophic 27% (29% for Class A).
Rents have become sticky, which each side trying to gain the upper hand unsuccessfully. Overall asking rents inched up 1.5% from a year ago to $64.81 per square foot (compared to the national average of $32.78). Average Class A asking rent, at $66.16, was up an imperceptible 0.3%.
Leasing activity of newly constructed office space over the last five quarters has been "anemic," at the worst possible time, with 4.1 msf of office space under construction, "nearly triple the historical average," according to the report. Only 34% has been preleased. This will pressure the market going forward.
The action has been in sublease space. As companies like Schwab, Twitter, and others are vacating space that they're still leasing, other companies find it cheaper and faster to move into this space rather than into new construction.
The sublease market dominated leasing in 2016, and the second half in particular. Overall, subleasing accounted for roughly 35% of leasing activity in the year, and over 50% of activity in the second half. Counterintuitively, this is not due to a discount on sublease space, rather the ability to acquire pre-built facilities for shorter terms than landlords are willing to offer.

Tenants and owners are both eager to avoid soaring build-out costs. Many markets across the U.S. have seen construction costs spike by more than 20% over the last two years. The increase has been even more acute in San Francisco as subcontractors are in short supply, contributing to extreme backlogs and skyrocketing costs.
Rather than spending a fortune on building out new office space to turn it into a usable office, and dealing with the costs and delays this causes, tenants move into a space already built out by another company. And so, "the last few months have brought some of the largest and most heavily discounted subleases in several years."
This is the picture of a boom that is now coming to grips with the reality of dollars and cents. It always works that way. San Francisco's booms and busts are legendary. After the boom comes the bust. No one is panicking just yet. But this reality of dollars and cents does matter again, after years of being irrelevant – with big implications.
It's hitting even the formerly hottest residential rental markets: San Francisco, San Jose, New York, Boston. Read…  Even Single-Family Rentals Sink in Once Hottest Markets
Enjoy reading WOLF STREET and want to support it? You can donate. I appreciate it immensely. Click on the beer and iced-tea mug to find out how:

Would you like to be notified via email when WOLF STREET publishes a new article? Sign up here.