IBM is in trouble and desperate hype is apparently required.
The last thing IBM needs is ending up on the receiving end of a Presidential tweet. So, to forestall this event, it announced in December that it would "hire" 25,000 workers in the US. But current and already laid-off workers are now pooh-poohing this promise.
IBM is in trouble. Revenues in the fourth quarter fell to $21.8 billion, the 19th quarter in a row of year-over-year declines, IBM reported last week. Annual revenues fell 2% in 2016, the fifth year in a row of declines that none of the executive hype has managed to stem. These annual revenue declines add up. In 2016, revenues were down 25% from the peak in 2011: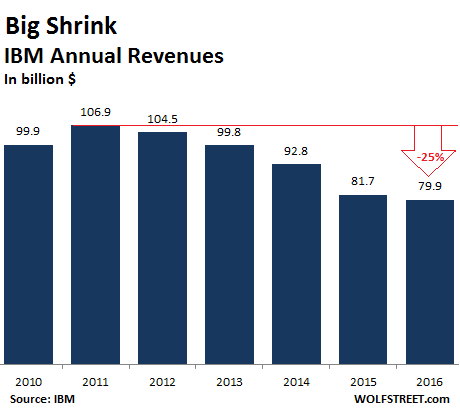 But IBM bravely asserted, as it does every quarter, that revenues from its new "strategic initiatives" were increasing and that therefore its future was bright. Its "strategic imperatives revenue" – its cloud and artificial intelligence business, including its wonder-brand Watson – rose 13% for the year. But it wasn't enough. It hasn't been enough in five years to paper over the relentless revenue debacles in its other operations.
So, to placate stock and bond markets, IBM is touting its expense reduction efforts, such as laying off workers in the US and offshoring work to cheaper countries. IBM has been doing this for years.
Some nasty tongues are claiming that this could be the path to irrelevance. Slashing staff to prop up investor enthusiasm during a revenue decline creates a downward spiral, whereby productive people get cut, and thus revenue drops further, and because revenue drops further, more people get cut, and so on, year after year.
But at the end of last year, IBM woke up in a new world. And it was time to issue some corporate propaganda, squarely aimed at the new administration – but not, for crying out loud, at the analysts, who'd get the opposite fare to please them during the conference calls (more on that in a moment).
In an opinion piece in the USA Today on December 13, IBM CEO Ginni Rometty announced the big hiring plans. "New collar" jobs, she called them:
At IBM alone, we have thousands of open positions at any given moment, and we intend to hire about 25,000 professionals in the next four years in the United States, 6,000 of those in 2017. IBM will also invest $1 billion in training and development of our U.S. employees in the next four years.
She said "hire," not "create jobs." IBM hires people all the time as part of the normal turnover. She didn't promise to increase IBM's workforce in the US by 25,000. Surely, IBM's lawyers parsed her draft with a fine-toothed comb before it was published.
And she forgot to mention that IBM has been laying off workers and off-shoring many of the jobs to cheaper countries even as laid-off employees claim they get to train their overseas replacements. The way she put it: "We are hiring because the nature of work is evolving."
But IBM tries to keep layoffs out of the media. Bloomberg:
Today, Big Blue gets rid of people quietly and in smaller batches, former and current employees say. The firings have become so commonplace, they say, that many workers are resigned to losing their jobs and simply wait for their names to be called. Then, many are asked to train potential replacements overseas.
These new people that need to be trained are in China, India, and Argentina, among other places. IBM even touts these cost cuts to analysts. During a conference call, CFO Martin Schroeter said that IBM would improve its narrowing profit margins in 2017, partly based on "savings we have from workforce rebalancing as we continue to remix the workforce."
What exactly this "workforce rebalancing" and "remix" mean does trickle out, via former and current employees. Bloomberg:
In late November, IBM completed at least its third round of firings in 2016, according to former and current employees. They don't know how many people have lost their jobs but say it's probably in the thousands, with many of the positions shipped to Asia and Eastern Europe.

The firings – known internally as "resource actions" – have continued into the new year [emphasis added]. This month, IBM started notifying more U.S. workers that they would be let go, according to a current employee, who says colleagues in the services business are bracing for further rounds.
So IBM trots out the big IFs. Spokesman Doug Shelton told Bloomberg about hiring those 25,000 people as the layoffs would also continue: "If we are able to fill these positions," he said, and that could be a big IF, if IBM doesn't want to fill the positions, "we expect IBM U.S. employment to be up over that period."
Up by 10? By 1,000? He didn't say. But even then, only if…
IBM employees who're getting the layoff notices remain a cynical bunch and refuse to buy into the hype. Bloomberg:
Rometty's hiring pledge prompted current and former IBM workers to vent on message boards and Facebook groups. Some complained that the new recruiting drive wouldn't offset jobs sent overseas in recent years. Others said Rometty had neglected to mention whether and how many people would be fired in the meantime. Some urged online communities to contact the Trump transition team and educate his aides about IBM's history of layoffs and outsourcing.
To keep everyone in the dark about its layoffs and dwindling workforce in the US, IBM no longer discloses its US headcount. But the top-down pressure to trim the US workforce continues. Bloomberg:
For example, early last year, the technology services division aimed to have just 30% of permanent employees located in the U.S. by the end of 2016, according to two former managers, who received the information from superiors. Later in the year, the target had been reduced to 20%, said one of the people, who asked not to be named to discuss internal matters.
So in this new era, one thing among all the uncertainties is becoming clear and certain: corporate propaganda is taking on new and even more elegant forms.
"Ginni Rometty is terminating thousands of IT workers and touting herself as some hero who's out to hire 25,000 workers," says Sara Blackwell, a Sarasota, Florida-based lawyer and advocate for Protect U.S. Workers, who represents about 100 IBM ex-employees who have filed discrimination and other complaints. "To me, that's hypocritical."
Over the years, IBM has been aggressively buying back its own shares and funding those buybacks with more debt, though it recently was forced by its deteriorating balance sheet to back off. Other companies have stepped into the void, and Fitch Ratings is getting nervous about their bonds. Read…  What Will Prick the "Leveraged Share Buyback" Craze?
Enjoy reading WOLF STREET and want to support it? You can donate. I appreciate it immensely. Click on the beer and iced-tea mug to find out how:

Would you like to be notified via email when WOLF STREET publishes a new article? Sign up here.