Pundits sent back to the drawing board.
Consumer sentiment surveys have captured the "Trump Effect" elegantly. All major sentiment surveys agree: Consumer confidence has surged since the election. The University of Michigan consumer sentiment survey, released today, at 98.1 – while down a tiny 0.1 from the miraculous post-election jump a month ago – was still the second highest in 12 years, last month having been the highest.
But there's now an intense partisan line dividing how consumers feel about the economy.
"The post-election surge in optimism was accompanied by an unprecedented degree of both positive and negative concerns about the incoming administration spontaneously mentioned when asked about economic news," explained the survey's chief economist, Richard Curtin.
This partisan divide between those who favorably mentioned the policies of the next government, and those who unfavorably mentioned them reached an extraordinary gap of 42.7 points in the expectation index.
And there's one more thing: these jumps in consumer sentiment translated into a disconcerting lack of spending over the holiday shopping season.
Sales at retailers in the US edged up a disappointing 0.6% in December, from November, on a seasonally adjusted basis, according the Commerce Department today. Excluding sales at auto and parts retailers, which account for 21% of total retail sales, and excluding sales at gas stations, which benefited from sharply higher gasoline prices, retail sales were flat.
This got pundits worried about weaker economic growth in the fourth quarter.
Note that auto and parts sales, as reported by the Commerce Department here, are survey-based estimates denominated in dollars. The monthly new vehicle sales reported early in the month by automakers are based on the new vehicles actually sold by dealers to their customers, measured in vehicles (regardless of price), not dollars.
Sales at "General merchandise" stores declined 0.5%. In this group, sales at department stores declined -0.6%. Sales at "miscellaneous retailers" fell 1%.
However, "nonstore retailers," which includes ecommerce sales and things like door-to-door sales, jumped 1.3%. Ecommerce sales have been rocketing higher since the 1990s, seriously eating into the sales of brick-and-mortar retailers. Department store sales peaked during the holiday period of 2000.
The chart going back to 1999 compares monthly department store sales and nonstore retail sales. They're seasonally adjusted to eliminate the noise that the strong seasonal patterns of retail sales create. But they're not adjusted for inflation; so considering the impact of rising prices on sales over these years, the descent of department stores into irrelevance is even clearer: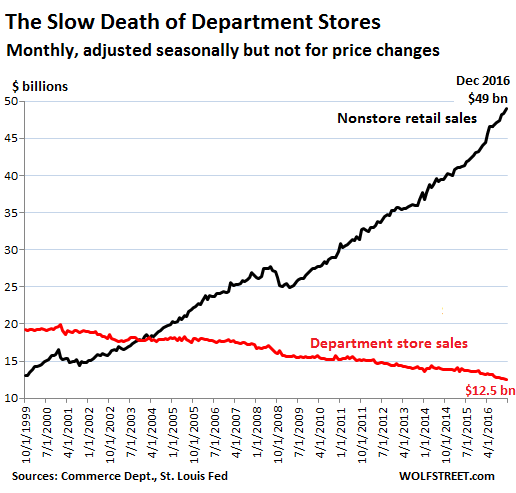 Even today, you still end up buying a new vehicle from a brick-and-mortar dealer (though you can do your shopping around on line), due to the complexity of the transaction, state franchise laws, the expense of delivering a vehicle over long distances, and the like. But most every other retail product, you can buy online and get shipped to you.
So when big retailers reported same-store sales for the holiday period – November and December combined – the media commonly attached the word "dismal" to those reports.
This was a shock to pundits. Consumers where suddenly getting enthusiastic and consumer confidence indices soared, following the election. So retail spending was expected to surge too. But it didn't. And a growing number of department stores and specialty retailers reported declining holiday sales compared to last year, interspersed with announcements of store closings and layoffs.
J.C Penney reported a near 1% decline over the holiday period on a same-store basis. Kohl's and Macy's reported a 2% decline. Sales at Sears – which some folks think will declare bankruptcy this year but not before the second half – plunged 13%.
Hudson's Bay Company, which owns Saks Fifth Avenue and Lord & Taylor, reported that same-store sales fell nearly 1%. Private-Equity owned Neiman Marcus apparently saw such lousy results over the holidays that it scrapped its already delayed IPO, filed 15 months ago. It didn't announce holiday sales, but sales in its most recent quarter through October 31 fell 8% from a year ago, the fifth quarter in a row of sales declines.
Some of the online divisions of department stores are doing well, such as Macy's, even as it is shuttering brick-and-mortar stores and laying off workers. But brick-and-mortar department store locations are getting squeezed from all sides: online retailers, their own online retail divisions, discounters, now rising gasoline prices, and consumers with limited means to spend – no matter how they feel about the economy.
The hype about auto sales has been deafening, even as US "car recession" spreads among the largest automakers. Read… Annual US Auto Sales Fell for First Time since 2009 at GM, Ford, Fiat-Chrysler, Toyota, VW, BMW…
Enjoy reading WOLF STREET and want to support it? You can donate. I appreciate it immensely. Click on the beer and iced-tea mug to find out how:

Would you like to be notified via email when WOLF STREET publishes a new article? Sign up here.