"Ponzi finance schemes are struck firmly in reverse gear."
Perth, the capital of the state of Western Australia (WA), "hitched itself to the largest mining investment boom since the mid-19th century gold rushes, and in the excitement, forgot or refused to diversify its economy. Believing the mining boom could end as suddenly as it did was considered outlandish. It delivered immense wealth and income to the government, business, and household sectors," so a new report published by LF Economics' co-founders Lindsay David and Philip Soos. But now the reverse is taking place, and more recent property investors "are losing wealth and income by the day."
Excerpts from the report by LF Economics:
Real and quality-adjusted housing prices peaked in 2007Q1, having risen rapidly from 2001. While rental price growth tracked consumer price inflation, gross and net yields compressed sharply. Despite the steep rises in rents, incomes, and population since, housing prices have declined moderately, registering small rises and falls along the way.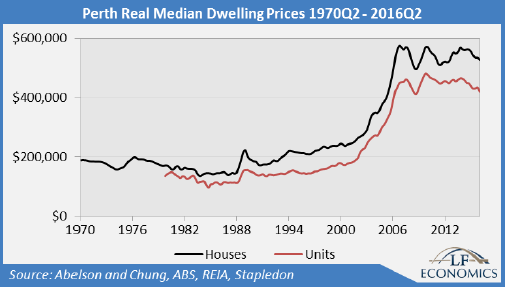 The best leading indicator of housing price growth is the mortgage debt accelerator (the change in the growth of mortgage debt). There is a visible correlation between the debt accelerator and the change in annual nominal housing prices. When prices are lagged by 2 to 3 quarters, the correlation becomes stronger. This speculative debt-financed dynamic dictates the direction of house prices better than any other fundamental.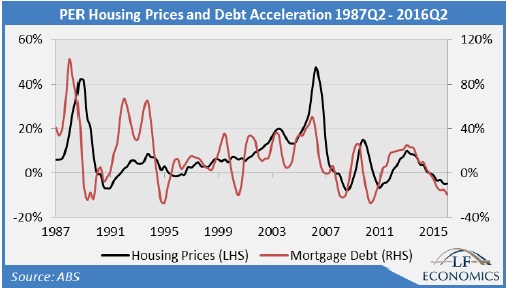 The WA mortgage debt accelerator is now plunging. Nominal housing prices have followed, more so in real terms. With the debt accelerator negative, the price trajectory should follow for at least the next two to three quarters.
The mortgage debt accelerator can be separated into two components: owner-occupier and property investor. Property investors tend to be the price makers rather than owner-occupiers; therefore, it is the trend in the former which matters most to prices. The data suggests Perth dwelling prices and sales volumes will remain dormant, to the disappointment of landholders.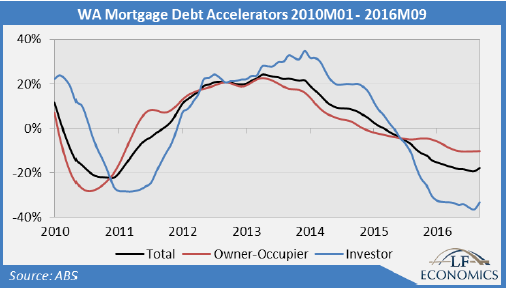 The mining construction boom proved a magnet to many, with WA experiencing the greatest population growth of all states and territories over the boom. Just as citizens and immigrants flooded into WA, the reverse is now taking place. Immigration has sharply declined and there is now a net interstate outflow.
2016Q2 recorded the lowest annual change in population, at 1.05%, the lowest growth on record in decades. Given the economic conditions, WA will likely experience negative net population growth in a couple of years' time. The effect on the housing market is entirely predictable.
The household sector has become so weak that the annual change in aggregate nominal household income has been negative in recent quarters, worse than during the early 1990s recession. The trend is clear: as both population and nominal wage growth plummets to record lows, household income will continue to weaken. This helps to explain the fall in rents and other forms of spending such as car sales.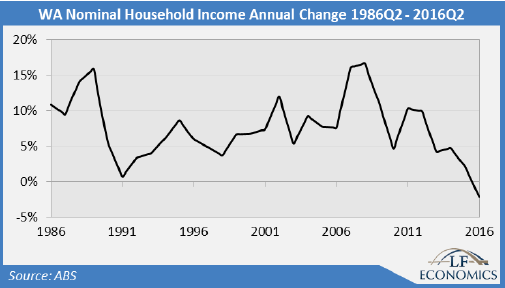 WA's housing market presents an intriguing case study of supply and demand given the volatile imbalances caused by the mining investment boom. The supply-demand balance is constructed by comparing the flow of dwelling completions (adjusted for demolitions and secondary homes) against the flow of new households, decomposed from population flows.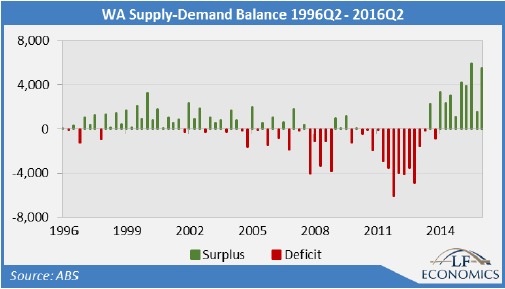 Until the mining investment boom ramped up, surpluses dominated, with a small overhang of dwellings and rent growth tracking inflation. The combination of a large influx of population and moderate dwelling completion growth meant deficits quickly escalated. Rents increased strongly, evidence of a dwelling shortage.
As the mining investment boom ended, this dynamic quickly reversed and rents have plummeted accordingly.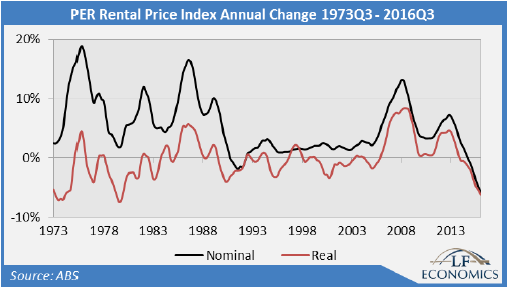 In fact, the decline in rents is worse than the data makes out. Investors are attempting to stem the fall with incentives not recorded: free rent for a month, gifts (iPad, vouchers, etc.) and small renovations – landscaping, air conditioning, etc. – to sweeten the deal. Rental ads on realestate.com.au and Domain demonstrate this.
It is remarkable that a small construction boom lifted off (probably stimulated by the housing price growth in 2013) while population growth collapsed. Large dwelling surpluses will continue into the near future, and will likely increase as population growth continues to decline.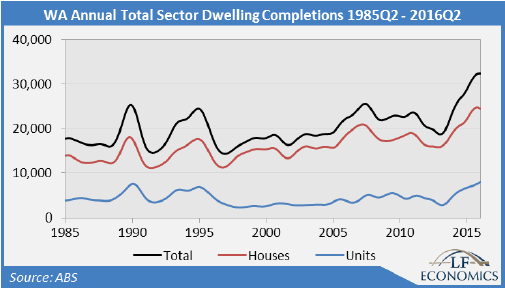 Approvals data shows construction activity already moderating but large and persistent dwelling surpluses will ensure future negative rent growth. Combined with small rises in the nominal mortgage interest rate, LF Economics sees property investors hit hard from both ends of the balance sheet.
The downturn in rents will predictably devastate the balance sheets of property investors, many lured into the market by previous rises and thinking the mining investment boom would continue for a lot longer than it actually did. It is difficult to blame the average investor for their poor judgment when this view was broadcast without pause from the highest levels of government and industry.
Gross yields have been compressing over the last couple of years, but not for the usual reason of prices rising faster than rents. Perth is producing the opposite: rents are falling faster than prices.
This means the property market is unattractive to both speculative and value investors – hence the downturn in the mortgage debt accelerators.
This is great news for tenants, enjoying something denied by the mining investment boom for a decade: falling rents and dwelling choice. Market power has swung decisively from investors to tenants. An investor's yield without a tenant is zero. Given the unavoidable expenses, the net rental income is (considerably) negative. This is why negative gearing [for tax purposes, being able to deduct rental losses from ordinary income] is so important to property investors. Property investors cannot borrow against lost equity, and their Ponzi finance schemes are struck firmly in reverse gear.
The fall in housing prices is also good news for aspiring first home buyers (FHB), as is the downturn in sales volumes. FHBs now have superior bargaining power with increasingly desperate vendors – and every incentive to await further falls. But buying now can be characterized as catching a falling knife.
Renting, sharing or staying at home with parents is a rational response to these troubling conditions, especially given the tenant-friendly conditions that now exist in the rental market.
All indicators show the current downturn in both housing prices and rents will continue into the near future, and a reversal is very unlikely to occur. Despite the evidence, vested interests will continue making entirely predictable statements that recovery is just around the corner.
Unlike Sydney and Melbourne, aspiring FHBs are fortunate that the government and industry fabricated 'Great Australian Dream' is coming closer, given the gradual downward drift in housing prices. As nominal wage growth is at record lows and mortgage interest rates are rising slightly, the only way for housing to become more affordable is via price reductions – which are presently the case in Perth and the rest of WA.
In conclusion, the Perth and WA housing markets represents a systemic danger zone for the national housing market. Investment is unattractive to value and speculative investors alike, and the option of buying now for FHBs is a risky knife-catching act. Without a Mining Boom 2.0 to sail to the rescue (hint: it's not going to happen, with massive overcapacity and overbuilding in China), the housing market will remain in a protracted downturn.  By LF Economics' co-founders Lindsay David and Philip Soos. The entire report is here.
On Australia's East Coast, investment in the housing sector has become frantic, and prices have soared. This has been accompanied by a construction boom of large multi-family developments, and now ballooning oversupply, warns the Chief Investment Officer of Montgomery Investment Management, in the short video, "Property Implosion?" Read…   "A Warning for Property Investors in Australia"
Enjoy reading WOLF STREET and want to support it? You can donate. I appreciate it immensely. Click on the beer and iced-tea mug to find out how:

Would you like to be notified via email when WOLF STREET publishes a new article? Sign up here.