Businesses expect their input prices to jump by 4.6% in 2017.
"Activity in the region's service sector held steady": that's how the New York Fed today introduced the December results of its Business Leader Survey, which covers the region's service sector. "Steady" in this case means a negative 0.6 in the diffusion index of Business Activity, where everything below zero indicates that conditions deteriorated over the past month.
The last time the Business Activity index was positive was in July. It has been negative for much of the time over the past 12 months. In the current survey, 27% of respondents reported that conditions improved over the month, and 27% said conditions worsened.
And this is happening in the thriving service sector in the New York Fed's district (State of New York, the 12 northern counties of New Jersey, Fairfield County in Connecticut, Puerto Rico, and the US Virgin Islands).
In the chart below, the Current Conditions index (blue line) indicates whether the reality, as businesses are experiencing it, is improving or deteriorating. Now at -0.6.
The Expected Conditions index (black line) is the six-month outlook – which is nearly always a lot more optimistic than the current reality; it spiked 18 points to 41.2, though that's still lower than in March 2015, when it had jumped to 54, at a time when the Current Conditions index had edged down to -0.7: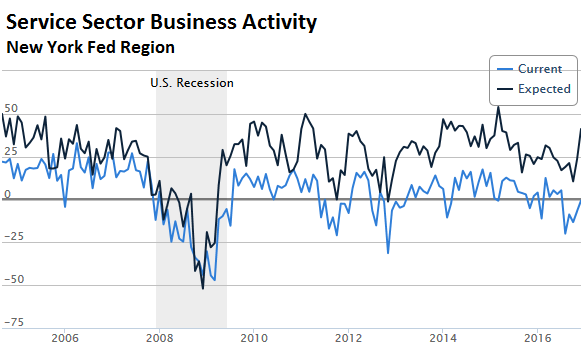 Another component, the Business Climate index spiked 20 points to -3.8, as the report put it, "signaling that respondents generally continued to view the business climate as worse than normal, though to a small degree compared with recent months."
The Business Climate index has been negative since September 2007 when businesses in the New York Fed's district were starting to figure out that something was up. It deteriorated from there into the Financial Crisis, bottomed out at -88.5 in February 2009, and has remained negative ever since, except for one tiny moment in January 2015: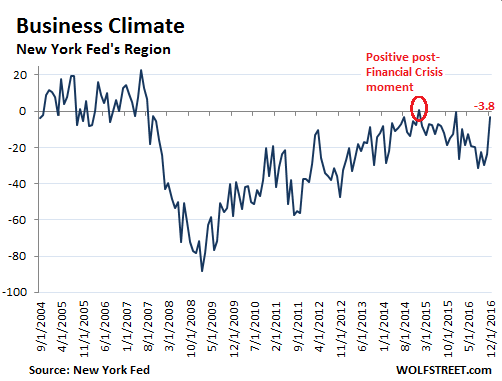 The report on the service sector in the New York Fed's district was this sort of mixed bag. But what I want to focus on are the inflation measures. People often think that inflation – as in consumer price inflation or wholesale price inflation – is a result of strong demand and a healthy economy, and that there cannot be any inflation when demand is lousy.
But that's not the case. Inflation can increase, and sharply so, for a number of reasons other than demand. Inflation expectations have something to do with it. That's why they're tracked in so many ways. A separate report released today by the New York Fed, the Supplemental Survey Report, sheds some additional light on businesses' inflation expectations for 2017: they're jumping.
Respondents in the service sector reported that their prices paid in 2016 already rose 4.1%, and those in the manufacturing sector reported that their prices paid rose by 4.0%. In December a year ago, they'd reported that prices paid in 2015 had increased 3.5%.
And for 2017, they expect prices paid to increase by about 4.6%.
Among the major categories, employee benefits were the biggest culprit in 2016 in actual prices paid. In 2017, they're expected to soar 7.7% for the service sector and 6.5% for the manufacturing sector. Liability insurance, fire insurance, and other types of insurance are next, with an expected increase of 4.2% and 3.4% respectively. But expectations of wage increases "remained fairly subdued," at 3.5% and 3.8% respectively, followed by outside services, energy, and other commodities. All of these percentage increases are higher than the increases in 2016. That's the acceleration of inflation for businesses.
And this is how these business leaders in the service and manufacturing sectors expect prices paid to change in 2017:
Prices paid to rise by 8% or more: 11.6% of service firms and 11.7% of manufacturing firms expect prices paid to rise in this range. That's up from a year ago of 11.0% and 7.6% respectively.
Prices paid to rise 2% to 8%: 49.7% of the service sector firms and 49.1% of the manufacturing firms expect prices paid to rise in this range in 2017. That's up from 47.4% and 42.3% a year ago.
Prices paid to increase by less than 2%: 33.9% of service firms and 33.5% of manufacturing firms expect prices paid to increase in this range in 2017. That's down from 35.6% and 43.4% respectively a year ago.
Prices paid to fall: Only a handful of firms expect prices paid to fall.
What these business leaders are indicating is that inflation as measured by their input costs has accelerated in 2016 from a year earlier, and is expected to accelerate further in 2017. These input prices for service and manufacturing firms are expected to rise on average by 4.6% in 2017.
That's a lot faster than the official measures for consumer price inflation – CPI and the Fed's preferred PCE. They're currently below 2%. These are the types of inflation pressures that are now building up deep in the pipeline, despite lackluster demand.
Even Japanese consumers, supposedly suffering from two decades of deflation, are getting whacked. No one escapes. Read…  How Inflation Bites Much More than the Official Hoax and 160 Comments.
Enjoy reading WOLF STREET and want to support it? You can donate. I appreciate it immensely. Click on the beer and iced-tea mug to find out how:

Would you like to be notified via email when WOLF STREET publishes a new article? Sign up here.