The fear of further yuan devaluation.
Chinese companies, consortia, and investment funds representing the wealthiest individuals have been splurging, with the encouragement of their government, on acquisitions and investments overseas. But now the government, which has long been trying to crack down on smaller forms of capital flight, is getting nervous about these deals. The yuan is diving, foreign exchange reserves are dwindling, the debt-burdened economy is facing breath-taking risks, and it's time to crack down on the big league of capital flight.
So far this year, Chinese buyers have announced $213 billion of acquisitions in other countries. The biggest of them is the $43-billion acquisition of Swiss-based Syngenta by China National Chemical Corp.
Anbang Insurance Group rose from obscurity to make a slew of real estate and hotel deals in the US and Canada, including the $6.5 billion acquisition of Strategic Hotels & Resorts in the US.
A consortium, Sino-Europe Sports Investment Management Changxing, has been trying to buy Italian soccer club AC Milan from Silvio Berlusconi for $825 million. The deal is hung up due to an allegedly forged bank document and other issues.
Dalian Wanda Group, the main holding company of Chinese billionaire Wang Jianlin, spent $1 billion to acquire Dick Clark Productions which owns numerous annual TV shows, such as the Golden Globe Awards, the American Music Awards, and the Billboard Music Awards. Earlier in 2016, Wanda had acquired a majority stake in Hollywood studio Legendary for more than $3 billion.
Midea, a Chinese maker of heating, ventilation, and air conditioning systems, is trying to acquire German robotics specialist, Kuka, for €3 billion, against considerable political resistance in Germany.
Another Chinese investment group, this one controlled by Zhendong Liu, a Chinese businessman, is trying to acquire Aixtron, a German maker of semiconductor equipment used in LED lighting, for about €670 million, which has caused some hissy-fits at the US Committee on Foreign Investment for security reasons.
A Chinese investor group, according to Reuters' sources, is in talks to buy privately held International Data Group, a technology publishing company with hundreds of tech websites and magazines, including PCWorld and market research firm IDC. The company has put itself up for sale earlier this year at a valuation of $500 million to $1 billion. The investor group is headed by Hugo Shong, chairman of IDG of Greater China.
China Oceanwide Holdings Group, a privately held investment firm that started out as a property developer founded by Chinese businessman Lu Zhiqiang, acquired US insurance carrier Genworth Financial for $2.7 billion. It has been active in US commercial and residential real estate over the past two years. Its third deal in California is in San Francisco, where it acquired the site on First St. and Mission St. to develop it. Plans show a group of buildings with about 2 million square feet, including the second tallest tower in the city.
And so on…
These deals represent capital outflows from China. This has pushed the yuan down. Expecting the yuan to decline further, super-wealthy Chinese are trying to get their money out in large chunks, which is driving the yuan down even further…. The yuan has now fallen to the lowest level in eight years against the dollar.
And China's foreign-exchange reserves are evaporating. In October, they dropped $45.7 billion to $3.12 trillion, the lowest since March of 2011 (via TradingEconomics.com)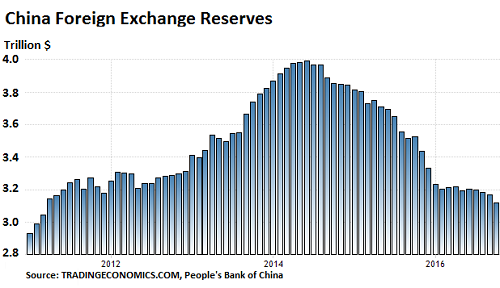 Net outflows from China reached $207 billion in Q3, according to estimates by the Institute of International Finance, cited by the Wall Street Journal. And this despite the efforts by authorities over the past year to stem the flow:
Those measures included a suspension of a quota-based program intended to allow more Chinese to buy foreign stocks and bonds and a ban on purchasing most types of foreign insurance policies with domestically-issued credit cards.

Attention on outbound investments has broadened recently. Officials at China's foreign-exchange regulator warned in September that some companies as well as individuals may have fabricated deals as a way to circumvent capital controls and move money offshore.

Earlier this week, the central bank announced it will use a new risk-control system to monitor capital flows through Shanghai's much promoted free trade zone, which previously was hailed as a bold experiment to liberalize China's financial markets.

A five-page action plan released by the Shanghai branch of the People's Bank of China stresses efforts to ensure that currency inflows exceed outflows in the zone – a backhanded suggestion that more money may be moving out of the zone than coming in.
So China is going to crack down on capital flight with new methods, in addition to all the methods that are already not working. This time, it's going after the big ones, the ones that might be using the overseas acquisition binge to dodge capital controls. This time, "according to people with direct knowledge of the matter and documents reviewed by The Wall Street Journal," the State Council is planning to impose reviews and controls on big overseas deals.
Currently, companies going after overseas M&A only have to register with Chinese authorities, but there's now drawn-out review. Under the new rules, the Commerce Ministry and the top economic planning agency can subject larges deals to more scrutiny. These deals include:
Foreign acquisitions of $10 billion or more
Property investments by state-owned companies of $1 billion or more
Investments of $1 billion or more in an overseas entity that is unrelated to the acquirer's core business
Overseas direct investments made by limited partnerships
Investments of less than 10% in companies traded on overseas stock exchanges
Chinese capital trying to participate in the delisting of overseas-listed Chinese companies.
And there's a political wrinkle. The Journal:
The new controls, once in place, are to remain in effect until the end of September and thus are intended as a temporary tool to stabilize outflows ahead of a major reshuffle of the top echelon of the ruling Communist Party late next year, the people familiar with the matter said. That's in keeping with other efforts by Beijing to try to keep the economy on an even keel before the leadership change.
These are the Top Ten financial-escape cities in the US and globally that Chinese investors seek out. Read… Yuan Devaluation Triggers Exodus of Wealthy Chinese, US West Coast Primary Target
Enjoy reading WOLF STREET and want to support it? You can donate. I appreciate it immensely. Click on the beer and iced-tea mug to find out how:

Would you like to be notified via email when WOLF STREET publishes a new article? Sign up here.