They no longer shop till they drop.
Black Friday is when you're supposed to shop till you drop. It kicks off the holiday selling season. No season is more sacred for retailers. They're expected to do about 40% of their annual sales in those few weeks till Christmas.
The National Retail Federation is bubbling over with enthusiasm, expecting holiday sales to grow 3.6% this year to $656 billion. Since Trump has won the election, consumer optimism about the economy has surged, and this is expected to be one hot holiday selling season.
But not today, not at brick-and-mortar retailers, according to Reuters:
"Initial reports show it's steady and not very busy at stores around the country," explained Craig Johnson, president at Customer Growth Partners. The retail consultancy deployed 18 people to observe customer traffic across the country.
Store traffic remained subdued across the country, according to spot checks made by Reuters reporters and industry officials.

Rain hurt shopping at stores in the Northeast, Johnson said, but some retailers like Best Buy and Wal-Mart saw improved customer traffic at stores across the country.

Macy's and Best Buy on Chicago's Magnificent Mile were packed, but employees said most of the customers were tourists.

Chicago's State Street, a normally bustling shopping area popular with locals, was desolate.
The Los Angeles Times reported a similarly gloomy scenario from Southern California:
Shoppers out in the early hours on Black Friday roamed stores in Southern California that they say were emptier than in years past.

At 4 a.m. at a Target in Duarte, Michael Chung, 40, and his three children said many of the store's doorbuster items were still in stock. Last year, he recalled, many already had sold out by that predawn hour.

"There's less people, and you don't feel the holiday spirit," said the seven-year veteran of Black Friday sales. "It's scary. It doesn't feel like Black Friday. This year is very weird."
The multigenerational clans that normally swarm around malls together on Black Friday were also scarce:
"That multigenerational tradition for some families is 50, 60 years in the making," said Britt Beemer, founder of America's Research Group. "They drive about 25% of mall sales on Black Friday. If they don't show up, mall retailers are going to see a significant decline in sales."
There are still four weeks left to pull out the year. And hopes persists that this year will be decent.
But online sales are hot, according to Adobe Digital Index, cited by Reuters. Online shoppers blew $1.15 billion on Thanksgiving Day, between midnight and 5 pm ET, according to Adobe Digital Index, up nearly 14% from a year ago.
Sales by ecommerce retailers have been sizzling for years, growing consistently between 14% and 16% year-over-year and eating with voracious appetite the stale lunch of brick-and-mortar stores, particularly department stores.
The lunch-eating process began in 2001. The chart below shows monthly department store sales, seasonally adjusted, since 1992. Note the surge in sales in the 1990s, driven by population growth, an improving economy, and inflation (retail sales are mercifully not adjusted for inflation). But sales began to flatten out in 1999. The spike in January 2001 (on a seasonally adjusted basis!) marked the end of the great American department store boom: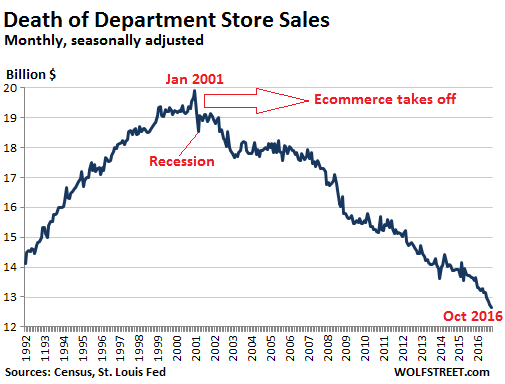 Even as the US fell into a recession in March 2001, ecommerce took off. But department store sales began their long decline, from nearly $20 billion in January 2001 to just $12.7 billion in October 2016, despite 14% population growth and 36% inflation!
The decline of department stores is finding no respite during the holiday season. Not-seasonally-adjusted data spikes in October, November, and December. But these spikes have been shrinking, from their peak in December 2000 of $34.3 billion to $23.4 billion in December 2015, a 32% plunge, despite, once again, 14% population growth and 36% inflation!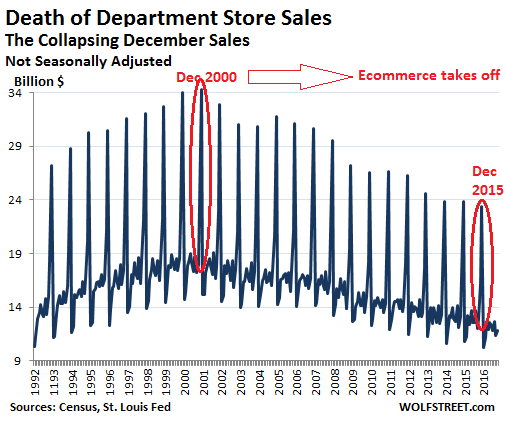 In other words: the brick-and-mortar operations of department stores are becoming irrelevant.
Ecommerce sales include all kinds of merchandise, not just the merchandise available in department stores. So it's a broader measure. They have skyrocket from $4.5 billion in Q4 1999 ($1.5 billion a month on average) to $101 billion in Q3 2016 ($33.7 billion a month on average). This chart compares ecommerce and department store sales on a quarterly basis: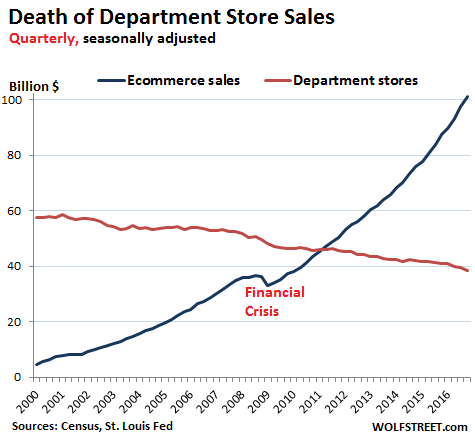 The only time ecommerce sales fell beyond normal seasonal variations was during the Financial Crisis. This year too, they're booming at the expense of department stores and brick-and-mortar retailers in general.
Department stores have begun shuttering stores and selling off properties, not only zombie companies like Sears, but also relatively healthy companies (in comparison to Sears), including Macy's, which announced another wave of store closings in August and sold its men's store at Union Square in San Francisco, at peak dollars, for redevelopment.
Brick-and-mortar department stores are dying a slow death, and nothing is going to save them. It will just take a while. The good ones will be able to grow their online presence and survive in trimmed-down form. The bad ones will fall by the wayside. Investors thinking that excellent strategic planning and execution can produce some kind of lasting upswing are deluding themselves. Even a miraculous multi-year boom in the overall economy can't stop brick-and-mortar operations of department stores from turning into zombies.
Retail sales cannot expect much support from auto sales as the "Car Recession" is now expected to spread to 2017. Read…  Strongest Pillar of Shaky US Economy has Cracked
Enjoy reading WOLF STREET and want to support it? You can donate. I appreciate it immensely. Click on the beer and iced-tea mug to find out how:

Would you like to be notified via email when WOLF STREET publishes a new article? Sign up here.