A subsidy that is now reversing.
After the brutal beating following Election Day, US Treasuries took a breather early this week. But today, the beating resumed and will continue until the mood improves.
Mid-day, the 10-year Treasury fell so hard that its yield, which moves in the opposite direction of price, spiked to 2.42%. By the end of the day, the 10-year yield was at 2.36%, up 4 basis points for the day, and up an entire percentage point from July this year (via StockCharts.com):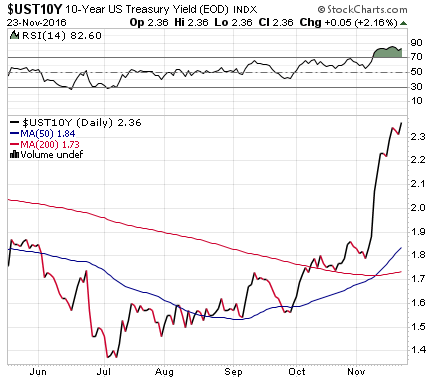 The market is 100% certain that the Fed will stop flip-flopping in mid-December and raise rates by moving the upper limit of the Fed funds target range to 0.75%. The markets see more rate hikes next year. A Fed funds rate with the first "1"-handle since 2008 would be a phenomenon a whole generation of Wall Street gurus has never seen in their professional lives.
Mortgage rates are chasing after Treasury rates. The Mortgage Bankers Association reported today that the 30-year fixed-rate conforming mortgage ($417,000 or less) reached 4.16%, its "highest weekly average since the beginning of 2016."
This caused a flurry of activity. Last week, amid the post-election interest rate spike, mortgage applications plunged. But homebuyers may be trying to lock in whatever rate they can get, before they go even higher, and mortgage applications surged.
This chart, based on rates reported by Freddie Mac, shows the current spike: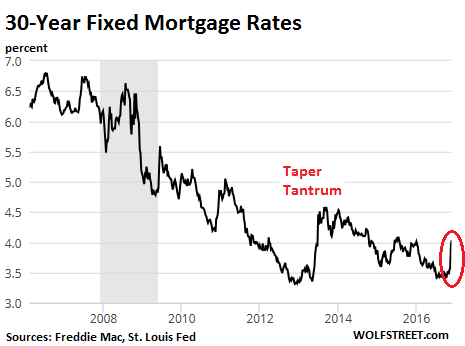 Ironically, from a historical point of view, nothing major has happened so far. That spike is still small compared to what came before, including the spike during the Taper Tantrum in the summer of 2013, when the Fed started musing about ending QE Infinity. Compared to prior years, rates are still very, very low, but home prices have since soared, and for home buyers even a minor uptick makes a world of difference.
In San Francisco, as an extreme example, the median house price has skyrocketed from $695,000 in 2011 to $1.3 million in Q3 2016, according to Paragon Real Estate. This 87% surge in 5 years has been enabled by super-low interest rates. Other factors included the high-paying jobs created by the startup and "tech" boom, and the bubble of wealth it entailed.
But now interest rates are rising. Paragon looked at what that does to the costs of housing, and by how much household incomes would have to rise to buy the same home at even slightly higher interest rates.
For these estimates, the costs of housing include principal and interest of a 30-year fixed-rate mortgage, plus taxes and insurance. The base is the median house, at $1.3 million, with a 20% down payment ($260,000!).
The recent increase in rates from 3.57% to 4.125% jacks up costs by $330 a month, or almost $4,000 a year.
If rates drift up to 4.5%, costs jump by $560 a month, or $6,700 a year.
If rates reach 5%, the additional costs jump by $10,600 a year.
What happens in some saner parts of the country is similar, but on a lower scale, depending on taxes and insurance costs. For example, for the national median home, priced at $232,200, with rates going from 3.57% to 4.5%, costs would rise by about $1,200 a year. If rates hit 5%, costs would jump by about $1,900 a year. For households on a tight budget, these additional costs would turn into an impossible squeeze.
And when mortgage rates rise beyond 5%? This used to be ridiculously low. Now it seems unimaginably high. For example, a mortgage rate of 6.3%, about the middle of the range during Housing Bubble 1 – the one Greenspan inflated when he cut rates way too low. That range lasted until mid-2008.
At 6.3%, the costs of a median house in San Francisco would jump by $1,730 a month, or nearly $21,000 a year. For the median home in the US, the cost would jump by $2,500 a year, which would move the house out of reach for many budgets.
Paragon points out how these low rates have "subsidized" the house price bubble: From the peak of Housing Bubble 1, which in San Francisco occurred in 2007, to Q3 2016, the median house price soared 45%. But due to plunging mortgage rates, the monthly housing costs increased only 14%.
Now with rates rising, that process is going to reverse.
The household income needed to qualify for a 30-year fixed rate mortgage with 20% down on that median $1.3 million house in San Francisco was $251,000 before Election Day. Paragon observes:
By Friday, November 18, the income requirement increased by $13,000. And if the interest rate goes up to 5% (and again, we are not saying it will), an additional $35,000 in annual income would be required.
Hence, at 5%, a minimum qualifying household income of $286,000 a year. In this scenario, even in less costly markets, there are two things that happen:
One, many people have to step down to a lower-priced home, or they don't buy at all. A market-wide shift of this type puts downward pressure on prices and volume.
And two, as people stretch more to buy homes at higher interest rates and higher monthly costs, they have even less money to spend on other things. This creates a new drag on consumer spending. It's how low mortgage rates not only subsidized the house price bubble but the entire economy by giving consumers more money to spend – not just the US economy but exporter nations around the world.
We've already seen the Credit Bubble Peak. It was marked by "Totally Crazy Lending." Now the next phase has set in. Read…  Now it Begins to Unravel
Enjoy reading WOLF STREET and want to support it? You can donate. I appreciate it immensely. Click on the beer and iced-tea mug to find out how:

Would you like to be notified via email when WOLF STREET publishes a new article? Sign up here.