But the roads in much of the nation are in terrible shape too.
That the streets are in terrible shape in San Francisco is clear when I step out of the house, look at the pavement I need to cross, and think: "I should have put on my hiking boots."
To its credit, the city has been repaving streets in sections of a few blocks here and there. Those repaved sections look civilized, until you get to the next intersection. But now we know, sort of officially: the streets in San Francisco are in the worst condition of any major urban area. Even compared to smaller cities, only Concord, also in the Bay Area, outshines it.
This we now know from a report by TRIP, a nonprofit that "researches, evaluates, and distributes economic and technical data on highway transportation issues."
And it's not just in San Francisco. The report found that 32% of the nation's major urban highways and roads are in "poor condition" and "provide an unacceptably rough ride to motorists." An additional 39% of them are in "mediocre or fair condition." Only 28% are in good condition. TRIP obtained the pavement data from the Federal Highway Administration (FHWA), based on data submitted annually by state departments of transportation.
In the table below, the top three urban areas are among the most expensive places to live, and they're all in California. In San Francisco and Oakland, lumped together into one urban area, a confounding 71% of the roads are in "poor" condition. In the area of Los Angeles, Long Beach, and Santa Ana, 60% of the roads are in "poor" condition. In the southern bookend of booming and wealthy Silicon Valley, San Jose, 59% of the roads are in "poor" condition. These expensive and wealthy areas have road conditions that are worse than those of Detroit, the biggest municipal bankruptcy so far.
Here are the 25 urban areas with a population of over 500,000, with the worst road conditions, according to the TRIP report: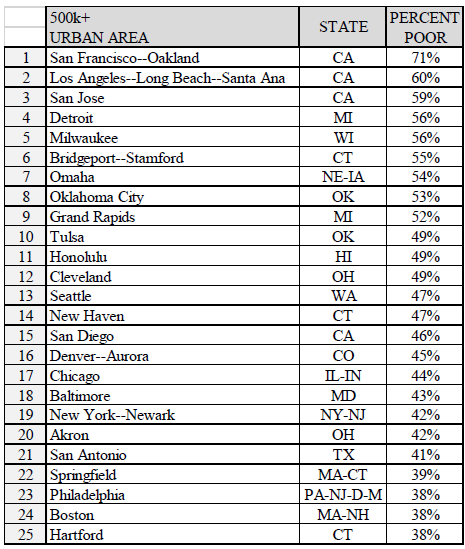 A special word must be said about San Francisco. It's where the median two-bedroom apartment rents for $56,000 a year, down by about 7% from a year ago. This is also the place where the median home has cost over $1 million for several years. The economy has been booming. Employment in the tech sector has soared, bringing in high-income employees, and they're all paying taxes out of their nose in San Francisco.
Tourism too is booming, and special tourist taxes (hotels, rental cars) have reached obscene levels. Sales tax is 8.75% (includes 6.25% that goes to the state). Revenues from parking and traffic tickets are soaring: from $274 million in fiscal 2014 to $285 million in fiscal 2015, to $290 million in fiscal 2016. Each a record year. But we can't get our streets repaved.
The smaller cities are in no better shape. The table below shows the 25 urban areas with a population between 200,000 and 500,000 with the worst road conditions. Number one on that list, Concord, is also in the Bay Area, as are number 4, Antioch, and number 9, bankruptcy-filer Stockton: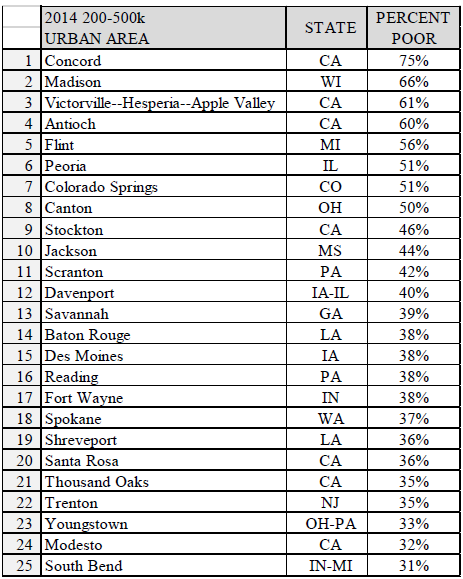 While governments save some money by not keeping roads in decent condition, it costs companies and consumers a heck of a lot, according to the TRIP report:
The average motorist in the U.S. is losing $523 annually — $112 billion nationally — in additional vehicle operating costs as a result of driving on roads in need of repair. Driving on roads in disrepair increases consumer costs by accelerating vehicle deterioration and depreciation, increasing the frequency of needed maintenance, and requiring additional fuel consumption.
This table shows these additional expenses for the 25 urban areas with over 500,000 people, where drivers pay the most annually due to roads that are in "poor, mediocre and fair" condition: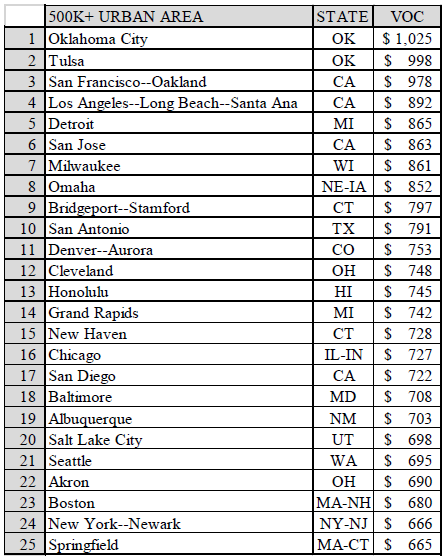 Two cities in Oklahoma have beaten the San Francisco-Oakland duo. It costs drivers in all three urban areas about $1,000 a year in additional repairs, maintenance, fuel, and other expenses. That's not pocket change. A similar picture emerges among the smaller urban areas: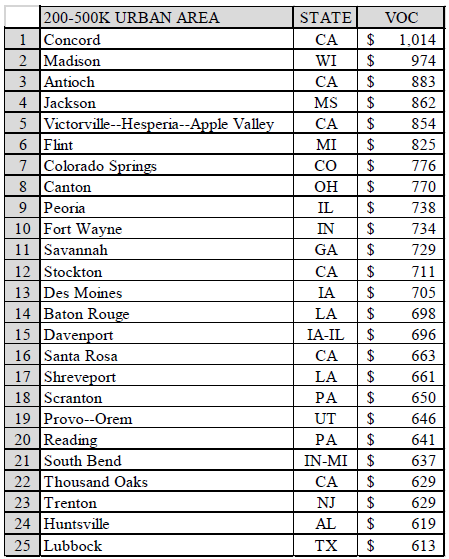 The report pointed at a conundrum: Rough freeze-thaw cycles accelerate road deterioration. They're an excuse for Detroit, Milwaukee, Tulsa even, and other cities. But freeze-thaw cycles are just not happening in the three large urban areas with the worst roads: It just doesn't get that cold in San Francisco, San Jose, and coastal Southern California.
And it's going to get worse, nationally, according to TRIP:
Vehicle travel in the U.S. increased by 15% from 2000 to 2015. US vehicle travel during the first eight months of 2016 increased 3.1% from the same period in 2015.

Travel by large commercial trucks in the US increased by 26% from 2000 to 2014. Large trucks place significant stress on roads and highways.
And the dollar amounts to get this mess fixed are huge:
The 2015 AASHTO Transportation Bottom Line Report found that the U.S. currently has a $740 billion backlog in improvements needed to restore the nation's roads, highways, and bridges to the level of condition and performance needed to meet the nation's transportation demands.
That $740 billion backlog is on top of the annual costs to just keep the road system from falling apart entirely. Will Wilkins, TRIP's executive director, put it this way in a statement:
"With state and local governments struggling to fund needed road repairs and with federal surface transportation funding falling short of the amount needed to make needed improvements, road conditions are projected to get even worse."

"Without adequate investment at the local, state, and federal levels, our nation's crumbling pavements will be more than just a nuisance for drivers – they'll be a roadblock to economic growth and quality of life."
TRIP advocates to invest enough "to ensure that 75% of local road surfaces are in good condition." Sure, that would be nice, but I think they're dreaming. It's a lot more glamorous to inflate asset prices than it is to fix potholes and bridges.
There has been a big demographic shift behind the high-rent phenomenon. Read…  It's Not a "Housing Crisis" for Everyone
Enjoy reading WOLF STREET and want to support it? You can donate. I appreciate it immensely. Click on the beer and iced-tea mug to find out how:

Would you like to be notified via email when WOLF STREET publishes a new article? Sign up here.