Why is this economy not yet in an official recession?
What if it's really different this time? What if eight years of radical monetary policies have altered the way things work to such an extent that the normal economic patterns no longer apply, that the economy has entered far into a new territory where ultra-cheap credit sloshes around, and where – instead of short, sharp recessions that clean out the cobwebs and help economic actors slough off excess debt at the expense of creditors – we get years of quagmire interrupted by mild declines and false-hope rises, even as the debt burden continues to grow and grow to suffocate all hopes at economic growth?
There have been plenty of symptoms of this. Here is one more: business investment – which plays an outsize role in economic growth. And it just booked its worst September since 2010.
The Census Bureau reported today that orders for durable goods – products and equipment designed to last over three years – inched up $2.4 billion in September, or 1% from a year ago (not seasonally adjusted), on a $4.5-billion year-over-year surge of defense capital goods. So excluding defense, orders fell 2.3% year-over-year.
Excluding defense and aircraft – to approximate business investment – orders fell 3.6% year-over-year (not seasonally adjusted).
This sort of decline in business spending has now become the rule. Until recently, some of it was in part due to the oil-and-gas industry's cutbacks. But they have now mostly run their course. New money is pouring into the industry. The rig count has been rising for months. And executives are swearing up and down to their investors and creditors that the "worst is behind us." So the year-over-year decline in September was hardly the fault of just the oil & gas industry.
And the decline has become a pattern that doesn't match the prior patterns of declines.
The chart below shows 22 years of orders for nondefense capital goods excluding aircraft – the approximation for business investment. Orders surged before recessions and formed a clearly identifiable peak either just before the official recession began (2000) or after it began (2008). Then orders plunged as companies struggled with their debts or restructured them, often in bankruptcy court, and they curtailed their investments in equipment for a while. Sometime near the end of the recession, companies began again to buy more capital goods, and orders rebounded sharply for years.




But this time the pattern broke. This time, it's truly different. After the Financial Crisis, orders rebounded sharply, as before, but then peaked in March 2012 at $70.06 billion and began to wobble up and down for over two years. In September 2014, they eked out a new peak of $70.67 billion – and have since lost their footing altogether (adjusted seasonally but not for inflation):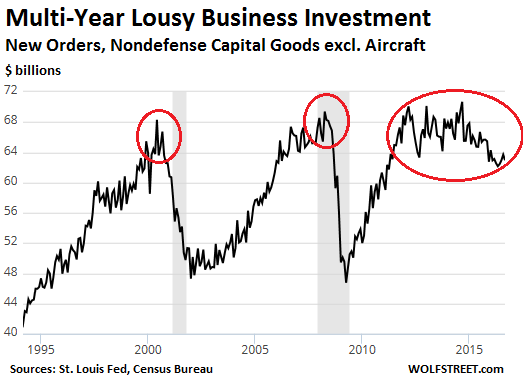 This chart uses seasonally adjusted data, so the numbers are slightly different than the unadjusted numbers I mentioned earlier. On a seasonally adjusted basis, orders for nondefense capital goods excluding aircraft in September, at $62.94 billion, were down:
-1.2% from September 2015
-11% from September 2014
-4.7% from September 2013
-0.6% from September 2012
-5.1% from September 2011.
You have to go back all the way to September 2010 to find lower business investment!
None of the data in this article is adjusted for inflation. So inflation adjustments would make the multi-year decline in business investment look much worse.
This is what is different now: Cheap credit and excess liquidity allow companies to pile on more debt – often to buy back their own shares or buy out each other – and trudge on while yield-desperate creditors fork over ever more money. But where is this record amount of borrowed money not going? Capital goods. Hence the drag on the economy – but without pushing the economy into an official recession though it keeps teetering on the edge.
So what if this teetering economy, burdened by a record amount of debt, got sideswiped by one more thing?
New orders for motor vehicles and parts rose 2% year-over-year, "a sign of steady consumer spending," as the media called it. Since the Financial Crisis, new vehicle sales jumped every year to set a record in 2015. But this year, sales have been flat. In September, they declined. In October, they're expected to fall 7% year-over year.
Automakers are throwing large incentives into the market to create demand. But inventories on dealer lots are piling up and dealers are cutting their orders. Earlier in October, Ford announced plant closings and layoffs to achieve production cuts. Other manufacturers will follow. In turn, they'll cut orders to their suppliers. But the survey-based Census data for September durable goods hasn't quite caught up yet with this new reality.
A "car recession," as the industry is calling it, impacts the economy in many ways: raw materials, manufacturing, employment, transportation (rail and truck), finance, etc. It hits GDP via consumer spending and other components. Booming auto sales have been a big pillar under the otherwise shaky economy. But that pillar is now beginning to crumble too.
Ford put it this way: "We continue to match production with demand." It Starts: Shutdowns, Production Cuts, Layoffs at Auto Plants




Enjoy reading WOLF STREET and want to support it? You can donate. I appreciate it immensely. Click on the beer and iced-tea mug to find out how:

Would you like to be notified via email when WOLF STREET publishes a new article? Sign up here.