The market "experienced a round of growing pains."
We have pooh-poohed the media love story about Apple Watch and similar devices when they first came out. We were particularly amused by how Apple was able to dominate entire front pages of the fawning financial press when it introduced the watch. At the time, nothing else mattered or happened. That was March 9, 2015. I took some screenshots, showing how great Apple really is in wrapping the media around its cordless Magic Trackpad… Apple Comes Out with a Watch, and Look What Happens: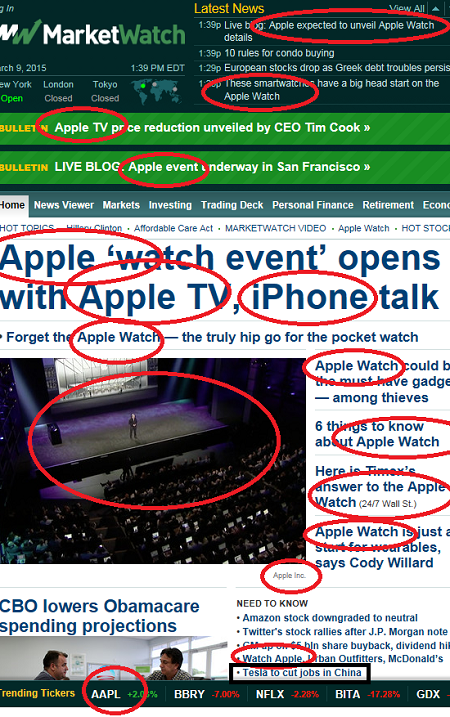 But even with all our cynicism about this sort of hype, we did not expect the market to just implode like this, and for Apple Watch shipments to just totally collapse. But they did.
In the third quarter, according to International Data Corporation (IDC), global smartwatch shipments plunged 51.6% year-over-year. "A round of growing pains," as IDC put it. Just 2.7 million of these devices were shipped, down from 5.6 million a year ago.
Apple Watch is still the market leader with a 41.3% share, but shipments collapsed by 71.6% year-over-year, to just 1.1 million watches, down from 3.9 million a year ago. IDC was struggling with explanations for the debacle:
Its first-generation Watches accounted for the majority of volumes during the quarter, leading to the significant downturn for the quarter. Its Series One and Series Two did little to stem that decline….

Although the decline is significant, it is worth noting that 3Q15 was the first time Apple's Watch had widespread retail availability after a limited online launch. Meanwhile, the second generation Apple Watch was only available in the last two weeks of 3Q16.
Garmin, however, catapulted itself to number two with a market share of 20.5%, up from 2.3% a year ago, with shipments soaring 324% to 0.6 million devices. IDC credited Garmin's rise on "its growing list of ConnectIQ-enabled smartwatches and the addition of the fenix Chronos," and on its "focus on health and fitness."
Samsung also moved up in market share, now at 14.4%, up from 6.4% a year ago, after shipments in the quarter rose 9% to 0.4 million, "on the strength of its aging Gear S2 smartwatches."
Lenovo, which in 2014 had acquired the Motorola Mobility smartphone business from Google, experienced a shipment collapse of 73.3%, worse even than Apple's, to just 0.1 million devices. IDC ascribed it to "channels selling out" and "scarcity" of its Moto 360 devices. Plus this: the third quarter marked "the first time in which Motorola did not introduce a new smartwatch in time for the holiday quarter, adding to its decline in the market."
The remaining smartwatch makers also got the rug pulled out from under them. Pebble shipments fell 54.1% to 0.1 million, and "others" dropped 27.2% to 0.5 million.
ICC grappled with how to put this fiasco into some kind of perspective, other than the sector's effective demise as a broad must-have consumer device:
Although the decline is significant, it is worth noting that 3Q15 was the first time Apple's Watch had widespread retail availability after a limited online launch. Meanwhile, the second generation Apple Watch was only available in the last two weeks of 3Q16.
Ramon Llamas, research manager for IDC's Wearables team, came up with these nuggets – I mean, what else are you going to say?
"The sharp decline in smartwatch shipment volumes reflects the way platforms and vendors are realigning."

"Apple revealed a new look and feel to watchOS that did not arrive until the launch of the second generation watch at the end of September."

"Google's decision to hold back Android Wear 2.0 has repercussions for its OEM partners as to whether to launch devices before or after the holidays."

"Samsung's Gear S3, announced at IFA in September, has yet to be released. Collectively, this left vendors relying on older, aging devices to satisfy customers."
More to the point, Jitesh Ubrani senior research analyst for IDC Mobile Device Trackers, explained it this way:
"It has also become evident that at present smartwatches are not for everyone."
Without doubt, smartwatches have their place. Some people want them and others need them. But is it Apple's successor device to its iPhone miracle? Nope. That was just superbly managed propaganda that the financial media gobbled up without second thought about reality, solely focused on driving Apple's share price higher. But it didn't last long: shares peaked two months later.
Now reality sets in: the smartwatch is no different from other consumer products, and selling it is a tough, ultra-competitive slog amid crummy demand and very limited interest from consumers.
More from the high-flying tech sector: Global PC shipments fell 3.9% in the third quarter, thus continuing the methodical decline of the entire ecosystem. But beneath the surface: shipments of boring brands rose worldwide and soared in the US, while shipments of cool Macs plunged. A classic case of channel stuffing? Read… Apple Mac Shipments Plunge, even as PC Shipments Rise from the Dead




Enjoy reading WOLF STREET and want to support it? Using ad blockers – I totally get why – but want to support the site? You can donate. I appreciate it immensely. Click on the beer and iced-tea mug to find out how:

Would you like to be notified via email when WOLF STREET publishes a new article? Sign up here.

Watch as our sponsor, Classic Metal Roofing Systems, discusses the benefits of using products they manufacture.
Product information is available at Classic Metal Roofing Systems, manufacturer of beautiful metal roofs.