So no "major, major collapse in housing?"
"The pundits have been raising red flags on the Canadian housing market for more than five years – and have been consistently wrong," former Royal Bank of Canada CEO Gord Nixon told BNN today, in response to the federal government's new mortgage rules designed to tamp down on risk in the housing market:
"I appreciate why policymakers have been moving in the direction they have been moving but we have yet to have – and I don't believe we are going to have – a major, major collapse in housing."
Comforting words.
It is always been said that the Canadian housing bubble cannot implode in the manner the US housing bubble did because mortgages are more conservative, because subprime doesn't exist, because down-payment requirements are stiff…. And now there are new mortgage rules to make it even harder.
But there are ways and means of getting around the new mortgage rules and other requirements to get what you want in Canada's delicious housing bubble. And in some cases: no down-payment, no problem.
The new policies – covering mortgages that qualify for the government-guarantee program and the lower rates that come with it – elicited pronouncements of being everything from "somewhat overdue," from Toronto Dominion Bank chief Ed Clark, to "premature," from Gary Mauris, president and CEO of Dominion Lending Centres.
The latter is a mortgage broker that negotiates with "shadow banks." These mortgage finance companies, that include the less-regulated private lenders or mortgage investment corporations, offer a variety of loans, including for low-ratio refinancing, jumbo mortgages, long-term amortizations, and investment or rental properties. These "alternative" mortgages include subprime mortgages.
Mr. Mauris' unfavourable review of the new rules may have something to do with the amount of business squashed therewith.
Dominion Lending Centres Chief Economist Sherry Cooper said that some lenders declared, "Until further notice, until the dust clears, we are no longer making loans, we are not making renewals."
Ouch.
Shadow banking covers 12.5% of the $1.3 trillion Canadian mortgage market. Lenders like Merix, Street Capital, First National, Canadiana, and True North Mortgages don't take deposits as banks do. They fund these mortgages by issuing bonds or mortgage backed securities. These monoline lenders who "can churn out approvals in as little as 4 hours" are not where the government mortgage insurer, Canadian Mortgage and Housing Corporation (CMHC), intended priced-out house-hunters to go, especially now that that it finally raised the housing market alert status to "red."




No down payment, no problem.
On the Metro Vancouver scene, media was set abuzz by developer Townline Homes Inc. offering a "grant" to qualified lower income buyers in late January 2016.  The CMHC approved the 0%-down offer, in which there was subsequent "overwhelming interest."
These units were pre-sold for 8% less than the third-party appraised value. That 8% was essentially a grant from Townline and became the buyer's "virtual" down payment. So the lending bank and therefore CMHC would be on the hook for 100% of the purchase price, in the event of foreclosure.  The purchaser not having any skin in the game is a scenario that makes more fiscally conservative Canadians positively shudder.
VanCity, a Vancouver credit union, has also developed some creative mortgage products particular to the idiosyncrasies of the local market. For example, when buying a place with a housemate or two (true story) or two families are buying a place together (also not unheard of), VanCity offers a package deal called a Mixer Mortgage, with financing and legalities taken care of to ensure each party is only responsible for their share of the mortgage.
Then there's its Springboard program: the fine print reveals that it is 100% financing. "Innovative" indeed. Straight from VanCity's website (emphasis added):
Everyone deserves a chance to own a home…If you qualify, we'll loan you the money for a 20% down payment, plus a mortgage for the balance of the purchase price…If you make all your payments within the first 10 years, you'll have paid off your down payment.
While the red flags begin to wave, notice that the maximum property amount under this program is C$300,000.  In Metro Vancouver, this will barely allow you to get your foot in the door of a 600-square-foot 1-bedroom condo.
VanCity has the empathetic "Don't Give Up" ad campaign. They understand how housing affordability is affecting Vancouverites; they also don't mind signing people up for what some term "debt slavery" for decades to come: buying an essentially unaffordable home. This is one of their ads – "Minimum wage is not a living wage" – in a bus: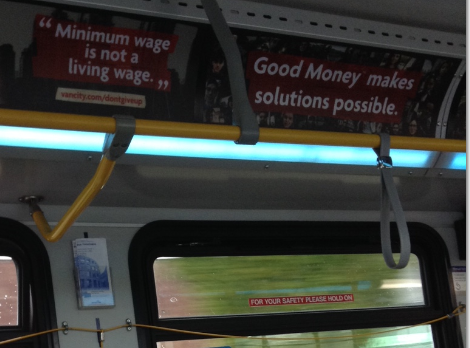 In Metro Vancouver, "Help Wanted" signs abound, at minimum wage cafes, fast food restaurants, and dollar stores. It would seem that the working poor are edged out by the affordability issues besetting Metro Vancouver.
Some mortgage brokers insist the products arranged with shadow banks are completely safe and even boring, far removed from the US housing bust and the glamorized scenes from the movie the "Big Short."  The fact remains that shadow lending has its slice of the mortgage pie and that no-down-payment mortgages exist. And house prices are more inflated than ever. By Angela Johnson, Vancouver, Canada, for WOLFSTREET.com.
But already, the housing market in Vancouver is in turmoil, even as Toronto spikes. Read…  There's No Plateau in a Housing Bubble, Not Even in Canada




Enjoy reading WOLF STREET and want to support it? You can donate. I appreciate it immensely. Click on the beer and iced-tea mug to find out how:

Would you like to be notified via email when WOLF STREET publishes a new article? Sign up here.