The governor of the People's Bank of China chimes in.
All kinds of officials are fretting about the dangers of the housing bubble in China that has been fueled by easy credit that officials have made available last year to stop the implosion of the prior housing bubble.
City by city, they're grappling with this problem, trying to put a lid on it. Caixin Online reports:
About 20 Chinese cities tightened home purchasing requirements in late September to cool an overheated market, with some prohibiting property developers from selling homes to residents who don't have a local hukou, or residency registration, and to those who already own more than one home. Other cities have raised the minimum down payment required.
But easy credit still rules: Total new loans in August reached 948 billion yuan ($142 billion). Over 71% of this debt was taken out by households, mostly mortgages.
New mortgages skyrocketed from 2.2 trillion yuan in 2014, to 3 trillion in 2015, and already hit 3.6 trillion in 2016 through August, according to the Wall Street Journal. Medium and long-term household loans, mostly mortgages, are now up 27% from a year ago.
In response, the average new home price in 70 Chinese cities rose 9.2% in August year-over-year, according to the National Bureau of Statistics. In Beijing, the average price soared 23.5%, in Shanghai 31.2%! This chart by tradingeconomics.com shows the year-over-year percentage changes of the government induced boom-and-bust cycles: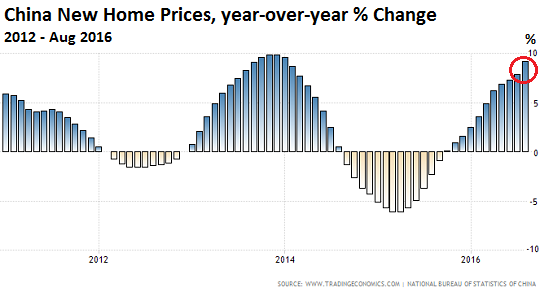 Soaring leverage makes this housing bubble much more dangerous than the prior ones, not only to the banking system and financial stability but also to social stability. Folks there don't like it when their life savings suddenly go down the floor drain, and they might react in ways that the government doesn't appreciate.
The Wall Street Journal:
Such property imbalances have afflicted China before. Developers are still struggling to sell excess housing stock from the last boom in 2013, amid slowing economic growth and the state's limited success in luring more farmers to cities. The large number of unsold homes dragged on the economy, leading Beijing last year to loosen home-purchase curbs and lending policies that contributed to the latest buying craze, economists say.
President Xi Jinping told senior policy makers at a recent meeting to "control asset bubbles" – and by far the biggest asset bubble is the property sector.
At China's main housing regulatory agency, officials have met numerous times since July to discuss how to stabilize prices without triggering a sharp downturn, say people close to the agency.

But Beijing has announced no major policies.
That, however, may be about to change. The source of all this easy credit behind the big banks, the People's Bank of China, is apparently getting very nervous.
PBOC governor Zhou Xiaochuan said in a speech at the IMF board meeting this weekend in Washington that the central bank would impose "certain controls over credit growth."
This is central bank speak for what Caixin Online called "a squeeze on liquidity." Since the credit growth is happening mostly with mortgages, he specifically targeted housing. He went on to elaborate:
"China will use various policy instruments to keep banking liquidity at an adequate level and allow credit and total social financing to grow at a steady and moderate pace."
Caixin's report – titled evocatively, "Central Bank Governor Hints at Credit Squeeze to Deflate Nation's Property Bubbles":
Zhou had warned earlier against the emergence of housing bubbles. Speaking at the G20 meeting of finance ministers and central bank governors in Washington on Thursday, Zhou said the government has already enacted policies to develop "a healthy property market."

Zhou also proposed controlling credit growth to corporations by "lowering corporate leverage and dealing with piling debt through market-based approaches, such as debt restructuring, debt-to-equity swaps, securitization, and liquidation." This came after the IMF warned that the country's growing debt "posed risks to financial stability."
Zhou remained officially sanguine about the state-owned megabanks. Though the ratio of nonperforming loans has risen, he said, the overall risks are "controllable" because banks have sufficient reserves to deal with them. Which is what all bank regulators always say publicly.
They fear the damage the ballooning property bubble will do when it deflates. But that ballooning property bubble has been the biggest growth engine in China's economy, which has otherwise been dogged by a faltering manufacturing sector. Without that ballooning property sector, the Chinese economy would stall altogether. And if the property sector deflates rapidly, it would do a lot worse. Among other things, it would crush consumer spending – the other engine of economic growth. But by now, there appears to be no painless way out, and the PBOC might might have acknowledge that much.
Even Chinese homebuyers know it's a bubble, but that hasn't stopped them yet. Read… Chinese Consider Home Prices "High and Hard to Accept," but Buying Frenzy Surges




Enjoy reading WOLF STREET and want to support it? You can donate. I appreciate it immensely. Click on the beer and iced-tea mug to find out how:

Would you like to be notified via email when WOLF STREET publishes a new article? Sign up here.