Five-year retail boom implodes.
Retail sales in Texas boomed for five years straight, from March 2010, their low point during the Great Recession. Sales tax collections jumped 46% from the first half of 2010 through the first half of 2015 – dizzying growth for a mature market! Given the size of the Texas economy, it helped prop up US retail sales. But by May 2015, 10 months into the oil bust, things began to sag.
Sales tax collections in September for sales that occurred in August dropped 3.5% year-over-year, according to the Texas Comptroller of Public Accounts. And in August, sales tax collections had dropped 3.0% from two years earlier. This was only the second time since the depth of the Financial Crisis that collections were lower than two years earlier, the first time having been in June!
Year-to-date, sales tax collections fell 2.5% to $21.4 billion, and were practically flat with collections two years ago. On a per-capita basis, given the growth of the Texas population (up 8% since 2010), it looks even worse.
Sales tax collections aren't an ideal gauge. Many food products are exempt. Taxes on motor vehicle sales and rentals are not included in this tally but are reported separately. The data is not seasonally adjusted, so it can only be compared to the same months in prior years. But it's an unvarnished approximation of the movements of retail sales.
This chart by "David in Texas," who also researched the sales tax collection data, shows how the boom since the Great Recession began to sag last year. I circled the two months when collections declined from two years ago. Note that sales tax collections lag sales by one month. So collections reported in September were for sales in August (click chart to enlarge):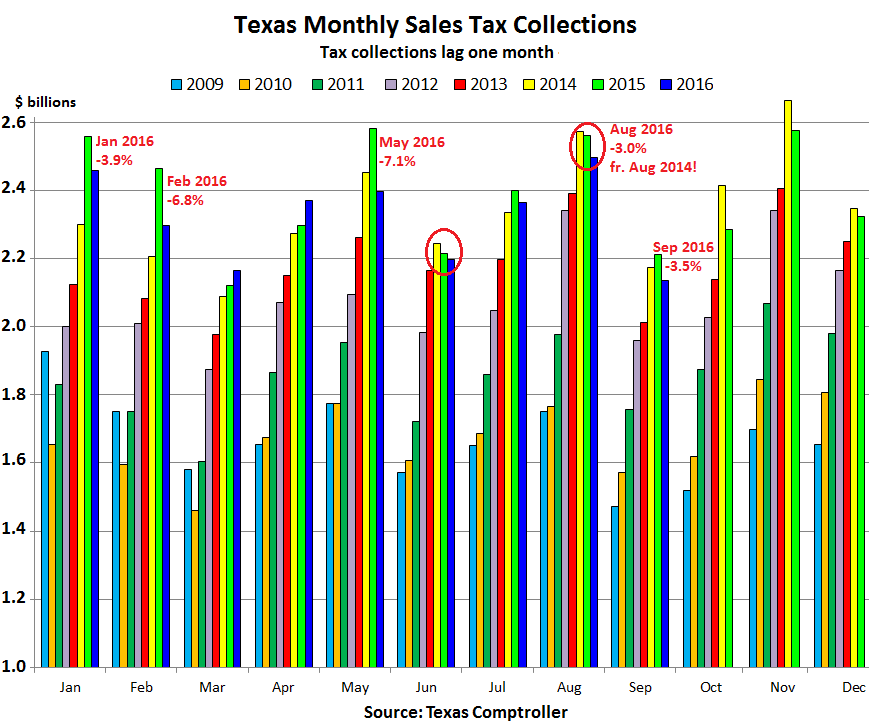 But people in Dallas, Austin, and some other places are looking at this incredulously. The economy is hopping. So retail sales may not be all that strong either, but the exuberance for the booming housing market hasn't cooled off. Home prices are still soaring. Job markets in those cities are still growing with only a few dark clouds in sight.
But then there's the Houston metro, with a population of about 6.6 million, just slightly less huge than the Dallas metro. And there, the wheels are coming off the economy (below data via Houston.org, and the Bureau of Labor Statistics).




Construction sinks: In the Houston metro, total building contracts in August plunged 18% year-to-date compared to the same period last year, with nonresidential construction down 21% and residential construction down 16%.
Housing hanging on by its nails: Home sales edged up 0.9% through August this year, and the median price is up 3.3% year-over-year, so seemingly still holding up despite the enormous headwinds. But active listings in August rose 16% year-over-year, and pressures are building.
Jobs in the goods-producing sector evaporate, government is hiring: Total nonfarm payroll employment for the Houston-Sugar Land-Baytown area edged up 0.4% in August year-over-year, to 3.12 million, but that's still down 2.8% from the peak in April 2015. The Unemployment rate jumped to 5.8% in August from 4.9% a year earlier.
By contrast, in the Dallas-Fort Worth-Arlington area, employment rose 3.6% year-over-year to a new record of 3.574 million, with an unemployment rate of 4.1%.
Jobs in the service sector in Houston rose 1.7% year-over-year. But jobs in the goods producing sector (oil & gas, natural resources, construction, and manufacturing) plunged by 5.2%.
This helped push the unemployment rate for Texas overall to 4.7% in August, up from 4.4% a year earlier.
The hardest hit industries in Houston:
Mining and Logging jobs, which are mostly oil & gas in Houston, fell 11.5% in August, year-over-year, to 87,500, down a stunning 21% from the peak of 110,800 in August 2014. Many of these jobs were highly paid engineering jobs.
Manufacturing jobs, often making equipment for the oil and gas sector, dropped 12.4% from the peak in December 2014 to 230,000.
Information Technology jobs, many of them also associated with the oil and gas sector, dropped 7.3% year-over year to 30,300, and are down 10% from their peak in December 2013.
Professional and Business services jobs, including jobs related to oil & gas, fell 1.9% year-over-year to 465,000, and are down 2.1% from December 2014.
The biggest gainers (and the usual suspects):
Government jobs rose 2% year-over-year to 368,300.
Education and health services gained 4% to 385,100.
Leisure and Hospitality jumped 7% to 327,600.
Foreign trade swoons. Exports measured in dollars plunged 21% in July year-over-year and 21.3% over the first seven months. Imports plunged 21% in July year-over-year and 30.3% over the first seven months.
The transportation sector wobbles lower:
Port of Houston shipments in short tons fell 7.5% year-to-date through July.
Air passengers at the Houston airport system in August are down 0.2% year-to-date, while landings and takeoffs are down 2.1%.
Air freight is down 3.2% year-to-date.
And the beleaguered consumers are cutting back. Retail sales last year were down 10.3% from 2014. Here's the big one this year, the largest category in retail sales: in August, new vehicle sales (in units) fell 7.2% year-over-year, having plunged 20% year-to-date, with new car sales down a spine-chilling 28.6% year-to-date, and even truck and SUV sales down 13.9%. It takes a lot of headwinds for a Texan to give up on buying a new truck.
But the weakness in Houston cannot alone explain the decline in sales tax collections across Texas that started in May 2015. There is more at play. Consumers are beginning to curtail their spending in other cities too – even if housing exuberance is still papering over their difficulties.
In the US, after six years of Fed and Wall Street hype, the real economy has some real problems. Read… The Great Debt Unwind: Business Bankruptcies Soar 38%




Enjoy reading WOLF STREET and want to support it? You can donate. I appreciate it immensely. Click on the beer and iced-tea mug to find out how:

Would you like to be notified via email when WOLF STREET publishes a new article? Sign up here.