"Housing market in East Vancouver has collapsed. No bidding wars." 
As Vancouver's manifold attractions decrease, witness the appearance of a sign that we haven't seen in these parts for a while: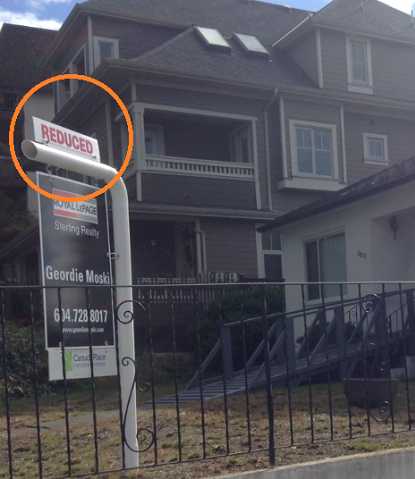 Foreign investors are met with a cold shoulder in the form of the contention-breeding 15% land transfer tax instituted without warning in July.  Hard on the heels of this tax is yet another one, this one aptly named the Empty Homes Tax, courtesy of the City of Vancouver.  This tax targets the close to nil rental vacancy rate.
The result of tax upon tax? Total home sales in September plunged 32.5% from a year ago. This includes a vertigo-inducing plunge in sales of detached homes of almost 47%, according to the Real Estate Board of Greater Vancouver. Apartments and townhomes hardly fared better with sales dropping respectively 20.3% and 32.2%.
The benchmark home price remained flat compared to August but was still up nearly 29% from a year ago.
But consider the words of William Wat, the realtor for a neighbour's house, which sold after two weeks on the market: "The housing market in East Vancouver has collapsed. No bidding wars. That was two months ago."
Selling in less than a week over asking is apparently sooo last season.  This almost 50-year-old house, which listed for C$1.35M, was well maintained but by no means renovated.  Nor does it have an existing rental suite in the basement as "mortgage helper," necessary for mere real-estate mortals.  Final selling price: C$1.17M. This is what that million-dollar palace looks like: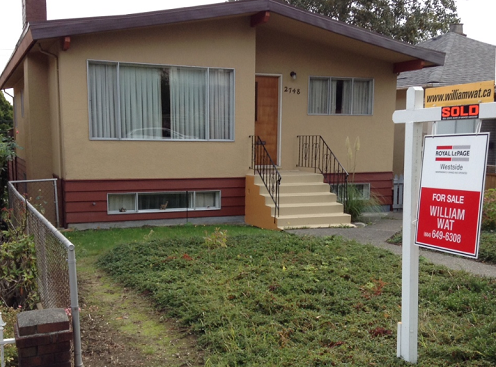 Guess the buyers didn't get the memo from Swiss Bank UBS, which last week belatedly joined the bubble-calling-party, pointing out that Vancouver has the bubbliest housing market in the world, with the highest likelihood of a property price decrease, a dubious distinction of being in first place:
Vancouver
London
Stockholm
Sydney
Hong Kong
Munich
San Francisco
If sentiment turns nastier on Canada's west coast, where might the hot money flow next?




Try Toronto, Canada's other glittering city, nicknamed HogTown. Though Toronto does not appear on the UBS bubble city list, and the average home price is not nearly as eye-watering as Vancouver's, since last year it has still jumped by 20.4% to C$755,755.  Sales were up by 21.5% year over year.
"The sustained lack of inventory in many neighbourhoods across the Greater Toronto Area continued to underpin high rates of prices growth for all home types," says Toronto Real Estate Board President Larry Cerqua.
The respective realtors associations of Toronto and Ontario raised hue and cry against the possibility of a foreign buyer tax similar to Vancouver's in Greater Toronto, precisely what Bank of Montreal chief economist Douglas Porter advised Ontario's government to "take a long look at." In Ontario, home buyers' citizenship is not yet documented, a move British Columbia necessarily implemented the same month as its foreign buyers transfer tax for Metro Vancouver.
Just this Monday, Finance Minister Bill Morneau ended the opportunity of tax-free capital gains by closing the tax exemption loophole meant for those purchasing their principal residence. This was thought to be taken advantage of by some wealthy foreign buyers installing "homemakers and students" as principal homeowners.  In BC, it was recently found that their presence there was made possible by generous yet suspicious "gifts," enough to buy swank multi-million dollar homes on the tony West Side.
In September, two of Canada's "Big Five" banks, the Bank of Montreal and Bank of Nova Scotia, put restrictions on foreign buyers, who must now have their wealth and income origin verified as legitimate. This previously allowed newcomers to Canada to leverage their money from whatever source, legal or otherwise. It was originally meant for those without Canadian credit history who arrived in the last 5 years. Though it's only a policy change and not even across the entire banking industry, it's another step toward calming the real estate frenzy.
Will these measures keep those oh-so-easily created currency units at bay or send them closer to Bay Street, the business hub of Toronto?
Avery Shenfeld, Chief Economist at Canadian Imperial Bank of Commerce (CIBC), is hopeful that, for Toronto's sky-rocketing prices, a "gentle end" can be brought about.  Is there such thing as a soft landing? "An end" to this golden age of real estate is the last thing those with vested interests want to hear about, and only a very distant possibility while the strategy of kicking the can is continued ad infinitum (we're looking at you, Bank of Canada, and those low interest rates.)
Mr. Shenfeld's idea of cooling off the market "without killing the Toronto or Ontario economies in the process" is by increasing the supply side of the equation. Indeed Toronto is familiar with subdividing heritage mansions and building high rises behind them. The prices of those urban shoe boxes in the sky however, may be prohibitive for those 56% of Canadians who would experience a euphemistic "negative cash flow" if their monthly debt increased by a paltry C$200. By Angela Johnson, Vancouver, Canada, for WOLFSTREET.com.
In another city on UBS's bubble list, San Francisco, there's a new phenomenon. Read…Owners at "Leaning Tower of San Francisco" Knock Condo Values to Zero




Enjoy reading WOLF STREET and want to support it? You can donate. I appreciate it immensely. Click on the beer and iced-tea mug to find out how:

Would you like to be notified via email when WOLF STREET publishes a new article? Sign up here.