If the City of Chicago Were a Bank … 
By Bill Bergman, Chicago, Director of Research, Truth in Accounting:
One of the lessons we didn't learn in the savings and loan crisis in the 1980s was the importance of "prompt corrective action" in bank regulation and supervision.
Back then, underwater "thrifts" were kept afloat with less-than-truthful regulatory accounting principles that hid their effective insolvencies, allowing well-connected parties to feast off the public purse, unleashing incentives that ended up trebling the cost to taxpayers.
In theory, "improved" legislation and regulation arrived, under the cry of "never again." Among other things, the new systems developed "tripwires" designed to force intervention into failing institutions before large and/or widespread failures threatened the public purse again.
Less than twenty years later, the Big One arrived in 2007-2009, despite (or because of) these fixes.
How about municipal governments? Why do city and state "balanced budgets" sound like those "tripwires?"
For some perspective on questions like these, let's take a peek at the Midwestern cities of Indianapolis, Chicago, and Detroit.
In 2013, Detroit filed for bankruptcy under Chapter 9 of the federal bankruptcy code. What did some simple financial trends look like in Detroit before, during, and after that development?
Indianapolis is a good place to start. The state of Indiana and its largest city have been in relatively good shape in the last decade, compared to their immediate northern and western neighbors. Here's a look at the difference between general revenues and net expenses (leading to a bottom line measure akin to "net income" in the private sector) for the city of Indianapolis from 2006 through 2013.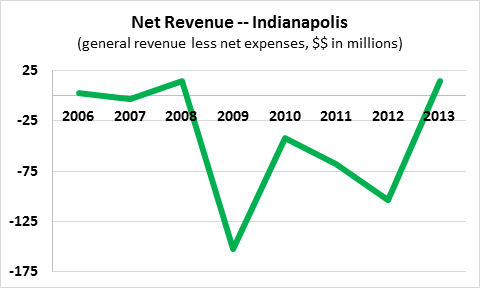 The bottom line took a hit in Indianapolis in 2009 – not altogether unreasonable, given that the economy had entered the worst economic and financial crisis since (at least) the Great Depression. By 2013, the bottom line poked its head above zero, again.
How does that picture for Indianapolis compare to Detroit – which filed for bankruptcy in 2013? See below.
That 2009 downturn in Indianapolis doesn't look so bad, compared to Detroit. And Detroit persistently spent hundreds of millions of dollars more than fees, grants, and tax revenue in the five years before its financial woes were addressed in bankruptcy.
The City of Chicago couldn't possibly look as bad as Detroit, could it? For one thing, the City of Chicago has retained a greater measure of control over its destiny than Detroit, given the "home rule" authority it has under the Illinois State Constitution. And the City of Chicago regularly claims to operate under a "balanced budget," which the city notes "is required by state law."
That means Chicago spending should be in line with revenue, and it should be close or above zero, on the Detroit and Indianapolis charts above, shouldn't it?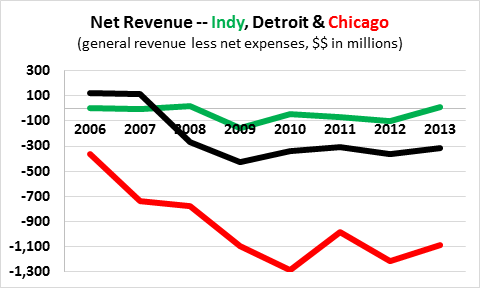 The red line above shows the "bottom line" measure for Chicago, which massively and continuously spent beyond its means in the last decade. Even amidst the recovery from recession, and after the election of a new mayor who was advertised as a solution for past financial mismanagement.
From 2010 to 2013, Chicago spent about a billion dollars a year more than it took in, borrowing to make up the difference. At least, in the numbers it was reporting to the public at the time.
That was as of a few years ago. Should we update this picture?
One thing that has happened is that state and local governments have finally implemented new accounting standards delivering pension liabilities to their previously under-reported debts on their balance sheets.
The new standards have had implications for the "income statement" (technically, the Statement of Activities) for state and local governments as well. Together, these changes call into question the validity of the previous results being delivered to citizens and taxpayers, similar to the way regulatory accounting principles delayed an overdue day of reckoning in the S&L crisis in the 1980s.
Especially in Chicago.
OK, are you ready? A shot of whiskey or two nearby? Let's update the last chart above for the last two years, showing all three cities.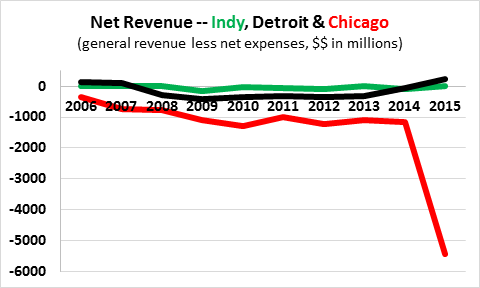 Wait a minute, why does this look so ridiculous?
Before touching on that, one thing the massive fall off a cliff in Chicago in 2015 does to the picture is hide a recovery of sorts in Detroit, where revenue has begun recovering expenses again.
But what about Chicago? How bad was 2015?
Reading the "Management Discussion & Analysis" section of Chicago's annual report, we are informed that expenses in government activities rose over 50% in 2015, a big reason for the massive decline in the already-negative bottom line. But we don't get much of an explanation for it beyond that, at least after that sentence.
What happened? Did the City of Big Shoulders grow another Shoulder?
Not really.
In 2015, the city revised the assumptions underlying the valuation of its pension liability. There were a few reasons for these changes, including an Illinois Supreme Court decision that arrived during 2015 rendering previous pension reforms unconstitutional.
What are we to infer, then, about the "real" trend in city finances, underneath accounting reports designed, at least in theory, to help citizens understand reality? How reliable are government financial reports, let alone government budgets?
Amidst the uncertainty, one thing we can hang our hat on, until it gets stolen anyway, is interest expense. Chicago's interest expense has mushroomed in the last few years. In 2015, Chicago incurred over $850 million in INTEREST EXPENSE ALONE, over twice as much as it paid in 2009 — in a period with a significant decline in market interest rates.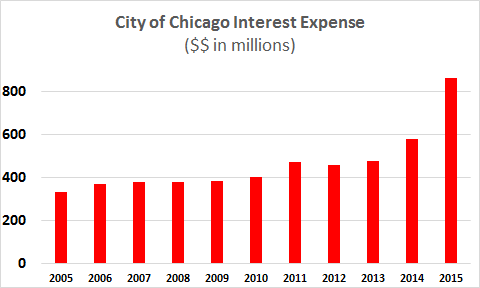 How did the City of Chicago get away with spending beyond its means for so long, without any external intervention – even before 2015, and that Illinois Supreme Court decision?
One sad answer is that, in a democracy, voters don't get off scot-free.  Granted, they chose to trust systems that may not have been trustworthy.  But in a sense, they dug their own ditch, too. By Bill Bergman, Chicago, Director of Research, Truth in Accounting.
So who is going to bail out the city's pension funds? Check the bills in your mailbox. Happening now in Chicago. Read…  This is How You'll Bail out Municipal Pension Funds
Enjoy reading WOLF STREET and want to support it? You can donate. I appreciate it immensely. Click on the beer and iced-tea mug to find out how:

Would you like to be notified via email when WOLF STREET publishes a new article? Sign up here.