A recipe for a debt crisis.
By Don Quijones, Spain & Mexico, editor at WOLF STREET.
On Monday morning the world's tenth most traded currency, the Mexican peso, set a historic precedent that few Mexicans will welcome. For the first time ever, one US dollar fetched as many as 20 Mexican pesos in some of the nation's banks, including its biggest, Bancomer, following eight consecutive days of losses.
Of all the international currencies tracked by Bloomberg, only the Surinamese dollar fell more against the U.S. dollar last week. The peso also holds the dubious distinction of being the worst performing major emerging market currency of 2016, having lost close to 12% of its value.
So far this week things have only got worse, as the peso's value slumped from $19.64 on Monday morning to $19.83 at the close of Tuesday's trading, while the cost of covering against a depreciating peso has reached historic levels in the derivatives market.
There are plenty of reasons for Mexico's peso woes, including the nation's slowing economy, the government's tightening fiscal strains, and the recent resignation of the Minister of Finance and Public Credit, Luis Videgary Caso, after being blamed for arranging an impromptu meeting between Mexico's Premier Enrique Peña Nieto and the Donald Trump.
The pains of much-shrunken, desperately debt-challenged, state-owned oil giant, Pemex, have also taken their toll. All these factors have contributed to the peso's spectacular fall from grace – it now takes 60% more pesos to buy $1 than it did in January 2014: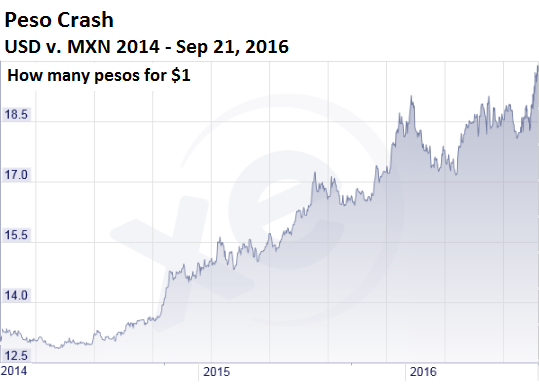 But the two most important reasons for its latest leg-down are:
The currency's status as a widely traded emerging market currency has led it to be widely used as a hedge to be sold in turbulent times against other emerging market positions.
The peso's newfound role as an insurance policy against a Trump victory in November's U.S. election.
As some investors are getting spooked over the prospect of a Trump presidency, they are hedging against such an outcome by shorting the peso, making it a perfect barometer of Donald Trump's US election chances, according to the Financial Times:
[A]s the head of emerging markets at one New York-based bank put it: "If you believe Hillary will win, you should be buying the hell out of Mexican assets."

Alonso Cervera at Credit Suisse in Mexico City traces the link between the peso and the US election to early May, when Mr Trump won the Indiana primary and his rival Ted Cruz dropped out of the race. "The peso sold off and all the other emerging market currencies were unchanged," he said.
According to some, a weak peso shouldn't necessarily be viewed as a negative. "In many ways, a weak peso is a good thing for the Mexican economy that is very open," says Jorge Mariscal, chief EM investment officer at UBS Wealth Management. With exports accounting for roughly one-third of Mexico's GDP, a falling peso would make the country more competitive, he told the FT. Both dollar oil revenues, and remittances from Mexicans abroad — which totaled $25 billion last year — would also go a lot further with a weaker peso.
What Mariscal doesn't mention are the potential knock-on effects a weakening peso can have on the hundreds of billions of dollar-denominated debt just sitting, gathering weight, on the balance sheets of Mexican corporations and the Mexican government that have borrowed much more cheaply in dollars but now must pay the price: their revenues of crushed pesos makes their dollar debt more difficult to service.
It's a recipe for a debt crisis.
Nor does Mariscal mention the decimating effects a collapsing peso can have — indeed, has already had — on the incomes and wealth of Mexican people, from the very poorest to the very richest. According to a report by the Mexican financial daily El Financiero, Mexico's wealthiest billionaires have seen billions of dollars wiped off their paper wealth since support for Trump bottomed out in early-August. The fallout is particularly pronounced among those whose businesses transact overwhelmingly in pesos. Carlos Slim, once the richest man on the planet, is now relegated to eighth place.
But it's the poorest that will, quite literally, pay the highest price. In Mexico, the poor are in the majority. And they're well-accustomed to seeing the value of their earnings slowly eroded. During the last four decades, the purchasing power of the minimum wage has shrunk by 78%.
As the peso plunges in value, this trend is only likely to worsen. A crucial staple food, tortilla, consumed by 21 million of the country's 26 million families, suffered sharp price increases last year, with some states registering price rises of as much as 60%. The last time the price of tortilla rose so fast, in 2006, it led to food riots.
In some regions things have got so bad lately that industry representatives have begun meeting with local and regional government officials to find ways of "avoiding further price rises," which can only mean one of two things: public subsidies or price controls.
In the meantime, the peso is being pushed along by a toxic cocktail of forces, many of which (U.S. presidential elections, global oil prices, emerging market trends…) are far beyond the control of the Mexican government or central bank. "It's a bit of a perfect storm, in a bad way," said Mike Moran, head of economic research for the US and Latin America at Standard Chartered in New York. "The Mexican peso is really at the bottom of the bucket."
As long as global investors continue to use the peso as a hedge against emerging markets risks and against the political risks of a Trump presidency, that's where it's going to stay. By Don Quijones, Raging Bull-Shit.
Fleeced Mexican investors are left railing against big banks and hedge funds. Read…  "Where's the Money Gone?" Rescue of Spain's Biggest-Ever Corporate Bankruptcy Stumbles in Mexico




Enjoy reading WOLF STREET and want to support it? You can donate. I appreciate it immensely. Click on the beer and iced-tea mug to find out how:

Would you like to be notified via email when WOLF STREET publishes a new article? Sign up here.