Spending the same to end up getting less.
In all the hoopla about consumer spending – which accounts for about two-thirds of the US economy – and how lethargic its growth has been, despite some months when it perked up and gave rise to hopes that "escape velocity" would finally kick in, something got lost: how totally range-bound, for the past four years, discretionary spending has been.
This measure of discretionary spending excludes household bills and major items such as cars or homes. It hasn't budged in dollar terms for four years, despite inflation eating into the purchasing power of the dollar.
In August, spending by American households dropped once again, according to the Gallup US Daily survey released today. As part of this broad survey, based on telephone interviews (60% cellphone, 40% landline) conducted in August of over 15,000 adults, Gallup asks how much they spent "yesterday" on items excluding normal household bills and major purchases such as a home or car. Gallup calls it an "indication of discretionary spending."
So in August, the tally dropped to $91 spent "yesterday," from $100 in July. Keep in mind, this includes households with more than one earner and/or more than one spender. In terms of the prior three Augusts, that was below average ($92.7):
2016: $91
2015: $89
2014: $94
2013: $95
But it was up from the Augusts during the catastrophe years of the Financial Crisis:
2012: $77
2011: $68
2010: $63
2009: $65
And it's still down from August 2008, when it was $97! The data series started in 2008, so this is as far back as we can compare. But it sure would be interesting to see comparable numbers for August 2006 and 2007, before the Great Recession kicked off.
In the four catastrophe years between 2009 and 2012, spending in all months ranged from $58 to $77, when households, hit by the ravages of unemployment, had tightened their belts on discretionary items and focused instead on the things they had to take care of.
Then something happened, and households opened their wallets, and spending broke out from that range. Since December 2012, the range has been between $80 and $100.




In July, when spending had jumped to $100 once again, there were hopes that this time, it would break out, that households would finally start to splurge, but those hopes were once again dashed in August, when spending on discretionary items fell back into the four-year range again, and below the August average of the prior three years.
I have added the two red lines to Gallup's chart to delineate just how stubborn this four-year range has been: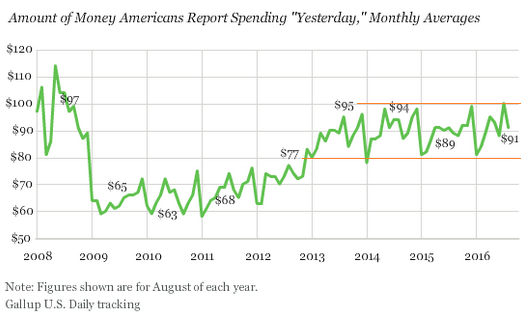 These spending dollars are not adjusted for inflation. Despite all the deflation fear mongering, inflation since December 2012, as measured by the Consumer Price Index for all urban consumers, amounts to 3.8%. Thus, consumers have spent within the same range only to end up buying less as they're getting less for their dollars. A quagmire.
But, but, but….
Consumer spending overall has increased over the period. So what have consumers been spending their money on? Well, the other items: household bills such as soaring rents, and major purchases, such as cars and homes, much of it with borrowed money. Auto loan balances outstanding, for example, encouraged by ultra-low interest rates and loosey-goosey underwriting standards have soared to $1.068 trillion by the end of the second quarter. New vehicle sales in units might be down this year, but given the higher price tags and extended loan terms, auto loans are decidedly not: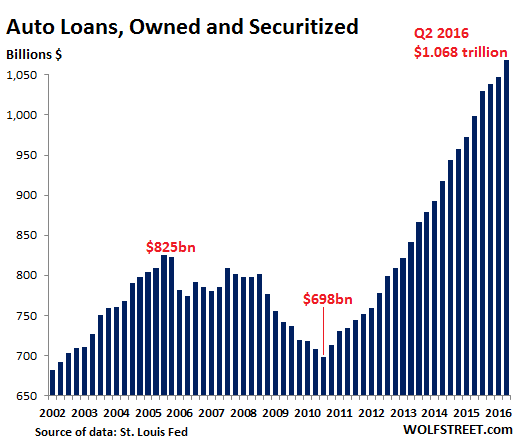 Gallup provides some more detail by household income:
Both higher- and lower-earning Americans reported lower spending on average in August than in July. The drop was more pronounced among Americans whose annual household incomes are $90,000 or higher, whose self-reported daily spending average fell $21, to $140.
That's $6 below August a year ago!
Spending dropped less in August among Americans whose annual household incomes are lower than $90,000. Spending among this group dropped only $3 to an average of $72.
And that's up $3 from August a  year ago.
Many of the households earning less than $90,000 are still making far above the median household income in the US of $53,657 (2014, Census Bureau). Even on average, their spending on Gallup's discretionary items has been in a very narrow range over the past 12 months, as "splurging" for them means something entirely different than for the top earners: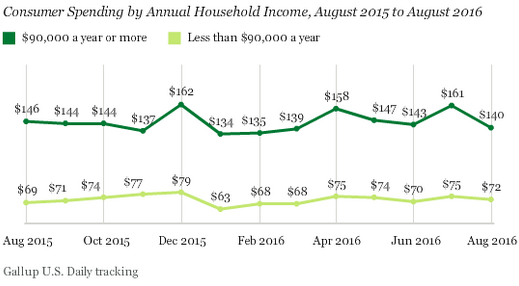 Gallup puts it this way: "The average for spending in August is still on par with the 2016 average so far, and remains healthy compared with sub-$80 figures from 2009 to 2012."
And this is how far escape velocity has been reduced to a sad joke: To show improvement, you have to compare spending to the catastrophe years of 2009 through 2012, and compared to those years, household spending on discretionary items is "healthy."
But it has stagnated since then in nominal terms and declined in inflation-adjusted terms, as non-discretionary items, such as soaring housing costs, have eaten an ever larger slice of household incomes, and as major debt-funded purchases, such as cars, are setting new records, if not in unit sales, then at least in terms of debt accumulated.
But in terms of rents in some of the largest markets, there may be some relief on the way. Read… It Starts: Rents Drop in 10 of the Top 12 US Markets




Enjoy reading WOLF STREET and want to support it? You can donate. I appreciate it immensely. Click on the beer and iced-tea mug to find out how:

Would you like to be notified via email when WOLF STREET publishes a new article? Sign up here.