"It will not harm the pension beneficiaries": official
This is how the report by Japan's Government Pension Investment Fund (GPIF) for the March-June quarter – the first quarter in Japan's fiscal year – started out in order to soothe the frazzled nerves of the people who'd paid into this system all their working lives: the fund is managed "in the long-term, and its investment results should be assessed in the same manner."
OK we get that. But what a fiasco.
The GPIF isn't alone. Pension funds in the US and elsewhere are in deep trouble. Many of them have been taking on enormous risks to solve their underfunding problems. It has been called the "global pension crisis." Some corporate and union pension funds in the US have already become insolvent. Others are heading that way. Local and state pension funds are neck-deep in trouble. Yet, the Fed-engineered asset bubbles have lifted all boats….
But few big public pension funds can hold a candle to the GPIF's October 2014 decision to dive into Japanese stocks and foreign stocks and bonds near the peak of the Japanese stock market rally.
Actually, it didn't voluntarily dive into it.
It was pushed into it by the Abenomics-obsessed government and its reckless way of trying to manipulate up the stock market. The goal was to plow 20% to 25% of the fund's assets into Japanese stocks. At the time, the fund still had about $1.4 trillion in assets, so 25% would amount to about $350 billion. It meant some serious buying over a year or two, which would inflate the stock market.
Add some hype and hedge-fund front-running, peppered with the Bank of Japan's money-printing mania, which includes purchases of equity ETFs – and you've got a value-creation miracle on your hands.
It did work for a while. It worked during the hype stage. And it worked when the GPIF began selling its government bonds to the Bank of Japan and started buying stocks. The GPIF became the biggest buyer of equities in Japan. Stocks soared. Other pension funds followed the model. In June 2015, the Nikkei hit its recent peak of 20,868 (still 47% below its all-time peak in 1989).
But since then, the GPIF has met the goals for its "policy asset mix." And so the GPIF stopped its purchases. Hedge funds lost interest and bailed out. And the Nikkei has since plunged 22%!
And there's a special treat. Foreign equities and foreign bonds combined account for over 34% of total assets: a huge bet on the exchange rate, or rather on the wholesale destruction of the yen. But the yen has risen sharply recently.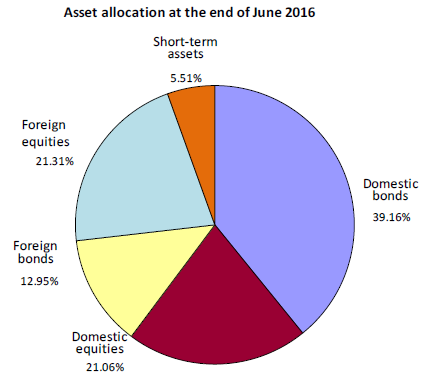 So how has the Abenomics value-creation miracle performed?
In Q1 of fiscal 2016, ending June 30, the GPIF lost ¥5.23 trillion ($51.4 billion), or 3.9% of its total assets.
Year-over-year, total assets have shrunk 8.1% to ¥129.7 trillion.
In Q4 of fiscal 2015, ended March 31, the fund had already lost 3.5%, or ¥4.7 trillion ($46.2 billion).
This was the first back-to-back quarterly loss since 2008! But we're not in a Financial Crisis!
Both quarters combined generated a loss of about 7% or ¥10 trillion ($98 billion)!
For the fiscal year 2015, the fund lost ¥5.24 trillion, the fund's first annual loss since 2008.
From fiscal 2006, when the fund was converted into an independent administrative agency, it showed ¥22.8 trillion in cumulative investment income, down from ¥33.3 trillion at its peak in fiscal 2014. In just five quarters, the fund's new focus on stocks, risk, and foreign-currency-denominated assets annihilated 31.5% of the total gains accumulated over ten years!
Bitter irony: The only asset class that made money was "domestic bonds," largely JGBs that the BOJ has been gobbling up. As their yields dipped into the negative for longer-dated maturities under the BOJ's negative-interest-rate policy and under its buying pressure, prices rose, and the fund made ¥940 billion.
The other asset classes:
Domestic equities lost ¥2.26 trillion.
Foreign bonds lost ¥1.52 trillion.
Foreign equities lost ¥2.41 trillion.
"Short-term assets" remained flat.
This is other people's money.
And these other people are beginning to get restless. They'd paid into the system all their working lives, and now it was being squandered on some Abenomics gamble. The Japanese have been through stock market routs before. It's all a scam and a bad joke, many feel. And many stay away from it as far as they can.
To soothe rattled nerves and deflect a public backlash, GPIF president Norihiro Takahashi blamed the strong yen. The dollar-yen exchange rate had been "developing without a clear sense of direction," he said because it was going in the wrong direction.
And he blamed Brexit. The vote happened a week before the end of the quarter. It caused the yen – still one of the global safe-haven currencies that folks flock to in times of turmoil – to rise, which caused Japanese stocks to dive, he said. And it also caused the value of overseas investments to fall when they're converted into the stronger yen.
"The results of the UK's referendum turned out to be different from what the market expected," he said, blaming the hapless Brits for having voted the wrong way.
And he blamed the US unemployment data in May, which had been "much worse than forecast."
He didn't blame the strategy of chasing after risk wherever he could find it, at the peak of the central-bank inflated market. He didn't blame the decision to dive into exchange-rate risk, with 34% of the fund's assets in foreign currencies. And he didn't blame the failed market-manipulation aspects of Abenomics. But don't worry….
"Even if market prices fluctuate in the short term, it will not harm the pension beneficiaries … we invest from a long-term viewpoint," he said. For this gamble to work out, the yen will have to get crushed and take much of the Japanese wealth with it. Are the Japanese ready to give up much of their wealth? Hardly.
Bonds are in the biggest bubble ever. Stocks in the US are at all-time highs. Central banks have been printing money for years – and still, the GPIF got clobbered. What if this is as good as it gets? What if stocks and bonds return back to earth? Then he'd have a lot more explaining to do to the pension-fund contributors whose money got eaten up by the schemes of Abenomics.
The BOJ is already fretting about the next crash and is building up a big pile of dry powder. Read…  Bank of Japan Prepares for Crash Triggered by Fed Tightening




Enjoy reading WOLF STREET and want to support it? You can donate. I appreciate it immensely. Click on the beer and iced-tea mug to find out how:

Would you like to be notified via email when WOLF STREET publishes a new article? Sign up here.