Consumers at the "low end" are tapped out.
Restaurants are considered a leading indicator of the economy into a downturn. The theory is that restaurant revenues are slowing when consumers, whose spending accounts for about 70% of GDP, start having trouble with their wallets.
Some call the current situation a "restaurant recession." Wendy's, in its earnings call today, calls it a "recent slowdown."
Others don't see it that way quite yet. If you're trying to walk into one of the amazing restaurants in San Francisco on a Saturday night, you might be disappointed when you find out that the "restaurant recession" has failed to reserve a table for you.
The Restaurant Performance Index, released at the end of July, was equally ambivalent. Business isn't falling off a cliff yet, but it doesn't look good either, with the overall index having declined to 100.3 in June (above 100 = expansion), "as a result of softer sales and a dampened outlook among operators."
"The uneven trend" in the first half, it said, "was due in large part to choppy same-store sales and customer traffic results."
The Expectations Index fell to 100.7, barely positive, as restaurant operators remained vaguely hopeful that the next six months will get better. But the Current Situation Index, the reality check, fell into contraction mode (99.9), as restaurant operators, for the second month in a row, "reported a net decline in same-store sales and customer traffic."
This is the struggle in the QSR sector – "quick service restaurants," as the fast-food industry likes to call itself more appealingly. Today it was Wendy's CEO Todd Penegor who shed some light on this in the earnings call (transcript via Seeking Alpha):
"Wendy's brand is poised for success, even in a challenging environment," he said as revenues plunged 22% in Q2 to $383 million, "primarily" caused by the sale of 361 company restaurants to franchise operators. Same-restaurant sales edged up a measly 0.4% in North America. Net income plunged 34%.
These results "came in lower than we'd anticipated," Penegor said. But he had "confidence for the rest of the year." Wall Street wasn't enthusiastic. Shares plunged 6.3% by mid-morning before ending the day down 2.8%.
Then he took some time out "to talk about the QSR industry and what we have observed in relation to the recent slowdown." He showed this uninspiring fast-food-industry traffic chart: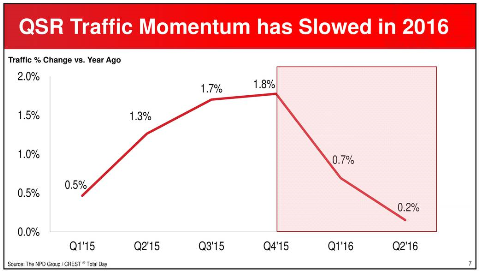 And added:
"We believe there are multiple drivers behind the recent slowdown, but the most notable reason appears to be the continued gap between the cost of eating at home and the cost of dining out, which is now at its widest point since the recession."
In other words, it has been getting more expensive to eat out, and squeezed consumers are reacting by eating out less.




In the Q&A, he provided some additional gems of information. It's about three times more expensive to eat at a fast-foot joint than at home, he said:
"And when a consumer is a little uncertain around their future and really trying to figure out what this election cycle really means to them, they're not as apt to spend as freely as they might have even just a couple of quarters ago."
So that's the overall uncertainty, the angst about the future for regular folks in the Fed-engineered economy. Then there's money:
"And it's at a time where we're still not seeing real wage growth…."
The Bureau of Labor Statistics just revised its numbers, reporting that inflation-adjusted hourly compensation in the first quarter had actually fallen by an annual rate of -0.4% from the fourth quarter, instead of the previously reported jump of +4.2%, and that in the second quarter, it had fallen another -1.1%.
Penegor, with his excellent view of the real economy as it walks into his restaurants, hit the nail (softly) on the head, when he said that "we're still not seeing real wage growth." And he went on:
"But we are seeing some of the cost of living move up when you get into what it costs to own an home and operate your life in general."
So consumer price inflation – which is still too low, according to the Fed and an army of economists running wild in the media – is creeping up on these folks and is eating their lunch, so to speak. We have long lamented the soaring costs of housing, healthcare, college, and other items needed to "operate your life in general," as Penegor put it so elegantly. And on he went:
"And there is a little bit of tightening on the disposable income, especially on the low-end."
"The low end" these days is an increasingly large part of the population. So "it's important" he added, that "you have some compelling value offerings…."
And "when you look at what you pay," it's a "lot cheaper relatively speaking to go get fresh beef at your local butcher and go home and grill it. So that does have a bit of an impact."
With a few words he'd summarized what American consumers – the many who've been left out of the Fed's asset-price-inflation schemes – are facing every day: uncertainty about the economy, a squeeze on real wages and disposable income, and rising costs "to operate" their lives. That's not a good sign for a consumer-driven economy.
And now a peculiar phenomenon has set in. Read…  This is When the Jobs "Recovery" Goes KABOOM




Enjoy reading WOLF STREET and want to support it? You can donate. I appreciate it immensely. Click on the beer and iced-tea mug to find out how:

Would you like to be notified via email when WOLF STREET publishes a new article? Sign up here.