Some of the smartest money got out last year.
Twitter is shaking up San Francisco. It's the city's 10th largest employer, and second largest tech employer, after Salesforce. But it hasn't yet figured out, despite a decade of trying, how to make money. Last October, it announced that it would lay off 8% of its workforce. A couple of weeks ago, it reported a second-quarter net loss of $107 million along with disappointing user metrics and lousy projections. Its shares have lost 74% since their miracle-IPO-hype peak at the end of December 2014.
And now Twitter is dumping nearly one third of its total office space on the San Francisco sublease market.
It leases a number of floors in the two buildings at Market Square. The four floors it put on the sublease market total 183,642 square feet of "fully furnished" office space with workstations for 1,416 employees, according to a marketing brochure by corporate real estate firm CRESA.
It's the largest sublease space now available in San Francisco.
The largest of the floors, at 78,792 square feet, is at its 1355 Market location, the iconic former San Francisco Furniture Mart that Twitter moved into in 2012. The floor comes with "600 workstations, 49 conference rooms, multiple collaboration/lounge areas, 2 kitchens, 2 training rooms, and a Mother's room," according to the brochure.
It also listed three floors at the adjacent One 10th Street building that it moved into in 2014. The floors, 34,950 square feet each, are also fully furnished with similar amenities, and earned a "2016 International Interior Design Association – Honor Award," according to the brochure. Twitter spared no expense before its IPO to dazzle investors with its buildings and show them what noble material it was made of.
San Francisco's darling even extorted a highly controversial payroll tax exemption for six years from the city by threatening to head out of town when it was looking for larger digs in the neglected Mid-Market area.
All spaces listed are available "immediately" and rent is "negotiable," the brochure says.
Twitter has been shrinking from its grandiose plans. In October last year, it abandoned plans to lease an additional 100,000 square feet at the building where Square is, at 1455 Market. Both companies share the same CEO, Jack Dorsey.
But this comes at an inopportune time for San Francisco's office market.
According to commercial real estate firm Savillis Studley, vacant availability in Q2 rose to 8.3% (up from 7.7% in Q1), and Class A availability hit 9.2% (up from 8.4% in Q1). In the Financial District, it "spiked" to 9.8% (up from 8.6%). Despite "a flurry of large subleases and these direct deals" in Q2, with Fitbit, Lyft, and Stripe signing the largest deals, leasing activity over the past four quarters plunged 31% from the five-year average to 5.9 million square feet.




"Caution prevailed," the report said, as "more firms coped with funding shortfalls by cutting back or considering relocations to other markets."
After a relentless five-year boom, average asking rent, at $64.30 per square foot, according to Savillis Studley, is among the most outrageously expensive in the country and nearly twice the national average of about $33 a square foot.
That might not have made any difference to startups that were drowning in cash and faced no pressure to ever make money, or were even encouraged to burn through as much cash as possible to quickly grow into the next Facebook. But that era is now being superseded by the "post-unicorn era," as Dropbox CEO Drew Houston called it so elegantly, and money suddenly matters.
But some of the smartest money already got out, at the peak last year.
San Francisco-based real-estate fund Shorenstein Properties acquired Market Square in 2011 for $110 million, according to The Registry. For another $200 million, it redeveloped the former Furniture Mart into a tech hub. With vestiges of hope still clinging to Twitter before the layoff announcement in October last year, and with office prices and rents soaring, Shorenstein decided to unload the property – and made a killing.
In August last year, it sold a 98% stake to JP Morgan Asset Management for $936 million, or $877 per square foot. This is what a totally crazy property boom will do, along with impeccable timing and knowing your way around city politics. It was one of the highest per-square-foot prices in the city's history.
But the office boom faces two challenges: new office towers that are sprouting like mushrooms just when employment growth faces iffy prospects. Twitter isn't alone. Numerous companies have started to lay off employees, even as others are still hiring. And employment has peaked.
In June, according to the California Employment Development Department, the number of jobs in San Francisco – 533,200 – was back where it had been in November last year: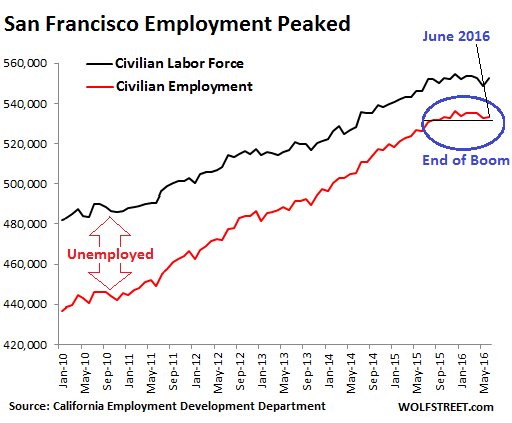 I'm now getting "numerous" reports, anecdotally – up from just "one" four months ago – that people, even tech workers, beyond the age of Millennials, so folks in their early to mid-fifties, are getting laid off, and that they're having trouble finding another job here. That doesn't bode well at all for San Francisco's commercial real estate bubble. When times get tougher, no one needs vast amounts of empty and utterly unproductive office space that is among the most expensive in the country.
But San Francisco is so expensive overall that a lot of people, once they lose their jobs, choose to leave and head to where life is more affordable. So this is the kind of problem San Francisco really doesn't need at the moment. Tremors are already going through the condo market. Condo prices are under pressure. Sales volume has been down all year. The luxury end is in trouble. And now this: Read…  Is the "Leaning Tower of San Francisco" the Only One?




Enjoy reading WOLF STREET and want to support it? You can donate. I appreciate it immensely. Click on the beer and iced-tea mug to find out how:

Would you like to be notified via email when WOLF STREET publishes a new article? Sign up here.