For individuals, it has barely improved since the Great Recession.
If you have a salary well into the six figures, stock options, nearly free healthcare, and other benefits such as access to free gourmet lunches and dinners at the company's food court, you might have missed something that a lot of folks feel every day: It's still a very tough battle out there in this job market. And here is why.
Today we got what was called a "stellar jobs report": Non-farm payrolls rose 255,000 in July. In the other component of the report, the household survey showed that 420,000 new jobs were created. There are now a record 123.9 million full-time jobs. Government hiring was strong. Numerous sectors added to payrolls. And the unemployment rate remained stuck at 4.9%, with 7.8 million people deemed officially unemployed.
So everyone was happy. Well, certainly the stock market was. The S&P 500 closed at a new high. The Treasury market started worrying about a Fed rate hike, and the 10-year yield rose to 1.59%
But on an individual basis, on a per-capita basis – and this is what people feel when they're looking for a job or asking for a raise – these "stellar" figures depict a job market that is only a little better than at the worst moment of the Great Recession.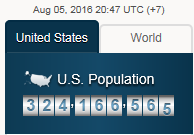 On its population clock, the Census Bureau estimates that the US population on August 5, 2016, at 4:49 p.m. ET (yup, down to the minute) was 324.17 million.
That's up from 308.76 million in April 2010. Since the darkest days of the Great Recession, the US population has grown by 15.4 million.
The Census Bureau also estimates that there are currently 8.6 births per minute, minus 4.6 deaths per minute, plus 2 arriving immigrants ("net") per minute, for a gain of nearly 6 folks per minute. Everyone ages, so the young ones move into the labor force, but the baby boomers are fit and healthy and don't feel like retiring, and so they hang on to their jobs for as long as they can, despite the rampant age discrimination they face in many sectors, particularly in tech, though obviously not in politics.
In 2010, 24% of the people were under 18. That was 74 million people. Millions of them have since moved into the labor force, elbowing each other while scrambling for jobs, as have those millions who were then between 18 and their twenties and in college or grad school. These millennials have arrived on the job market in very large numbers.
In April 2010, there were 130.1 million nonfarm payrolls. In today's July report, there were 144.4 million. Hence, 14.3 million jobs have been added to the economy over the time span, even as the total population has grown by 15.4 million. So that's not working out very well.
On average, 205,300 jobs need to be created every month just to keep up with population growth and not allow the unemployment situation to get worse.




So clearly, for individuals who aren't lucky, the employment math is very tough. The Bureau of Labor Statistics attempts to capture this dismal condition with its Employment-Population Ratio. It measures the proportion of employed persons to the civilian non-institutional population aged 16 years and over.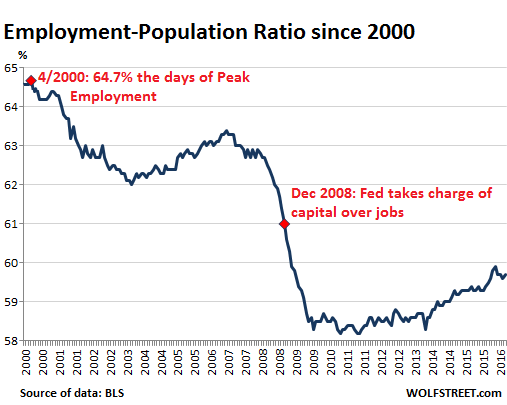 The ratio always drops during recessions, but before 2001, it always climbed to higher highs during the recoveries. The 2001 recession and subsequent recovery changed this. For the first time, the ratio never fully recovered, never got even close to fully recovering. That was a new phenomenon: employment growth could no longer keep up with population growth.
When the Great Recession hit, the ratio plunged from its lower starting point at the fastest pace on record (going back to 1948). The Fed's efforts were all focused exclusively on bailing out bondholders, re-inflating the stock market, re-inflating the housing market, and generally creating what had become the official Fed policy at the time, the Wealth Effect (here's Bernanke himself explaining it). This has re-inflated asset prices – many of them way beyond their prior bubble peaks.
But the Fed's astounding focus on capital accelerated the already changing dynamics of the economy, at the expense of labor.
Despite the re-appearance of millions of jobs since the depths of the Great Recession in 2010, the Employment-Population Ratio didn't improve to any meaningful extent until 2014. In other words, over the first four years of the recovery, the number of jobs created barely kept up with the growth of the working-age population.
Then in 2014, employment growth picked up enough to grow faster than the population. But this too began to stall in March 2016, with the ratio at 59.9%. The ratio has since dropped to 59.7%.
In terms of total population: in April 2010, there were 2.37 people per job. Now there are 2.23 people per job – only marginally better. And this miserably inadequate improvement from the lowest levels of the Great Recession is what individuals are seeing.
It explains the dichotomy: Economists, officials, politicians, and central bankers point at the millions of jobs created since the Great Recession and at the official unemployment rate which has dropped to acceptable levels, while millions of individuals are mad as hell because they've not made it into the group of lucky ones, and they're seeing a job market that is only slightly better – on a per-capita basis – than it was in April 2010.
And this is why the economy is so rotten to the core. Read… "Shockingly, Boards of Directors Encourage this": Gallup CEO




Enjoy reading WOLF STREET and want to support it? You can donate. I appreciate it immensely. Click on the beer and iced-tea mug to find out how:

Would you like to be notified via email when WOLF STREET publishes a new article? Sign up here.