The short sellers are coming: "a money-laundering-induced market."
By Angela Johnson, Vancouver, Canada:
The Canadian province of British Columbia may have gotten what it asked for in instituting the now notorious 15% transfer tax on home purchases involving foreign investors.
Benchmark prices of Vancouver still exhibit astounding year-over-year increases, with apartment prices up 27% and detached house prices up 38%, now at C$$1,578,300. But overall sales plunged to 3,226 homes, down 27% from the record in June and down 19% from a year ago.
"This is the first time since January 2016 that home sales in the region have registered below 4,000 in a month," admits the Real Estate Board of Greater Vancouver. While apartment sales dropped "only" 7% year-over-year, sales of detached homes plummeted 31%!
And it's spreading beyond Vancouver. For example, housing-refugees make their way to the Fraser Valley, which borders Metro Vancouver. The formerly bucolic and more affordable Langley Township is now highly developed and getting more so: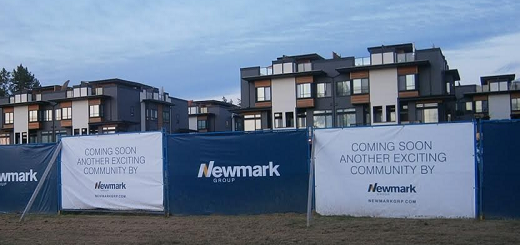 Prices have soared in the Fraser Valley. In July, the benchmark price of an apartment jumped 25% year-over-year (to C$240,000), according to the Fraser Valley Real Estate Board. The benchmark price of a townhouse soared 34% (to C$408,200). And the benchmark price of a single-family detached home skyrocketed a breath-taking 42% to C$881,400. These price increases put even Vancouver to shame.
But in the Fraser Valley too, sales in July (1,962 units) hit the wall: down 31% from June, and down 10% year-over-year.
So let's talk more about that 15% tax on non-Canadian buyers of real estate, the result of an early-July emergency session of British Columbia's provincial government.
Coming to the fore are stories of realtors and sellers alike finding ways of getting around the tax: Could the realtor Carolyn Chen be related to the seller Eddie Chen, who increased the list price by 15% about 2 weeks ago?
"The seller will compensate the qualified buyer with the additional 15% transfer tax," the ad below says. "Qualified" in this case means non-Canadian; the original description spelled it out more blatantly: "Foreign National buyers get 15% off listing price!"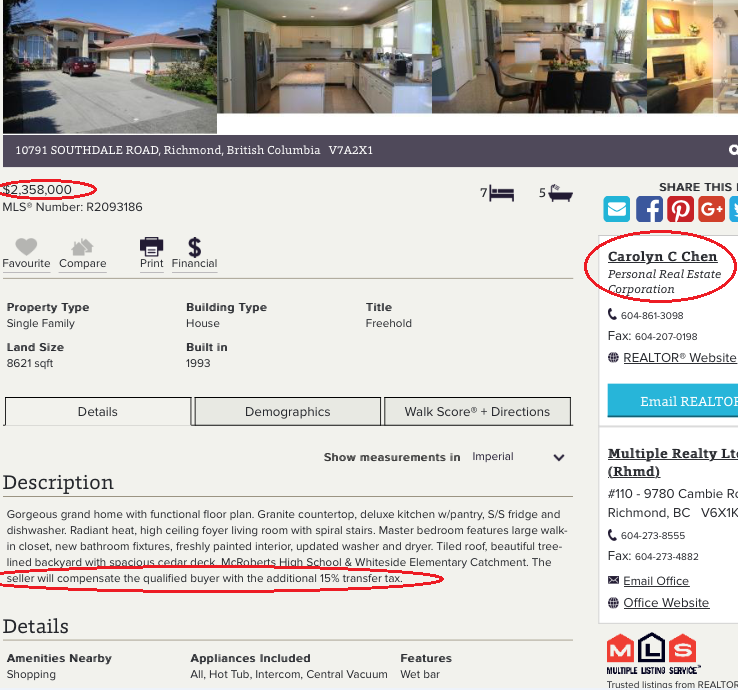 It's easy to understand the foreign buyer's penchant for properties in Metro Vancouver, like Richmond. Among the attractions: it's only a plane ride away from pollution, and a command of English is not necessary: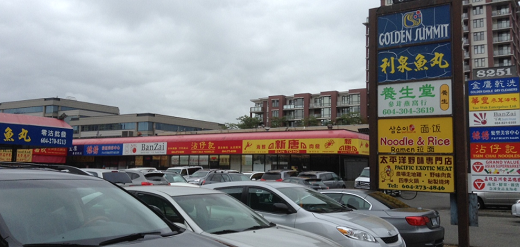 So the 15% tax becomes merely the price of doing business or maintaining capital in an ever-devaluing currency. It certainly doesn't put profit out of reach if 30%+ increases continue… Though we know past performance is no guarantee of future results, the Vancouver housing market time and again has defied the bears prophesying the coming bust.




The provincial government of British Columbia (BC) seems to be acting in consideration of locals with this tax – after all, next year is election year. But is it a case of 'too little, too late'?
Not if the first indications of plunging sales (as in July above) are any sign, or early anecdotes of millions of dollars in deals falling through. But critics claim that shell companies and residency laws can be used to easily circumvent the tax.
The list of Vancouver RE doomsayers grows longer week by week: from the Economist and the IMF (January 2015) to the Bank of Canada (June 2016), to the Office of the Superintendent of Financial Institutions just last week. The latter (a regulatory watchdog) said it would require the smaller banks to stress-test their mortgage portfolios to ensure they could withstand a drop in home prices of 50% in Vancouver. This followed their earlier warning about record levels of household debt.
Then there is the Canada Mortgage and Housing Corporation (CMHC – akin to Fannie Mae and Freddie Mac in the US), which just raised Vancouver's risk rating to high. Based on factors such as overvaluation, and price acceleration decoupling from historic trends, there is "strong evidence of problematic conditions," said CMHC's chief economist Bob Dugan.
The ripple effects have also been identified by the CMHC, as retirees downsize and desperate house-hungry sign on the dotted line, giving in to the FOMO (fear of missing out). In bubble-speak, that translates to "Buy now or be priced out forever!
Who else is taking more than a casual look at BC's real estate phenomena? Legendary billion dollar hedge fund manager Mark Cohodes, now retired from his career as a successful Wall Street short seller.
"I think it's a money laundering-induced market," said Cohodes in his scathing indictment of the status quo. "Where the local politicians, or the BC Liberals, are kept or in cahoots with the real estate brokers, developers, lawyers, that angle. And they have sought Chinese money to keep the market propped up and it won't last," he said.
"China has capital controls on, and Vancouver has become the money laundering mecca of either the world or North America and something is going to change and change drastically."
Note: in BC we call it HAM – hot Asian money. As for his dire prediction, we're still waiting for our barista (modern equivalent of the shoeshine boy) to give us some house flipping tips before short selling anything.
Meanwhile, we await the September release of Canada Revenue Agency's numbers from its 'lifestyle audits'.  A sensitive government document recently leaked that 50 additional income tax auditors are currently scrutinizing "individuals living in high-value areas in British Columbia who are reporting minimal income not supporting their lifestyle; individuals purchasing high-end homes with minimal income being reported [and] individuals who are not reporting all of their worldwide income." Stay tuned. By Angela Johnson, Vancouver, Canada.
In the US, a different approach to the same problem is underway. Manhattan and Miami already get mauled. Now expanding to San Francisco, Silicon Valley, Southern California, even Texas! Read… US Government Mucks up Money-Laundering in Real Estate, Puts Luxury Housing Bubbles at Risk




Enjoy reading WOLF STREET and want to support it? You can donate. I appreciate it immensely. Click on the beer and iced-tea mug to find out how:

Would you like to be notified via email when WOLF STREET publishes a new article? Sign up here.