Honeymoon already over? Bad breath of reality next?
If you bought the crappiest bonds on February 10, you've made a killing unless the company defaulted, in which case you got killed, and a lot of companies defaulted. But so much money poured into junk bonds that prices soared and yields plunged even for the riskiest near-default issues.
At the riskiest end, junk bonds rated CCC and lower, with D being default, the average yield, as per BofA Merrill Lynch High Yield index, plunged from over 21% on February 10 to 15% at the close yesterday. And bond prices skyrocketed. The BofA Merrill Lynch total return index for CCC and lower rated bonds soared 30% over the period: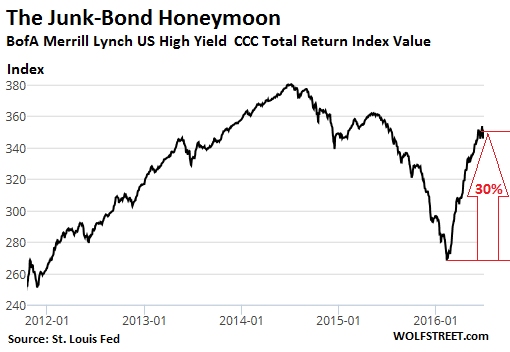 Retail investors have difficulties buying junk bonds. Retail brokers usually sell only investment grade bonds. And that may be a good thing because each bond issue is a treacherous contract full of pitfalls and landmines that even specialists fall into or step on and often end up buying what they didn't think they were buying. That can cause some painful surprises when the bonds default, which is a significant probability with low-rated junk bonds.
So retail investors have to make do with junk-bond mutual funds and ETFs. They give their money to institutional investors who then buy the actual bonds. Those funds have done well too over the period: for example, the high-yield bond ETF HYG has risen 12.6%, though it remains 11% off its recent high in June 2014.
But over the last three weeks bond-fund investors have soured on this gamble and have yanked their money out.
During the week ended June 29, $1.63 billion were pulled out of junk-bond funds, according to LCD of S&P Capital IQ. It was the third weekly outflow in a row. All three of them combined totaled $4.2 billion ($3.62 billion from mutual funds and $581 million from ETFs):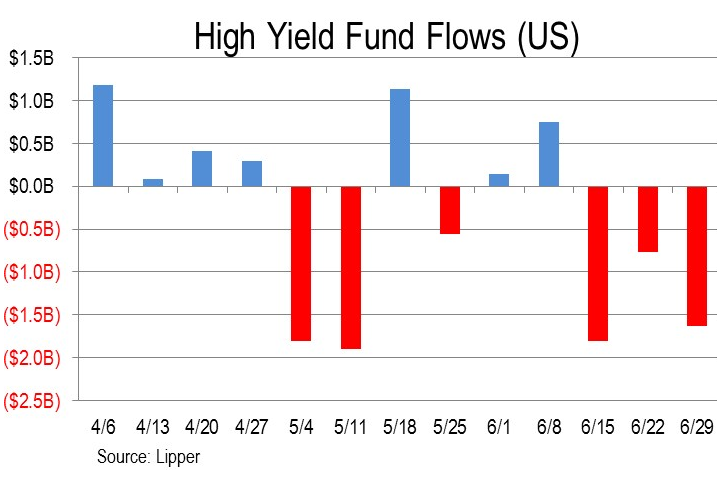 LCD put it this way:
Whatever that might say about fast money, hedging strategies, and other market-timing efforts, this week's fresh net outflow drags the trailing four-week average deeper into the red, at negative $862 million per week, from negative $419 million last week and from negative $368 million two weeks ago. The current observation is the most deeply negative reading in 21 weeks.
That last time 21 weeks ago was in February when investors were running scared.
After the massive inflows since February, the outflows of the past three weeks brought total year-to-date inflows down to $3.2 billion.
For the week, fund balances also dropped by $680 million, or 0.4%, due to "market conditions."
A similar pattern has played out in leveraged loans. These junk-rated loans are too risky for banks to keep on their books. So they sell them to institutional investors, including loan funds, or they slice and dice and repackage them into highly-rated Collateralized Loan Obligations to be sold to institutional investors.
Investors pulled $525 million out of loan funds in the week ended June 29, "the largest one-week redemption in 18 weeks," as LCD of S&P Capital IQ put it. It was the third week in a row of outflows, totaling $682 million: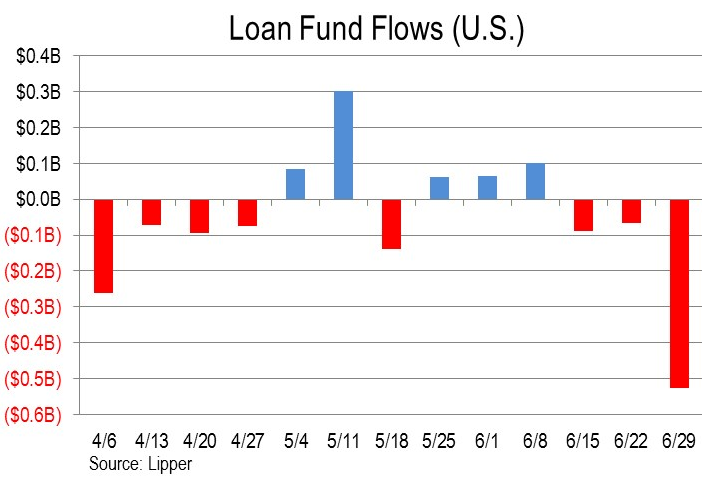 But loan funds have seen their heyday. The Fed has been warning about the risks of leveraged loans for over two years, not because it gives a hoot about retail investors, but because it doesn't want banks to get stuck with these loans during the next Financial Crisis, which is what happened during the last Financial Crisis, and it contributed to the banking fiasco at the time.
After the Financial Crisis, loan fund net asset values began to balloon again, doubling from November 2012 to March 2014 on a parabolic curve to hit $178 billion – which is when the Fed started exhorting banks about them. These loans trade like securities, but the SEC considers them loans and doesn't regulate them. No one regulates them. And the Fed got nervous about the banks. Retail investors picked up the vibes and started bailing out of these funds.
So year-to-date, net outflows from loan funds have reached $5.6 billion, knocking the net asset value of loan funds down to $60.9 billion. In a little over two years, loan funds have collapsed by 66%!
Yet banks aren't about to walk away from this lucrative business. More of them end up in CLOs. Hedge funds and other institutional investors are loading up on them. And they get repackaged into yen-denominated highly rated bonds for yield-desperate Japanese investors that the Bank of Japan has whipped into buying just about anything….
But that investors are once again yanking their money out of junk-bond funds is a sign that the high-yield honeymoon since February may have run its course, and that the bad breath of reality might once again muck up the scenario.
As investors open their eyes just a little wider about where they put their money, "the bezzle," as it's called, begins to shrink. See LendingClub, Theranos, and Breitling Energy. Read… When Markets Sour, Stuff Suddenly Oozes from the Woodwork
Enjoy reading WOLF STREET and want to support it? You can donate. I appreciate it immensely. Click on the beer and iced-tea mug to find out how:

Would you like to be notified via email when WOLF STREET publishes a new article? Sign up here.