These are dangerous markets!
By Alex M., Founder of Macro Ops:
One of the more profitable trades this year was in the cryptocurrency Bitcoin.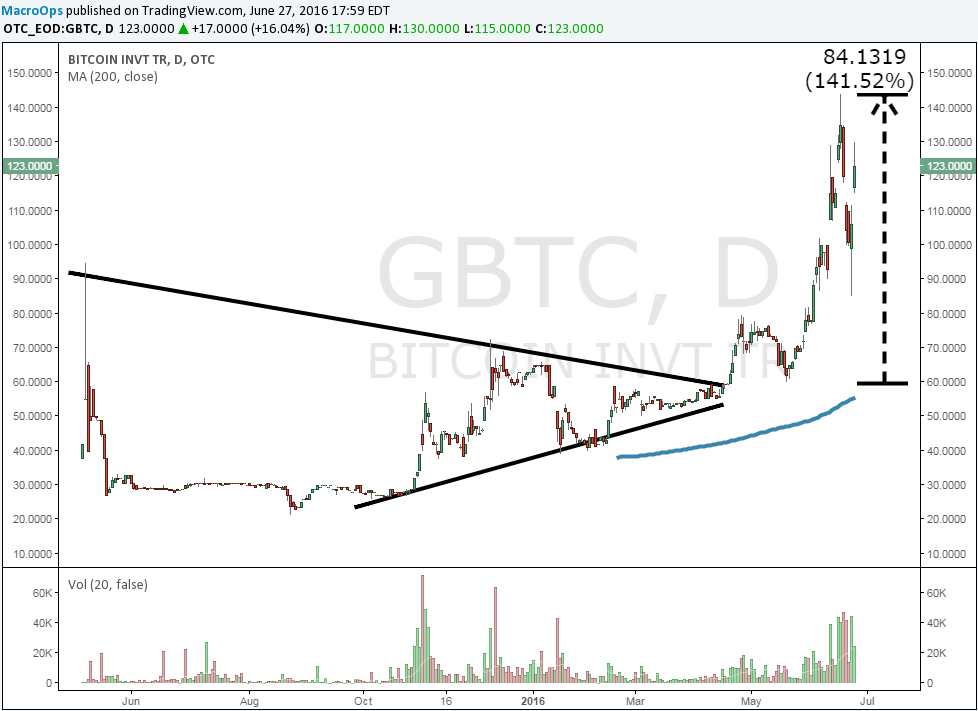 For those unfamiliar, Bitcoin is a digital asset and payment system — a virtual currency. It's considered a cryptocurrency because it doesn't require a central bank to handle its transactions. It's all self-contained through technology that encrypts and records a ledger over a distributed computer system. This technology is called the blockchain.
The benefit of blockchain technology comes from its transparency. Everyone can see every transaction. The whole system is also decentralized. There's no single institution or bank that controls the transferring of assets back and forth. This (advocates claim) removes the possibility of corruption, theft, and a whole host of other common problems that come with your standard financial system.
Bitcoin and its fellow cryptocurrencies (a number have been launched since) have become popular as alternatives to the standard fiat currencies of governments around the world. In some ways they're treated in a similar way to gold and other precious metals. Don't trust the government? Scared of inflation or other market problems? Then pile into these alternative currencies.
Our team at Macro Ops likes the idea of these virtual currencies. Their technology is impressive and can be used in a variety of different applications.
But the advocates of these currencies have come to the point of pushing fantasies. Their long-term goal is to create a system completely free of human intervention — with machines operating everything. In their minds, the humans are the problem and rigid automation is the solution to create a "perfect" system.




A large percentage of cryptocurrency investors believe in this vision to some extent. And this belief is part of what fuels massive speculative runs and subsequent crashes in the prices of these assets.
We saw this happen just recently in the Ethereum market, another cryptocurrency.
The story of the crash starts with the creation of a new "revolutionary" kind of venture capital firm — the Decentralized Autonomous Organization (DAO). Its goal? To be the first VC with no executives. Computers would manage everything.
The firm used Ethereum technology to run its operations. Investors would join the fund by submitting Ether, and once they bought in, they would receive voting rights in proportion to their investment. Companies that wanted to be funded by the VC would submit their proposals which all DAO investors would vote on. Whichever proposal won the voting round would be accepted and funded. All this was facilitated through Ethereum technology.
It was a decentralized, democratic system with full transparency — a brand new kind of investment firm. Investors considered it a beautiful extension of the technology that undermined cryptocurrencies. It excited them. And they piled in. DAO quickly raised $152 million from investors around the world.
But then the unthinkable happened. The fund was robbed. A hacker exposed weaknesses in DAO's Ethereum construct and stole over $50 million.
The hacking successfully put an end to the DAO, and what's more, it casted doubt on the security and durability of the entire Ethereum system. The beliefs of cryptocurrency investors took a beating. And that beating transferred to virtual currency prices. The price of Ether was nearly cut in half from the incident.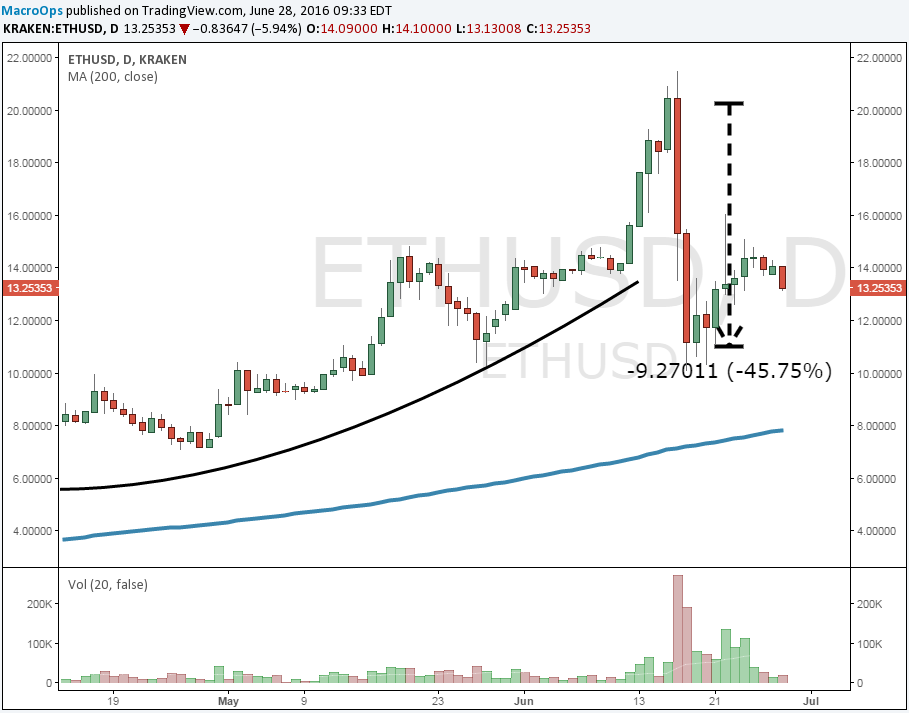 But soon after the DAO robbery, Ethereum developers were actually able to catch the hacker and freeze the funds he stole.
Great… problem solved right?
Nope.
This caused a giant debate to erupt among the Ethereum community. Returning the stolen money to investors would require a manual change to Ethereum's underlying technology. This is a huge deal because it would require human intervention which would defeat the whole purpose of a completely autonomous system. It would ruin the sanctity of the currency and fly in the face of the principles it was built on. This made the decision a polarizing one. It's ironic because the community is now stuck in political battle, just the kind they hate and created cryptocurrencies to avoid.
There's a few lessons to be learned from this. One is in the need for regulation.
Cryptocurrency creators believed that a completely machine-based system wouldn't need regulation liked standard banks. This would lead to fewer costs and far better efficiency, creating a new and improved financial system.
This is a nice sentiment. But in reality, regulation is necessary. Now we agree overregulation is bad, which is what much of the financial system is suffering from now, but zero regulation is just as dumb. To think cryptocurrencies could somehow avoid any type regulation is stupid. It goes back to cases of fraud and stolen assets. There needs to be rules in place so that the right people are prosecuted and victims compensated.
It's funny because the cryptocurrency community is starting to realize this. They're starting to see why the original banking system is there in the first place with all its rules. It turns out not all parts of the system are worthless and in need of "disruption". Surprise, surprise…
We've now seen various members of the cryptocurrency community call for the SEC to step in, claiming that "the current "wild-west" environment presents dangerous pitfalls for potential investors, as the DAO attack has shown".
Back to regulation we go…
The second lesson here is in the unrealistic expectations of investors causing booms and busts. A lot of the price run-ups in these virtual currencies have been due to investors' beliefs in utopian fantasies of perfect financial systems without regulations. When beliefs stretch that far out into left field, any small trip up in the investment narrative (such as a system hack) will cause prices to come tumbling down.
This is why we've seen multiple large crashes in these cryptocurrencies in just the few years of their existence. These are dangerous markets and investors should be wary of getting involved. They may be a good investment in future, but now is not the time. It would be best for most investors to sit on the sidelines and wait for the numerous problems that come with the creation of a new currency to be solved before jumping in. By Alex M., Macro Ops.
Investors are in for a lot of pain as the Sharp Ratio reverts to mean. Read…  Why the Standard 60/40 Stock & Bond Portfolio Won't Survive the Next Decade




Enjoy reading WOLF STREET and want to support it? You can donate. I appreciate it immensely. Click on the beer and iced-tea mug to find out how:

Would you like to be notified via email when WOLF STREET publishes a new article? Sign up here.