European banking crisis jumps to the next level.
European bank stocks just experienced their worst two-day plunge ever in the post-Brexit fallout that rained down on the already blooming European banking crisis.
Healthy big banks would get over Brexit and the political turmoil it is spawning, particularly non-UK banks. But there are no healthy big banks in Europe. And non-UK banks are crashing just as hard, and some harder. This is about a banking crisis morphing into a financial crisis.
These bank stocks got crushed on Friday. And they got crushed again today. Italian banks have been reduced to penny stocks. Spanish banks are getting closer. Commerzbank, Germany's second largest bank, and still partially owned by the German government as a consequence of the last bailout, is well on the way.
The two-day losses are just breathtaking. This table shows the largest banks by country with their percentage losses for today and for the two-day period: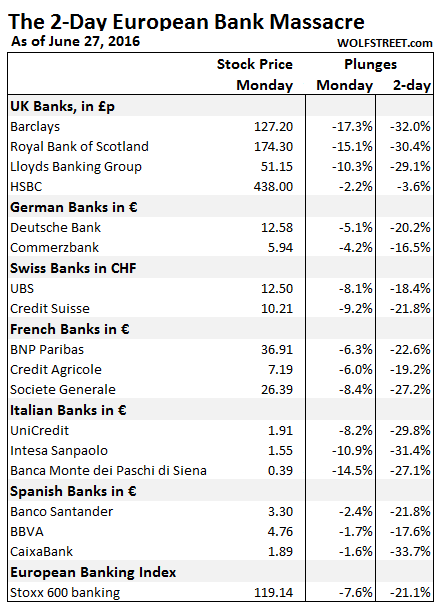 Note that the European Stoxx 600 banking index fell 7.6% today for a 21.1% two-day plunge! It isn't just a few banks whose stocks are collapsing!
Deutsche Bank's infamous CoCo bonds deserve a special word. These hybrid bonds that are just above equity on the capital totem pole had spiraled down, with the 6% CoCos hitting 70 cents on the euro in February. At that point, they and all other Deutsche Bank bonds were propped up by government verbiage and bank money. The bank ingeniously announced it would buy back its own bonds! Like all these transparent market manipulations, the market ate it up, and even the CoCo bonds jumped to 87 cents on the euro. But that didn't last long. They have since lost 11.5%, including today's 3.7% plunge to 77 cents on the euro.
In Italy, the banking crisis that has been growing for years has reduced all major Italian banks to penny stocks. It has triggered bailouts of some banks, including the third largest publicly traded bank, Banca Monte dei Paschi di Siena. Now the taxpayer is going to get shanghaied into bailing them out to put a floor under the collapsing share prices and prevent them from going to zero.
Italian banks are bogged down in a sea of bad debt whose true dimensions are still unknown publicly, and that the ECB publicly estimates to be €360 billion. But every time someone looks at it, it gets larger.
According to "a banking source familiar with the government's thinking," as Reuters put it, the Italian government is now fretting about a hedge-fund attack on these zombies, following the Brexit turmoil! To counter this attack, the government is trying to figure out how to "protect its banks from a destabilizing sell-off of their shares" that "could tip them into full-blown crisis."
(I have some news for the Italian government: Your banks have been in full-blown crisis for years!)
The government is thinking about using some kind of taxpayer guarantee and taking a stake in these banks, funded by about €40 billion in new government debt, issued by the second-most indebted government in the Eurozone, after Greece.
According to media reports in Italy, cited by Reuters, the government is already in talks with the European Commission about this sort of bailout. European rules are supposed to end state aid to tottering companies, and collapsing banks are supposed to be wound down involving losses for stockholders and junior bondholders (the bail-ins).
But the government is invoking the exemption in these rules in case of "exceptional events," which would be the crash of bank stocks as a consequence of investors figuring out that these Italian banks are toast.
That doesn't mean that bottom fishers and falling-knife catchers aren't jostling for position to pick up "bargains" among these European banks, as they have done so many times before, only to see banks stocks, after a brief rally, fall once again to new lows.
Contagion is infecting US banking stocks. As I'm writing this, Goldman Sachs is down -1.2%, Wells Fargo -1.3%, JPMorgan -3.1%, Morgan Stanley -3.3%, Citibank -4.1%, and Bank of American -6.1%.
These wounds among US banks are just cosmetic compared to the bank massacre happening in Europe, where the ECB is now fully engaged in trying to deal with a Financial Crisis under the cover of Brexit Chaos. Read…  ECB Blows €400bn on "Brexit Black Friday" Bank Bailouts
Enjoy reading WOLF STREET and want to support it? You can donate. I appreciate it immensely. Click on the beer and iced-tea mug to find out how:

Would you like to be notified via email when WOLF STREET publishes a new article? Sign up here.